News
Commemorating a century of communication to bring an end to conflict
---
This article is more than 5 years old.
The English-Speaking Union marked 100 years with a lavish tea at Sølyst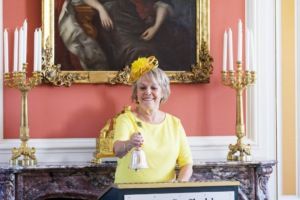 ESU-DK, the Danish branch of the English-Speaking Union, has just celebrated 100 years of peace and understanding through the use of the English language.
After World War I, several visionary people in London, including Evelyn Wrench and Winston Churchill, wanted to ensure that the world would never see such a conflict ever again. Exactly 100 years later their work is still being carried out at ESU branches all over the world.
Face-to-face communication, meeting, speaking and listening is the only way to understand each other – whether in high politics, or diplomacy, or merely within a family. Being able to speak and understand the same language goes a long way towards the founders' goal of global peace and understanding.
Sumptuous Sunday at Sølyst
Since the introduction of electronic communication in the mid-1990s, the need for face-to-face, personal contact has become infinitely easier. Messages fly around the world so quickly now that a need is arising to control them. But getting together and sitting down to eat, talk and listen remains the most productive and enjoyable way to get things done.
This is why the board of the ESU-DK decided to celebrate, and to celebrate in style, with its members and friends. And a Sunday lunch at Sølyst is about as stylish as it gets! The members were encouraged to dress up and the female ones to wear a hat – which they did!
On a gloriously sunny day the arriving members walked up a red carpet from whey they could look straight through the beautiful building across a green lawn to the bright blue Øresund – a view framed by huge oak and beech trees. It was extremely picturesque and a delightful experience to stand on the terrace with a glass of champagne in hand and meet friends and acquaintances who all share a love of English.
A delicious, high-quality four-course luncheon was served to the members and guests in the mansion's music room, which has a grand but welcoming 'hyggelige' atmosphere.
ESU royalty
ESU-DK chair Claire Clausen (top) welcomed guests and spoke of why the founders' vision remains so vital today. She described the activities of the Danish ESU and how uplifting and motivating it is to see young Danish students who are keen to participate in the ESU's annual Public Speaking Competition, of which the winner gets to spend a week in London and have the chance to take part in the international finals.
She spoke of the initial trepidation she felt when she introduced English-style debating to Danish gymnasiums six years ago and how wonderful it has been for the board to note its success. Several young participants are now so 'bitten by the debating bug' they have started their own organisation, which the ESU-DK intends to support.
There was no representation from the UK head office, but the international president, Howard Kroch (second top), and his wife travelled from Hamburg to celebrate with ESU-DK. He spoke of how the international groups need to stick together and support each other.
The ESU patroness, Countess Alexandra of Frederiksborg (centre), a stalwart supporter of the ESU-DK, agreed to speak 'off the cuff' and mentioned the importance of a common language when coming to a new country. As a newcomer there is comfort in being able to relax and speak freely and effortlessly to like-minded people. Countess Alexandra attends both the public speaking and debating finals every year and continues to be astonished at how, each year, the standard of the English used by the young Danes improves exponentially.
Good Friday experience
A faithful ESU-DK supporter since her first year in Denmark is the Irish ambassador Cliona Manahan (second bottom). As the key-note speaker she emphasised that her job is bridge building – and the sooner the bridges are built the stronger the links become.
She herself is from a family that was divided by politics, geography and religion – like many Irish families. As a young high-school student it was her diminutive but powerful English teacher who taught her to value the English language and to realise it has been greatly enriched over the centuries by Irish writers. Mrs Higman (to whom everyone raised a glass) brought value and delight in language to life.
"I was so impressed by the ESU debates that with the ESU's support I arranged for the Irish winning team of the annual Concern Debate (which involves north and south of Ireland) to visit Copenhagen and participate in the ESU training and debates," said Manahan.
"This program was an inspiring example of how together we are 'Building Bridges'. The visit, arranged by the ESU with Concern, was a significant collaboration, and created a unique 'Bridge' enabling our young people to train, debate and collaborate together. Today, I invite you to consider whether you would like us together to bring the 2018 Danish ESU-winning team to Ireland?"
It was her dedication to bridge-building in her own country and abroad that led her to a career in diplomacy, culminating in her being the only woman on the negotiating team of the Belfast/Good Friday Peace agreement in 1998.  Manahan's later career has taught her that we need to get to know each other better. How do we do this? By talking and listening. The old adage of "one mouth but two ears" is as valid today as ever.
Celebrating humanity
The final speech was a short talk given by an extremely eloquent young man, Arnulf Snedker-Nielsen (bottom) from Næstved, who won the competition in 2017 and has been a primus motor in setting up the new debating association.
He spoke about how much the week in London had meant to him and how valuable the friendships he made there continue to be for him. He would have won the competition again had he been competing. Instead he won the hearts and minds of all present.
As Ambassador Manahan said: "At this time of anniversaries, let's recall the words of peacemaker John Hume: 'All conflict is about difference, whether the difference is race, religion or nationality. The European visionaries decided that difference is not a treat. Difference is of the essence of humanity and should be respected, celebrated and even cultivated."
Coffee and chocolate provided a fitting end to the afternoon and the start of another 100 years of work towards peace and understanding.