News
International News in Brief: International police hunt launched to track down Danish-based employee
---
This article is more than 5 years old.
Danish officers involved in the search should have no problem passing through borders, as their passport has just been confirmed as the sixth most useful in the world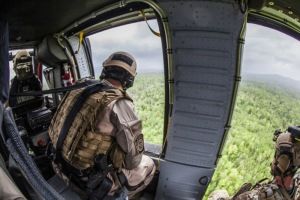 An international police hunt has been launched for a 64-year-old female employee of the Socialstyrelsen national board of health and welfare who is suspected of having swindled 111 million kroner over a 12-year period.
At a press conference today, the social minister, Mai Mercado, revealed that 274 different financial transactions had been uncovered, and that in one year alone more than 15 million kroner had been misappropriated.
Not so trustworthy after all
The minister has pledged to leave no stone unturned to find out how the employee had been able to get away with the fraud for so long. It was only detected when questions were asked about a transaction last year.
The person in question is unnamed, but has been described as a "trusted employee". The woman worked as a 'super user' of the system, which explains  why she was able to evade detection.
But very little information has been released about her yet.
---
Silver-haired holiday-makers like Denmark well enough
Denmark has been ranked the 14th best holiday destination for people aged over 50. The country's strong performance on the Silver Years Travel Index was bolstered by strong performances for history (fifth in the top 15) and safety (fourth). Among the other criteria considered for the survey were bucket list experiences, natural sights, activities and accessibility. Japan topped the list, followed by Germany, Italy, Switzerland, Croatia, Spain, China, Portugal, Canada and France. Denmark tied with Norway as the best Nordic country, with Sweden (16), Finland (16) and Iceland (29) all making the top 30.
Danish passport among the world's most useful
Denmark ranks sixth on the Henley Passport Index with visa-free access to 187 countries worldwide. Topping the list with 190 countries was Japan, while Singapore, Germany, France and South Korea completed the top five. Denmark topped the index from 2006 to 2009 and then again in 2011 and 2012. The biggest mover on the list in recent years is the UAE, which now tops the Middle East rankings, while Iraq and Afghanistan shared last place with visa-free access to just 30 countries.
Denmark donates funds to NATO's Southern Neighbourhood focus
Denmark is donating 2.3 million kroner to NATO's capacity building support to Tunisia – funds that will be spent on contributing to stability in the north African country and counteracting the spread of terrorism. The defence minister, Claus Hjort Frederiksen, further elaborated that the funds would be spent in the areas of "special operations, intelligence, combatting improvised explosive devices and cyber-defence". Tunisia is one of several countries to benefit from NATO's 'Southern Neighbourhood' focus, which was established at the members' Brussels Summit meeting in July.
Danish business delegation visiting Nigeria
A Danish business delegation on Sunday departed for Lagos in Nigeria – a follow-up to a seminar held last year in the capital Abuja concerning value chains in the Nigerian food and agricultural sector. The delegation's trip, which has been organised by the Danish Agriculture & Food Council, the Danish embassy in Nigeria and the Lagos Trade Council, is scheduled to end on October 10.