News
Local News in Brief: Michelin star opens unique restaurant experience in Copenhagen
---
This article is more than 5 years old.
Elsewhere, Peter Madsen gives up, share scooters hit town and the city and CBS look to cuts ties with Danske Bank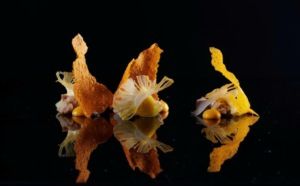 With the like of Noma, Geranium and … dare we say it … Toldbod Bodega, there is no shortage of unique dining experiences in Copenhagen. But now a new exclusive concept is coming to town.
The award-winning chef Henrik Yde, the man behind noted Michelin restaurant Kiin Kiin, is introducing a new dining experience at Kiin Kiin 71, a seafood restaurant that will have the smallest capacity in town: space for just six guests at a time.
READ MORE: Denmark gets two new Michelin-star restaurants
Tokyo talisman
Kiin Kiin 71, located at Nyhavn 71, draws its inspiration from Tokyo, where guests tend to sit close to the kitchen and often take three hours to get through the experience.
"We've got hold of two super chefs, Takashi and Sherwin. We wanted to really limit the size, like you see in many places in Tokyo. There you eat at the bar in very small restaurants," Yde told AOK.dk.
"It's a bit like a theatre with different acts. We invite the guests in to taste many different things, but everything needs to fit together, so we've made a concept in which every act takes place in a new area of the restaurant."
The four gastronomical acts take place in the bar, at the kitchen by the chefs, in the lounge and in the oyster bar.
---
Shared electric scooters hit town
Late last week the first 200 shared electric scooters were launched in Copenhagen as part of a trial period in co-operation with the US firm Lime. The new initiative means people can use an app to utilise the scooters and leave them when they get to their destination. The scooters, which have a maximum speed of 20km/h, are on trial as they are not currently legal in Denmark, although the transport minister, Ole Birk Olesen, is pushing for a hearing to make them lawful. Lime has made a 'service zone' that covers pretty much the whole city and where people can leave the scooter once they are finished with it. It costs 10 kroner to unlock a scooter and two kroner per minute to use. Lime has established itself in over 100 cities in the US, Canada and Europe this year.
Copenhagen to axe Danske Bank?
Copenhagen Municipality is looking into cutting ties with Danske Bank following the bank's involvement in a massive money laundering scandal. Copenhagen, which has declared itself to be a 'tax haven-free' city, is looking into the possibility of no longer keeping municipal funds in the embattled bank. Mayor Frank Jensen said on Twitter that he was looking at options regarding a change of bank. Aside from Copenhagen, Albertslund, Frederiksberg and Roskilde have also signed the 'tax haven-free' charter, which compels municipalities to only deal with companies that don't use tax havens. Meanwhile, Copenhagen Business School has confirmed today that it has ceased all dealings with Danske Bank in light of the scandal.
City embracing sustainable astro
Copenhagen's football pitches got a little 'greener' today following the opening of the city's first cork-based astro pitch in Tingbjerg. The cork pitch is a more sustainable version of the traditional astro pitches seen around the city, which use rubber pellets made from old car tyres. The cork is made from the bark of Portuguese cork oak – a more sustainable option to the rubber pellets that have been shown to pollute and spread micro plastic into drinking water sources. The small pellets also contain heavy metals like copper, nickel and zink, as well as trace amounts of the carcinogenic polycyclic aromatic hydrocarbons (PAHs). According to the Belgian distributor, the cork astro turf will require the same about of upkeep as the rubber pellets. The new pitch costs about 10 million kroner and the cork 'filling' costs about 800,000 kroner. The first generation of astro turf was first established in the US in 1966.
Dinesen gets his bust
Thomas Dinesen, the lesser-known brother of renowned Danish author Karen Blixen, will get a bust in Churchill Park on Friday for his merits during WWI. Dinesen, who died in 1979, is one of just four Danes to be given the most prestigious British medal of honour, the Victorian Cross, for valour at the Battle of Amiens at Parvillers in France almost exactly a century ago on 12 August 1918. During the ten-hour battle, Private Dinesen displayed exceptional heroism, resulting in the taking of about a mile of staunchly-defended trenches. Dinesen reportedly single-handedly stormed ahead and dispatched 12 enemies with his bayonet and hand grenades. Queen Margrethe II will be present at the unveiling of the bust on Friday.
Madsen calls it a day
The case involving the killing of Swedish journalist Kim Wall has reached its conclusion following the news that convicted murderer Peter Madsen has given up any hope of getting his life sentence overturned by the Supreme Court. Madsen's lawyer Betina Hald Engmark revealed that the 47-year-old has given up trying to get permission to bring his case before the Supreme Court, thereby forgoing his last chance to overturn the life sentence ruling. The High Court ruled on September 26 that it would not overturn the ruling of the City Court from earlier this year.
Aussie smashes up CPH Airport
A 26-year-old Australian man is being held on remand after running amok at Copenhagen Airport and smashing eight computer screens at the check-in stands on October 3. He also bit a security guard and tossed chairs before being transported to Hvidovre Hospital where he was adjudged to be fit to stand trial. The man admitted that he had taken a cocktail of cocaine, MDMA and rohypnol and that he was in treatment in Australia for a psychological illness. The man, who was due to travel to London, has been charged with gross vandalism and will be held on remand for 13 days. He has pleaded not guilty to the charges.