News
Copenhagen presents the all-in-one bench and bin
---
This article is more than 5 years old.
A new way of waste sorting is currently being tested at Christianshavn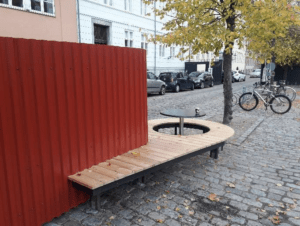 Imagine sitting on a bench somewhere in Copenhagen, eating a smørrebrød and enjoying the view. What would you do with your wrapper? Leave it, take it home or embark on a search for the closest dustbin?
In the neighbourhood of Christianshavn, two new waste sorting stations are currently being tested. The bins are quite unconventional in the sense that you might not recognise them as such right away: aside from functioning as regular waste separation systems, they serve simultaneously as seating areas including a bench and a table – containing even a bookshelf.
Sorting waste in public
Developed by the city's technical and environmental administration and Christianshavn's local committee, the stations help to sort paper, cardboard, metal and plastic in public areas. They are mainly intended for citizens who do not have space to sort their rubbish at home.
Christianshavn's new additions can be found along Overgaden Neden Vandet: one alongside Bådsmandsstræde, the other at the gate of B&W.
Further operation planned
The trial will last one year. The stations' success and possible further operation will then be evaluated according to the amount of waste collected and reception by the public.
READ ALSO: Copenhagen aims to recycle 70 percent of all waste by 2024
The experiments's ultimate goal is to help fulfil Copenhagen municipality's draft resource and waste plan, which envisages its citizens sorting 70 percent of their waste by 2024.