News
Walk on the welcome side: with a survivor who knows the way
---
This article is more than 5 years old.
Welcome Group Consulting founder Karey-Anne Duevang has learnt better than most how to thrive as an international in Denmark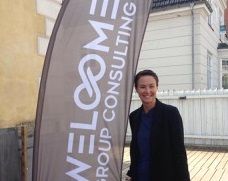 A few weeks ago I attended Welcome Group Consulting's free workshop in English at Cafe Cadeau in Frederiksberg. Eager to learn about enhancing my CV, cover letter and interview techniques for working in Denmark, I wandered in with a droopy old mindset, the product of feeling passed over by Danish work culture for years. So imagine my surprise when I strode out with a shiny new set of tools and a very much brighter and proactive attitude.
Bradford upbringing
I was particularly intrigued by the dark-haired British lady who delivered the presentation with such aplomb. Karey-Anne Duevang blazed with a rare blend of energy, professionalism and internationalism – hers was a 'can do' approach that I found so refreshing.
I hung around afterwards and we went for coffee where we shared stories and laughed. I left on a caffeine and creative high, keen to spread the word about her enthusiasm for connecting people, exchanging skills and actively putting people before profit in the Copenhagen international community.
Duevang has walked the walk, which makes it easy for her to talk the talk. She grew up in Bradford, Yorkshire in a home sandwiched between two of the city's roughest housing estates. But instead of falling through the cracks of society, she chose to thrive and become the first from her family to attend university, where she studied law and obtained a first-class degree with honours.
She learnt when she was very young to speak up in the face of injustice or wrong-doing, and she worked for a while as a youth support worker. The environment of her youth gave her insights into the subculture of criminal gangs, joy riders, drug abusers and victims of racial hatred, and she ended up specialising in profiling and understanding people and their needs through psychology.
Adaptable living
In her 20s she passed on the chance to become a barrister and travelled the world instead. She worked at the Maltese Embassy in Turkey for a while, but the diplomatic life of limousines was not to her taste and she moved on to India where she learnt the art of living, compassion and love in the warmth breath of the sub-continent.
It was here that she met a blue-eyed Dane, and they returned together to Denmark to enjoy the earthly delights of the Roskilde Festival in the summer of 2003, after which he resumed his studies at Copenhagen Business School and she met with her first wall: the difficulty of finding a job that matched her qualifications and expectations. All her years of prolific adaptability petered out, and so she made a u-turn and commuted to a job in the UK instead.
Her adaptability was commendable. In order to continue on her journey, she could not accept defeat. She had to fight and actively apply herself – it's a situation many of us have found ourselves in Denmark career-wise – to a lesser or greater degree. A job at Hertz car rentals followed and, although it looked like a downturn, she rose through the ranks to become a station controller.
Motherhood followed for the first time, and then for the second, as Duevang continued with her unusual career trajectory, enhanced by her fluency in Danish, working as an office manager and then as the PA for the CEO of the V Ships shipping company.
But despite her comfortable life and home, she realised she was bored and headed back to university to study global nutrition and health at Metropol University, Copenhagen. Little did she know that her biggest challenge lay around the corner.
Bouncing back
Not long after starting her studies, she was faced with divorce and the loss of her home. It was once again time to be adaptable: to understand the provisions made for single parents in Denmark, survive and thrive! Many people helped her along this hard road, opening doors that she couldn't locate in her despair and confusion, helping her to fill out forms, locate an apartment, translate official documents, and hold her hand and say that it would be all alright.
Duevang hasn't forgotten their help and she honours them with her desire to give back. Since hitting that low, she has once again risen up to excel in business. She smiles as she recalls the night when a taxi driver dropped her off at her new apartment in Sydhavn – all floor-to-ceiling windows glinting with harbour lights and success – and innocently asked her what her husband's job was.
As Duevang climbed the stairs, she realised that she was indeed fulfilled as the financial controller for fashion brand Malene Birger – a position she took after spending two years in a similar position at IC Companies – and had achieved the illusive triangle (Maslow's hierarchy of needs) of a secure foundation, a roof over her head and good finances. And there was a husband to share it with: her soulmate Tony Duevang!
Giving back to her own
The urge to give back and become a better person drove her to start her own business: a company to actively help people by imparting knowledge through all that she'd learned – the hard way.
Welcome Group Consulting (WGC) was formed in January 2008 and it's thriving! Its fundamental goal has been to supply people with the tools to help themselves. Services are aimed at international people who are thinking of coming to live in, return to or study in Denmark. It takes care of everything they might need, from a good network and advice on schools, to getting your CPR number and making the cultural adjustments needed to settle. Additionally, WGC offers help to those already here and in need of special assistance with their taxation, the law, childcare, housing or entering the job market.
Duevang is well aware how frequently foreign professionals and their families end up leaving Denmark feeling unhappy with their experience of not being welcomed by Danish society, or at odds with the culture.
Danish politicians continue to scratch their heads over how only 38 percent of the foreigners who enter the Danish workplace annually choose to stay. Meanwhile, Denmark's reputation as the happiest country in the world has started to take a tumble lately.
Duevang strongly feels that Denmark shouldn't have a parallel society for foreign settlers, and she accordingly advocates a shift in mindset regarding how we integrate, coupled with helping Danes to understand how to facilitate integration.
Duevang has a mission to help international talent and their families settle, stay and have a fulfilling life in Denmark. She's been there, and she promises to be with her clients every step of the way.