News
Margrethe Vestager on the importance of ensuring a fair deal for all the EU's consumers
---
This article is more than 5 years old.
The CPH POST interviewed the EU's Competition Commissioner for the Autumn 2018 edition of the Diplomacy magazine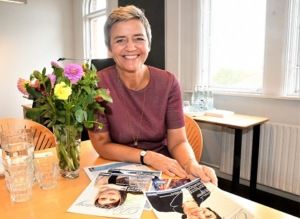 Margrethe Vestager is the current EU Competition Commissioner. The daughter of two priests, she grew up in Ølgod in southwest Jutland. Having taken a degree in economics at the University of Copenhagen, she joined the Finance Ministry in 1993. Vestager took her first serious steps into politics as Radikale Venstre MP for Esbjerg in 1988.
Vestager became head of the Radikale party on 15 June 2007 and was chair of the party's parliamentary group from 2007-2011. Subsequently, she has held ministerial posts as economics and interior minister (2011-2014) and education and church minister (1998-2000). She also served as Deputy Prime Minister from 2011-2014 under Helle Thorning-Schmidt.
You have had a long high-profile career in Danish politics. What made you get into politics and why did you pick De Radikale Venstre in particular?
Well, I wasn't really interested in politics to start with. What I wanted to do was to take part in shaping what is happening around me. My parents were both Lutheran pastors, very engaged in the local community, so this was the sort of thing you were supposed to do.
Party politics only came into my life after years of student politics. I think it was Radikale Venstre because that was everything we ever believed in. My mother's great grandfather was at the meeting in 1905 when the party was founded. My mother's aunt was a very old-school member up in the northern part of Denmark, so it was rather the thing you did – not because somebody was pushing a leaflet at you but because of a more integrated approach and the values of the party relative to the way you live your life.
Which political issues are closest to your heart?
The most important thing is that people feel they are counted in when it comes to society; that each and every one of us feels that we are equally respected, that we have equal opportunities so we have a fair chance of making it. There are no guarantees, but at least we ought to have a fair chance because everyone is treated alike. That comes in many different forms and one is education. That's one of the things I worked with and that has always been very close to my heart. The more we learn and the more we are able to develop as humans, the better we can shape our own lives.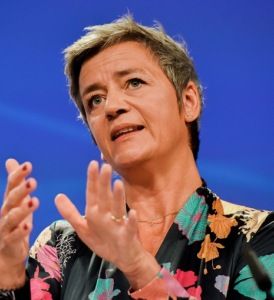 Did you have any doubts about taking up the EU Commission post when it was offered?
The then Prime Minister Helle Thorning-Schmidt and I had to figure out who was going to be the Danish commissioner. We were to-ing and fro-ing and postponed taking a decision and then I realised that I would actually like the job! We quickly agreed on that and I could say that with my background in economics it made sense to take one of the more economics-based posts in the commission. I had the experience, having served in the EU's Ecofin council for three years by that time. I hadn't planned it but it was something that came up and it was all about being in the right place at the right time when an opportunity arises.
What does the Competition Commissioner actually do and how does that fit in with the EU governing system in general?
The short answer is we want the markets to work fairly for everyone. No-one is too big and can be above the law; it is for each and every one of us. You shouldn't form a cartel, you shouldn't misuse a very strong market position; you cannot buy yourself a cosy little monopoly so that you can set the prices yourself, and member states shouldn't give harmful subsidies to make it easier for some companies to compete compared to others.
The point is that we, as consumers, get a fair deal in the market because in the regulated way we have it in Europe, the market is part of the peace-keeping puzzle where we all get treated fairly and have an equal chance.
This puts me in a special position within the commission because this is law enforcement. Law enforcement is based on evidence, the facts of the case and jurisprudence. You cannot put politics into that mix because it will have to stand up in court. This gives me a large degree of independence in case work so that it does not become politically-infused. That's very important because of the rule of law, due process – those are the very fundamentals of our union.
How important is diplomacy when it comes to your work as Competition Commissioner?
Well, you always have to be able to express yourself in a way that enables people to find solutions. It is important that I'm not thought to be at war with a particular business. There is a specific kind of behaviour, sometimes illegal, and that of course has to stop. But that doesn't mean that the entire company and all its employees are also being judged. For me that is important, because people can change. And before the case is proven you don't know whether your suspicions are right or wrong. So it takes a certain level of diplomacy, if you can call it that …Tact perhaps? Yes, I think that would be the appropriate word.
You're only the second woman to hold the post (the first being Neelie Kroes). Do you feel that as a woman, you have to be twice as good as a man or is that irrelevant?
I wouldn't say that it was irrelevant because I think there are still differences. The relevance comes from the fact that the more diverse the group to investigate and take decisions, the better. But in this position I've never felt discriminated against or not respected for being a woman. Sometimes I find that people have to work out how to deal with this because they are used to having a man on the other side of the table! I get people asking about my children and I don't think they would do that if it was a man. But is doesn't really matter as it is another kind of relationship and that is the important thing. When you talk to people, you still have to work together within the framework of the law.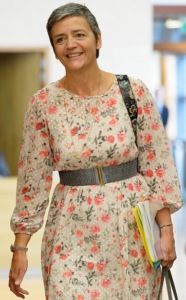 You have been in the headlines for taking a tough stance against a number of the largest companies in the world such as Facebook, Google and Apple and handing out heavy fines. That must have taken some courage …
I don't think about it like that because yes, they are giant companies but I work on behalf of 500,000,000 people and if ever I get nervous, I just imagine 500,000,000 people standing behind me!
It seems also to have earned you a lot of respect in Europe. Do you feel that there is also a moral dimension involved here as well as a purely competitive one?
The treaty setting out the articles on which all our regulations are based didn't come out of thin air. It has been made by people and choices made by the founders of the EU. They made value choices because they saw what happened in the 1930s in the run-up to the Second World War. One of the things they saw was that an unregulated market gives room for monopolies and misuse of power. They saw that the marketplace had played a negative role to some extent. They then said 'this is not the way we want things to be'. What we do is based on what our founders and those coming after revising the treaties wanted them to be, so it is not neutral but based on human activity and human choices.
In that respect, do you have any comment on the Danske Bank money-laundering scandal?
We've recently drafted a proposal to combat money-laundering. The sad thing about this enormous scandal is that it is absolutely a matter of urgency, and right to strengthen the rules that we have. We need to enable supervisory bodies to do a better job.
Unfortunately, money-laundering is not just a thing of the past; it is very much a thing of today. If we can do more in fellowship in Europe then we can present a stronger front against money-laundering.
There seems to be a feeling in some quarters that globalisation has gone too far and some multinationals are behaving as if they are a law unto themselves. How do you feel about that – and if it is true, what can be done about it?
In this context it is important to actually define the problem because we live in one world. Even the Vikings had global endeavours! So living in one world is not a new thing but the fact that we gain more in control of the negative sides is the important thing. For instance, my colleague Celia [Cecilia Malmström, Trade Commissioner] has changed the way we do trade deals so that they are more fundamentally value-based. It's not just about lowering tariffs.
We also want to emphasise that we want to have a relationship where we want everybody to have decent working conditions, animal welfare – and the other things that we would like to see in our own country. So I think we can shape globalisation to a larger degree than we've done so far. We can still have the benefits but also take greater control of the bad sides of globalisation.
If you look at my tax cases, what you see is that it's not because you are multinational that you avoid taxes, but if you avoid taxes by for instance receiving illegal state aid, then more often than not you would be a multinational company. It is of course 100 percent legitimate that a multinational gets itself organised with the different branches in different countries. But the fact that you have to be organised like that also opens up for the possibility of moving the profits from high tax to low tax to almost no tax. If that last part gives a selective advantage just to you and not to anyone else, then it is illegal. The European Court ruled on this around 20 years ago.
The issue has arisen because companies have been doing this in secret. A number of companies have organised themselves in order to avoid paying taxes and also receive illegal state aid. That will have to change, as we are showing in our decisions that it should.
Although the laws passed in Brussels have an enormous impact on people's daily lives, the EU can seem very remote. Have you any ideas regarding how to make EU politics more visible in a positive way?
One of the things we have to do is to stop talking about the EU because to some degree, that's a fiction. It is either the parliament, the council or the commission where I work — or the courts for that matter.
Our PM was with his colleagues yesterday in the European Council, so he is also a European decision-maker. I think if we can have our national decision-makers talk more and discuss more what decisions they take with their colleagues in council and our publicly-elected parliamentarians in the European Parliament, then we can show that our national democracy and the European democracy are completely integrated. They are just different parts of one democracy that allow us to solve problems of almost any nature – some on a European scale and some on a national scale.
How do you view the growing Euroscepticism that is manifesting itself these days – most notably through Brexit and how can we tackle that?
Part of it is very difficult to tackle because it is a very well known political rhetorical flourish to say that those far away do bad things and I'm right in front of you, you can feel my passion to better your conditions but those people far away don't see you. That is very hard to avoid.
However, I think we can show people that there is so much more too it; that there is no mysterious body far away taking decisions over your head. It is actually the same PM and the same minister of fisheries taking decisions here on Danish conditions who negotiates on a European level. We are much more integrated than the hostile rhetoric would suggest.
Obviously the press has a lot to answer for in this respect. Some newspapers are peddling the idea that the EU is to blame for everything under the sun when a lot of it is domestic policy …
I think this is improving to some degree. It seems to me there is more reporting about what is going on in other countries, what is being discussed, what our PM or other ministers said in the council meeting, what decisions they took that we will now implement nationally. So I think it is getting better and that allows people to have a broader, fuller, richer view of what is going on in our European democracy.
What do you regard as your greatest achievement to date as commissioner?
Well, it's not over yet! I think it is a little like asking someone to choose amongst their children – you can't do that either!
This is a rather loaded question I know, but would you like to continue as commissioner if you have the chance – and if it were possible, what areas would be your primary focus?
I've stated publicly that I would be more than happy to have another five years and preferably as Competition Commissioner because I feel that we are in the middle of something.
These are formative years because we're in this technological and digital revolution. Also, being able to carry on working to shape how we make sure that the market is still serving us as consumers – when everything becomes digital. Are there things that we should change?
I've asked three special advisers for input, we've asked for public comments, we are holding a conference. There is really a lot to do because business models are changing and the way you create value. It is very intriguing to be able to work with that.
If you have to return to the Danish political area, what do you see as the greatest challenges we face at the present time?
In Europe in general, the important thing is to make sure that we are equal in front of the law, that we live in open societies based on the rule of law and the press is free.
Maybe we've taken democracy and the rule of law for granted. I think this is something that has to be continually renewed with every generation because we tend to forget. It's a bit going to a funeral. You start to reflect and tell yourself 'I must remember to enjoy every day', but within a week you forget! You start planning for the future instead of being very much in the present.
I have this feeling that we may be in the same situation with our democracy. We need to be present in it and renew it with every generation because otherwise we forget about it and it slips away.