News
Exceptional Viking find in Denmark: Treasure preserved in bog for over a millennium
---
This article is more than 5 years old.
Over 200 coins found in wetlands near Ribe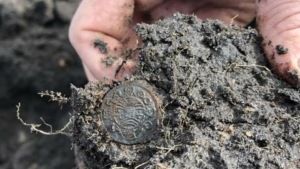 The city of Ribe in west Jutland can not only claim to be Denmark's oldest town, but it can now boast to be the site of one of the most interesting archaeological finds in Danish history.
In a nearby bog, archaeologists have uncovered 248 coins that are believed to have been minted over 1,000 years ago – way back in the early 9th century.
The excavation, which is ongoing, is unique because only ten such coins have been found worldwide until now, according to the curator of the Museum of Southwest Jutland, Claus Feveile.
"This is an exceptional find that means a quantum leap in our understanding of minting. They are Danish coins and clearly minted for the purpose of being implemented in Ribe," Feveile told DR Nyheder.
"This completely shifts our understanding of how we used to mint and the process of coin production."
READ MORE: Warm summer helping the 'flying archaeologists' to identify ancient settlements
Not the bog standard
The coins were found in an old bog area, and this has meant that the coins have been preserved to the point where they look almost freshly-minted.
The discovery will assist archaeologists in studying coin dies and learning more about the kingship behind the minting.
The coins will be on display at the Museum of Southwest Jutland from October 29 to November 4.