News
Indian summer to hit southern Denmark on Tuesday
---
This article is more than 5 years old.
Tropical Tuesday offers Danes a last hurrah with winter waiting around the corner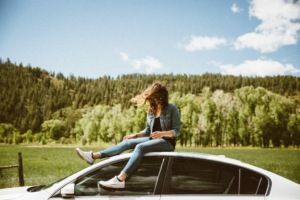 The winter coats are out – along with the multiple scarves. People are shivering at the bus stop, and there are fewer bicycles on the road. And it even snowed in places on Sunday.
'Winter' has hit Denmark with a vengeance – how dare its people imagine they were living in a warm country. The comedown from the hottest summer on record is a tough pill to swallow. Praise the lord for sensible clothing.
Tropical Tuesday in store
But what's this we're hearing? Summer isn't finished? Apparently a low pressure system from the south will bring heavy rain followed by unseasonably warm air to Denmark on Tuesday, pushing temperatures up to 18 degrees in the south, and to 16 in Copenhagen.
Should it exceed 19.1, it will set a new record for October 30 (recorded in 2005), and if the system hangs around, it will have the all-time November record of 18.5 (2 Nov 1968) in its sights.
The southern parts of Jutland, Funen and Zealand, along with Lolland-Falster, can expect the best of it – and it's great news for Halloween on Wednesday, even though temperatures are expected to fall 6 degrees by then.
Still, it should mean the skeletons won't have to ruin the effect by wearing thermals underneath their skimpy outfits.
Behind the curve with rear lights 
In related news, the Rådet for Sikker Trafik safe traffic council has issued a reminder to drivers how important it is to turn on their rear lights now that the majority of commuters are driving home during twilight or darkness.
The clocks went back on Sunday morning, and according to a Rådet for Sikker Trafik survey of 1,664 drivers' experiences over the last three months, 70 percent have encountered cars that have not turned on their rear lights in dark or foggy conditions – up from 63 percent in 2016.
Drivers either forget to turn on their rear lights or deliberately leave them off to conserve their battery. Fortunately, all cars released since 2016 are mandatorily equipped with sensors that turn on the lights automatically.
Some 2 percent of the drivers reported that the unlit rear lights caused an accident.