News
Danish politicians accuse Trump of 'fake news' over US report
---
This article is more than 5 years old.
An unfavourable comparison between the US and Denmark has prompted a sharp response from a number of leading government figures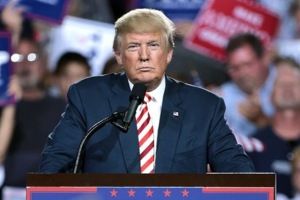 Controversial claims made in a newly-released White House report entitled 'The Opportunity Costs of Socialism' on the dire effects of socialism and the comparative living standards of Denmark and the US have prompted a swift response from Danish politicians.
See you outside?
In a post on Facebook, Prime Minister Lars Løkke Rasmussen professed himself ready "at any time" to take an argument with President Donald Trump over which country has the best social model.
The PM went on to point out that unlike the US, Denmark had managed to strike a good balance between freedom and community spirit. He admitted that "we pay a lot of tax", but added that Danes also get a lot back in return.
"Our children can get an education – whoever they are and wherever they come from. We can go to hospital and get help if we are ill regardless of whether we have a special insurance policy or have a lot of money in the bank," his post continued.
Big hat, big head
Rasumssen went on to mention unemployment benefits and the help provided by the state if people need a helping hand.
He ended with a barbed comment to the effect that "if there is one area where the US can beat Denmark it is that they are better at praising themselves (some might even say boasting about the things they are good at). We Danes are more self-critical about ourselves and our little country."
Just electioneering
The finance minister, Kristian Jensen, called the report "utterly ridiculous", adding that it should be seen in the light of the current American mid-term election campaign.
One of the report's conclusions was that living standards in the US are at least 15 percent higher than in Denmark, and that a poor person in the US is often better off than an average-income citizen in the Nordics.
"This is fake news straight from Donald Trump himself. It's just another expression of the way he doesn't have any scruples whatsoever about criticising other countries or peoples if and when it suits his agenda," said Jensen to DR Nyheder.
Not at all socialist
Denmark has come under American fire earlier, when a commentator from the right-wing station Fox News compared it to Venezuela.
READ ALSO: Was Denmark's reaction to Fox News beneath them?
Jensen points out that the comparison is very much wide of the mark as "we have a regulated but free market economy and actually, in a number of ways, we are a freer country than the US."
In a written reply to DR Nyheder, the foreign minister, Anders Samuelsen, said that "everybody knows that I think Denmark needs reforms and that fundamentally we pay too much tax, but it is completely absurd to characterise Denmark as a socialist country."