News
Two years and 450 performances later, how improv is here to stay
---
This article is more than 5 years old.
Improv Comedy Copenhagen keeps on expanding its repertoire – most recently with a Danish show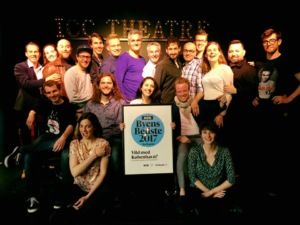 This October the hub for improv theatre in Denmark, Improv Comedy Copenhagen (ICC), celebrated two years of turning the performance comedy into a more mainstream artform from within the heart of Copenhagen.
With a solid community of improvisers, eight teachers and more than 1,000 already enrolled students, the ICC has spent the last two years cherishing improvised theatre under a multicultural setting, bringing together more than 30 nationalities.
"Thinking back, I'm amazed we did not shut down", enthused Kasper Jacobsen, who quit his job as an engineer to fully dive into creating solid bonds among improvisers and the audience.
Asked to signal out the magic ingredient behind its success, Jacobsen mused that beyond timing it was key how the ICC prioritised nurturing the community over revenue.
There is no better way of measuring the ICC's success, continued Jacobsen, than assessing the impact the theatre has had on people's lives – especially now in conjunction with the anniversary.
"We aspire to be the kind of experience that people look back at and remember as one of the most positive of their entire life: a period where they grew, developed and found focus", explained Jacobsen.
An audience hungry to explore the uncomfortable
Over the last two years, the ICC has staged more than 450 shows, increasing the number of its weekly shows from two to five, but co-founder Stefan Pagels Andersen is taking nothing for granted.
"Improv has an unique nature. It requires the audience to be present at all times. It is non-fakeable creativity," he explained.
"One could argue that in a lifestyle in which predictability has soaked every little corner of our experiences, and even on local stages improv is bringing a renovated sense of authenticity that permits us a deep breath."
The ICC currently offers a broad variety of shows, ranging from classic long-form and short-form improvisation to film noir-inspired improvised shows, musical improv and stand-up every Sunday.
Catering to a multicultural audience seeking authentic experiences and laughter, ICC has come to realise that their audience and fans are extremely diverse.
Wait outside the theatre on a Saturday night and you will see teenagers, expats, Danes, CEOs of big companies and retired couples looking for new inspiration. It's living proof that improv is indeed for everyone.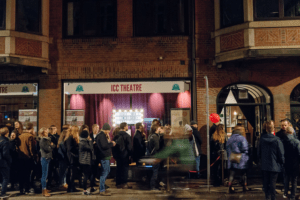 Dedication to take improv out of the mud
Knowing that improv belongs to the underground, the ICC has geared up on all fronts to break a divide that has always haunted the improv scene: the defence of it as a legit expression of art.
For Jacobsen, the only way of proving detractors wrong is to keep developing the performances and promote the ICC activities as a springboard for performers, teachers, students and companies. That is why at the moment the theatre is adding new formats to the shows, introducing more classes and increasing its collaborations with companies and visiting teachers from abroad.
For five years in a row, the Copenhagen International Improv Festival run by the ICC and its community has proven to be a fresh and captivating window for the capital's improv scene.
For last year's festival more than 1,000 show tickets were sold, as improvisers from all over Europe, Canada and USA took part. In total more than 25 performing teams (mostly from outside Denmark) took part during the festival week. And 200 improvisers, again mostly from outside Denmark, came to participate in workshops with some of the best teachers in the world.
Jump and do it yourself
"The accessibility of the theatre brought me closer to the sense of belonging I was looking for," recalled Marius Lathey, a professional actor who recently gave up his career in the non-profit sector to teach up to five classes a week at the theatre.
The ICC has given him a place to pursue his passion in an international environment, which is not easy to find in the capital. "The ICC is all about being an inviting club, which is far from being pretentious," he added.
Jacobsen concurs that humility and remembering that improv is a team activity is key.
"Improv is the ultimate expression of teamwork – no individual is calling the shots," he said.
"We see ourselves as much more than a theatre – we are a school. Where do you go if you want to learn all about improvised theatre in Denmark? You run into us."