Arctic
Oil for ice water? Greenland, China lining up co-operation
---
This article is more than 5 years old.
Chinese oil giants eye exploration in Greenland as Arctic nation seeks drinking water inroads to Chinese market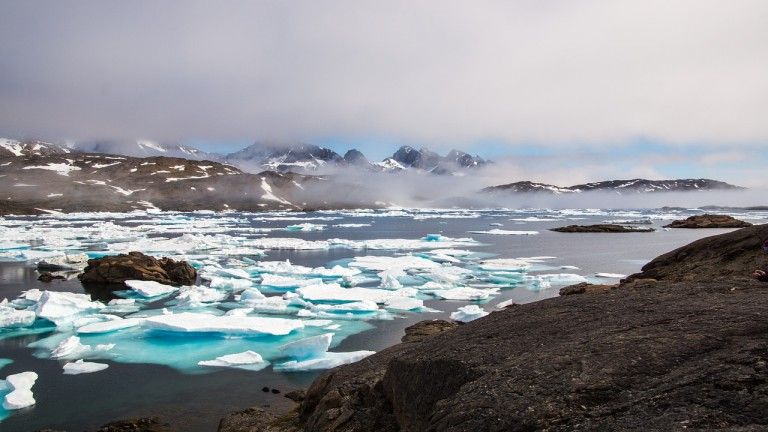 Greenland and China look poised to be doing more business in the future following the revelations that the two parties are looking to gain a foothold in one another's' respective markets.
Two Chinese oil giants, China National Petroleum Corp and China National Offshore Oil Corp, have expressed an interest in exploring Greenland for oil, while the Arctic island's government has plans to export ice cap water to the Chinese market.
China National Petroleum Corp, China's biggest oil company – employing over a million people – has met with Greenland's government regarding future oil exploration, as has China National Offshore Oil Corp, the country's third-largest oil firm. Both companies have asked for meetings concerning the licences that Greenland plans to offer in 2021.
"We've held meetings with the two companies and told them about Greenland's bidding rounds and oil potential," Jørn Skov Nielsen, a spokesperson for Greenland's Energy Ministry, told DR Nyheder.
"It's also true that we've held technical follow-up meetings that included our geologists and their technicians. We think it's positive, but time will tell whether they decide to apply in first or second bidding round."
READ MORE: Greenland sets ambitious child abuse goal
Huge potential 
The news comes as Greenland seeks to bolster its oil strategy in order to secure a source of income that will allow the island to eventually position itself closer to independence from Denmark.
US geological surveys have indicated that Greenland's underground could contain upwards of 50 billion barrels of oil and gas.
In comparison, Denmark has drilled 3.8 billion barrels of oil and gas in the North Sea from 1972 to 2015 – which brought 415 billion kroner to the Danish state coffers.
So far, however, oil exploration in Greenland has yielded little success, as Scottish firm Cairn Energy, for one, discovered.
And low oil prices in recent years have prompted many companies to abandon plans to explore Greenland for oil. But now, the price of oil is surging once again and has reached close to 70 kroner per barrel. But despite the rise, the extreme climate on Greenland means that the price needs to further increase for exploration to be viable in the Arctic nation.
READ MORE: Plans unveiled for a massive uranium mine in Greenland
Yuan some water?
Meanwhile, Greenland might have another natural resource that could be of interest to China.
Climate change has led to inland glaciers melting at growing rates, which has led to more and more clean drinking water flowing down from the ice caps.
Greenland's government has unveiled plans to utilise the trend and capitalise on China's massive consumption of bottled drinking water.
The minister for industry and energy, Aqqalu Jerimiassen, is in China this week to promote Greenlandic ice water, which is considered to be some of the cleanest in the world – having been frozen in the inland ice for up to 50,000 years.
The combination of the cold climate and little human contact means that the spread of bacteria in the water has been minimal.
"The water is naturally sterile," Jerimiassen told Politiken newspaper.
The government has commissioned the Geological Survey of Denmark and Greenland (GEUS) to locate areas suitable to tap and produce the clean water.
So far, six areas on the western coast of the island have been discovered – one of which has already yielded a licence to the firm, Inland Ice. The five others will be sent for a bidding round later on. All six sources live up to EU standards for clean drinking water.