News
Pepper sprays for self-defence a step closer, despite expert misgivings
---
This article is more than 5 years old.
Today sees the first reading of a bill that would permit citizens to keep pepper sprays at home to repel intruders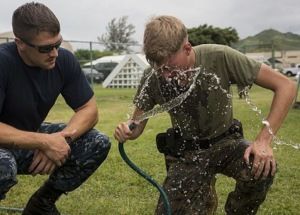 A new low-level 'arms race' could be on the cards if ordinary citizens are allowed to use pepper sprays at home to defend themselves – at least, that is the worry some experts have.
READ ALSO: Pepper spray should be legalised, says Kjærsgaard
A law is being debated that would allow people to keep a pepper spray on their bedside table if it makes them feel more secure. This would be the first time that it would be legally permitted to use force in self-defence.
Rather report and observe
However, the police and other experts are not happy with the idea, reports TV2 Nyheder.
"It is a bad law that I hope will not be passed," said police federation head Claus Oxfeldt.
"Basically, people ought not to resort to self-defence. They should rather observe and report and not try to take matters into their own hands. There is a risk that they could end up being seriously hurt," he added.
As things stand the police are licensed to use pepper sprays and are trained in doing so, as well as in giving any first aid that might be necessary afterwards to alleviate the effects of momentary blindness and burning in the eyes and mucous membranes that spraying causes.
"If you use a pepper spray in a narrow hall, you will get the chemical in your own eyes, so there are a lot of factors that suggest that it is a bad idea to allow pepper sprays in people's homes," said Oxfeldt.
A false sense of security
The police federation head is also sceptical when it comes to government claims that permitting sprays will make a lot of people feel more secure.
READ ALSO: Danes increasingly buying pepper spray in Germany
"I'm afraid it will lull people into a false sense of security, because perhaps they will think they can handle a situation that they really can't. You're not just confronting a person who is standing stock still, and the person could become extremely aggressive," he added.
The anti-crime organisation Det Kriminalpræventive Råd is also against the move and fears an escalation in levels of violence if the law passes.
"When pepper sprays are legalised for home use, everyone has easy access to them. That means that they are also freely available to criminals," the organisation noted in a written submission to Parliament.