Things to do
Preview: Around the world in 800 jokes at the Crazy Christmas Cabaret
---
This article is more than 5 years old.
It wasn't certain whether the 'Crazy Christmas Cabaret' would return to Copenhagen's Tivoli. Now, its many fans can breathe a sighn of relief as the British comedy will take to the stage once again – and it will be crazier than ever!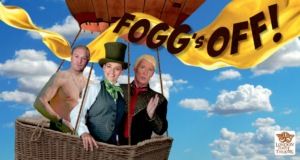 A half-naked Russian president riding horseback, North Korean atomic bombs on standby and two years of the orange-faced American leader …
Apparently, the world has been going 'nuts' for quite some time now. With so much going on all the time, it is difficult to stay on top of things at the end of the year, don't you think?
Well, thank god then for London Toast Theatre and its 'Crazy Christmas Cabaret'!
The comeback is on!
The English-language theatre has been performing its annual Christmas show featuring crazy characters, bizarre whims and hysterical jokes for a staggering 35 years.
While its return was uncertain at first, the theatre has confirmed its comeback to the Glassalen in Tivoli between November 7 and January 5.
Slapstick and satire
Full of songs, silly gags, slapstick and satire, this staple of dry British humor has become an all-time favourite with Danish audiences.
Its founder and creator, English actress Vivienne McKee, presents the phenomenal Phileas Fogg and his formidable aunt Lady Wilhemina Wobblebottom, who will take you around the world on a crazy rollercoaster ride.
Staking his entire fortune on a bet, Fogg's bold 'Brexit' will take him from disunited Europe to inscrutable Asia, over enticing India and, to 'trump' it all, across star-spangled America and the Wild West.
Or simply put: 'FOGG'S OFF!'