News
Fehmarn tunnel project encounters a new bump in the road
---
This article is more than 5 years old.
Legislative problems mean that backers of a fixed link from Germany to Denmark will have to be patient a while longer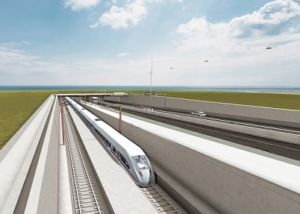 The German Parliament's transport committee has rejected the idea of adding the Fehmarn tunnel link to Germany into a new updated version of the planning laws, despite the wishes of the regional government in Schleswig-Holstein, reports Ingeniøren.
This means that the state construction company Femern won't be able to make a start on building the tunnel next year after all.
Still a priority
However, all is not lost as connections between Hamburg and Copenhagen are still in the new planning law and highlighted as one of the stretches that should have special priority when it comes to building motorways and railways.
The sticking-point appears to be an environmental impact survey that is expected to be given final approval before Christmas after being in the processing stage for five years.
READ ALSO: Fehmarn Belt project running into further delays
In Denmark this would trigger an automatic green light to start building, but in Germany, the previous planning law only allowed for the survey to be brought before a court for potential challenges to be heard.
Light at the end of the tunnel
A number of German organisations, including the powerful Nabu nature conservation society, have already said that they intend to go to court. This could delay the building for at least another 18 months – maybe longer.
The tunnel itself is estimated to take 8.5 years to build, and the builders have been given extra time to work in order to hold costs down to 52 billion kroner. If the court case drags on for two years, it would be unrealistic to expect the tunnel to open before 2030.
At present, the tunnel is being financed solely by the Danish state, with no financial contribution from the German side.
Denmark and Germany officially signed the contract to build the fixed link ten years ago.