News
Copenhagen-based gaming company back with another 'hit', man
---
This article is more than 5 years old.
Time to get out of the basement, lads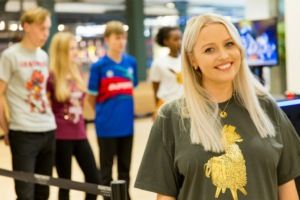 The first annual Christmas beer has been poured, so that can only mean on thing: the Danish holiday shopping season is in full swing! Every shop is jockeying for position and bringing out the big guns to attract customers already suffering from information-overload.
GameStop, the well-known bricks and mortar gamer's paradise seen in shopping centres throughout the country, recently hosted a press event at Copenhagen's Fisketorvet to reveal the plans they have in place to lure in customers for the holiday bacchanalia.
READ MORE: A nation of gamers: half of all Danish teenage boys indulge every day
Along with discounts and trade-in deals, the big hook dangled in front of hungry gamers was the chance to meet the developers of Hitman 2. Copenhagen-based IO Interactive created the title and Hitman 2016 was lauded as one of the best games released that year. Hitman 2 once again follows Agent 47 – an assassin with a bar code on the back of his bald dome – in his quest to uncover his past, whilst navigating the treacherous world of murder for hire.
Putting out a contract on stereotypes
When the public thinks of gamers, a stereotype springs to mind: teenage boys gorging themselves on sodas and crisps whilst playing non-stop for days on end in their mother's musty basement.
That is an impression that GameStop spokesperson Laura Mullet said needed to be buried forever.
"That's the cliche, but it's just no longer true," Mullet said. "People of all ages – from all walks of life, boys and girls – are part of the gaming community now."
Fashion displays designed with gaming and pop culture icons in mind were on display, along with the brand new Fortnite Pop figures and other toys and collectibles appealing to everyone from young girls to the most hardcore basement dwellers – perhaps even Granny in her parlour.
"The Harry Potter collection includes items that could fit into a den or living room anywhere and look like they belonged, whether or not one was a fan," said Mullet.
Hitman 2 a hit
Hitman 2 was the star of the show, and the arrival of developers Jacob Mikkelsen and Eskil Møhl was much anticipated.
Mikkelsen said that Hitman 2 is similar in game play to Hitman 2016, but included new features that make the game look and feel even better.
"For the first time in Hitman history, we've included co-op and versus modes that have kept me on the edge of my seat whilst playing against my colleagues."
Don't let them play for a Fortnite
Thomas Mallon, the marketing manager for GameStop Northern Europe, addressed fears expressed by many parents concerning kids who love games like the ubiquitous Fortnite a little too much and sometimes run up their parents' credit cards with in-game purchases.
 "The best way to manage what video games children play, and decide how long they play, is to have a go yourself." said Mallon.
"The consoles contain parental controls to manage the use of credit cards online to prevent in-game purchases."