News
Science News in Brief: Study maps spread of multi-resistant bacteria in pigs
---
This article is more than 5 years old.
In other stories, autism levels increasing with age while cutting gluten can help you lose weight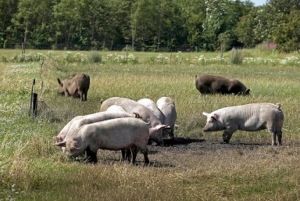 MRSA, or methicillin-resistant staphylococcus aureus, is a bacteria that does not respond to treatment by many commonly-used antibiotics. The version found in pigs has spread across the whole country in record time. In 2008 it was found at 3.5 percent of Danish pig farms, but by 2016 the figure was 90 percent, reports Politiken.
Researchers have now found the reason why: three different antibiotic-resistant bacteria, along with the widespread movement of animals, a study published in the magazine mBio reveals.
A costly remedy
The bacteria don't have any obvious effect on the pigs, so farmers don't have much incentive to do anything about it. But the bacteria can be harmful to humans – especially the elderly or people with low immunity.
Calculations made by the University of Copenhagen's Institute for Food and Resources show that it would cost around 14-15 billion kroner to remove all the infected animals, clean the pens properly and introduce new animals.
---
Danish study shows autism levels increase with age
A new Danish study carried out by researchers at Aarhus University using data from every diagnosis made in Denmark over 32 years has found that the prevalence of autism seems to increase with age, reports Spectrum.org. Figures for 2016 reveal that autism prevalence in 10-year-olds was 1.65 percent. However, the highest prevalence was found among people born between 2000 and 2001. As many as 2.8 percent of this group had an autism diagnosis by 2016 – 3.89 percent of boys and 1.66 percent of girls. Autism prevalence at any given age went up year by year. The researchers admit that this may, in part, be because more adolescents and adults are being diagnosed with the condition than before. However, the definition of autism and the way the condition is diagnosed have changed over the past few decades, and that might explain at least part of the increase.
Cutting gluten levels helps wellbeing – and you may lose weight
Reducing gluten intake may not just be food-faddism, new research indicates. If you cut down on bread, pizza, pasta and other gluten-rich food, your stomach will feel better and you might also lose a bit of weight, reports Politiken. After a six-year study, 52 Danish and international researchers worldwide have proved that eating less gluten can have a positive effect. Doing so causes intestinal flora to change and behave differently, and that leads to less wind. As well as feeling less bloated, subjects could record a weight loss of almost a kilo after eight weeks. The researchers were also at pains to point out that it is not gluten as such that is the problem, but the associated fibres in gluten-rich food.
New labs for DTU
On November 28, Crown Prince Frederik will officially open two new laboratories at the Technical University of Denmark (DTU). The labs will be used to research technical geology, geotechnics and the development of sustainable building materials. "With the new facilities, among other things we will be able to obtain research-based knowledge that is extremely useful in new, large building projects such as the Fehmarn Belt tunnel or in maintaining existing infrastructure," said the institute's head Niels-Jørgen Aagaard. As well as strengthening DTU's position as an elite university, the labs will provide a foundation for the analysis of research to respond to the challenges that building projects worldwide face regarding climate change and pressure on the planet's resources.
New partnerships for Aarhus University
Aarhus University has decided to partner up with five other European research-intensive universities to form a strategic alliance to improve co-operation in both research and teaching. Apart from Aarhus, the other institutions are Humboldt-universität zu Berlin, King's College London, Université catholique de Louvain, Oslo University and Université Paris Diderot. The intention is to lift educational levels across the board and create in-depth research projects between the institutions, drawing on each of their individual strengths and furthering their positions on the global academic scale.