News
Culture News in Brief: Bloody good innings, Egon! Last of the Olsen Banden stars dead at 83
---
This article is more than 5 years old.
Future belongs to David Sakurai, a Danish actor with a large role in 'Fantastic Beasts: The Crimes of Grindelwald'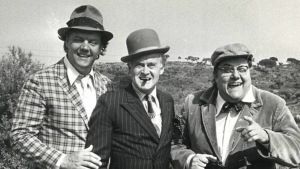 On October 11, Denmark's most acclaimed film series 'Olsen Banden' – 17 movies following the exploits of hapless trio Egon, Benny and Kjeld and their forever-doomed heist attempts – turned 50.
Poignantly only one of the main actors was alive to enjoy the milestone, but he was too ill to take part in celebrations, taking the opportunity to confirm he had lung cancer.
Today, it has been confirmed that Morten Grunwald, the last surviving member of the Olsen Gang, passed away after a brief stay in hospital. He was 83.
Grunwald played the affable goof Benny who is best remembered for uttering the iconic line 'Skide godt Egon' ('Bloody good Egon') – usually in response to the gang leader's latest heist plan.
READ MORE: Long before Morten and Jesper, this gang ruled the roost
Cherished trio
Aside from the Olsen Banden films, Grunwald appeared in scores of other films and theatre productions, winning a number of awards. And he was also a well-respected stage director.
The Olsen Banden series spanned 17 films and still remains amongst the Danes' favourite films.
The first film was released on 11 October 1968 and the Danes immediately took to the shenanigans of leader Egon Olsen (played by Sprogøe) and his two clumsy henchmen Benny and Kjeld (Bundgaard), who somehow always managed to bungle Egon's best-laid robbery plans.
Sprogøe passed away in 2004, and Bundgaard died in 1998.
---
From Iron Fist to high fives with Johnny Depp
Danish actor David Sakurai has a relatively big role in the forthcoming Harry Potter universe film 'Fantastic Beasts: The Crimes of Grindelwald'. The 39-year-old actor was raised in Frederiksværk in north Zealand before moving to Japan, the home country of his father, aged 18. In 'Fantastic Beasts' he plays the role of Krall, a henchman of the wicked wizard Grindelwald, who is played by Johnny Depp, one of Sakurai's all-time idols. Last year he sprang to fame after landing a main role in the Netflix series 'Iron Fist' – a role in which he can make good use of his martial art skills.
READ MORE: Sakurai the Danish samurai in Marvel's 'Iron Fist'
Gifford laments the absence of jantelov in his home country
Rufus Gifford, the former US ambassador to Denmark, was yesterday in Denmark to herald the release of 'Rufus Gifford i Trumps Amerika', an account of his unsuccessful bid to win a seat in Congress (Massachusetts Third District), which ended in September. In an interview with DR, Gifford recalled how Trump's surprise election cut short his time as ambassador by 6-12 months, attributed his recent defeat to under-estimating how a two-decade absence from his home state would affect his chances, and reflected that Trump's election would never had happened in a country with the jantelov.
Rod Stewart and The Smashing Pumpkins coming to Denmark
Legendary Scottish crooner Rod Stewart is coming to Denmark to perform in Herning on May 14. Ticket prices start at 1,900 kroner and sales start on November 20 at 10:00 at ticketmaster.dk. In related news, US alternative rock band The Smashing Pumpkins and South African electro/hip-hop outfit Die Antwoord have signed up to perform at next year's Heartland Festival (May 29-31) on Funen, joining a line-up that includes Solange Knowles. And finally, Chicago rap poet Mick Jenkins is performing at Pumpehuset and also in Aarhus (March 6-7) – tickets (220kr; 195kr) on sale at 10:00 on November 16 via ticketmaster.dk.