News
The show queen! HC Andersen tale the inspiration for Danish monarch's latest foray into ballet
---
This article is more than 5 years old.
Who said Margrethe might be 'frozen' with writer's block following her husband's passing?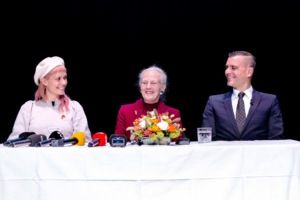 Did you think Queen Margrethe was 'frozen' in time since the sad passing of her husband, Prince Henrik, earlier this year? After all, she is now 78 years old.
Not likely! She may have been all at sea for a while, but the shout of "Oh land!" has been reverberating around the palaces to inspire her to 'let it go' and get stuck into another creative project.
Eighth production 
On seven previous occasions, the queen of Denmark has designed the sets and costumes for a Tivoli production.
And she is back on board – again with choreographer Yuri Possokhov and singer Oh Land, her collaborators on her last venture: 'Cinderella' at the themepark's Pantomime Theatre in 2016.
Tackling 'The Snow Queen'
The production this time around, in case the 'frozen' reference didn't give it away, is Hans Christian Andersen's classic fairy-tale 'The Snow Queen', the inspiration for the popular 2013 Disney film.
The brand new ballet, which will debut at the Tivoli Concert Hall on 1 December 2019, will also include live music and singing. Tickets are already on sale.
"Throwing myself in"
"Together with the rest of the team, whom I know well from previous productions, I am very much looking forward to throwing myself into the task of creating new decorations and costumes," said the queen.
"This is a wonderful fairy-tale that will take the audience on a journey that is both sad and festive, with plenty of opportunities for an entertaining narrative."
As well as 'Cinderella', since 2001 the queen has designed sets and costumes for the Tivoli productions of 'Love in the Dustbin', 'Thumbelina', 'The Steadfast Tin Soldier', 'The Tinder Box', 'The Swineherd' and 'The Nutcracker', which is scheduled to enjoy its third run in November and December.