News
Crime News in Brief: School-kids suspended after 'Beat 16' assault hits social media
---
This article is more than 5 years old.
In other news, the nation continues to speculate on whether Britta Nielsen's daughters and Nicklas Bendtner are guilty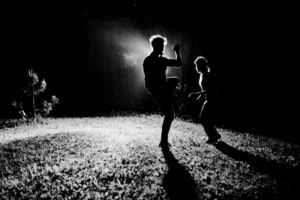 Ten children have been sent home from Roskilde Katedralskole for taking part in a ritual to mark one of their classmate's 16th birthday.
Reports are sketchy, but it is believed the 16-year-old was subjected to 16 seconds of full-on violence on November 9 – a free-for-all involving between 10 and 20 youths.
The episode was filmed and shared on social media, which has been blamed for a rise in violence among the age group across Europe, as youngsters seek real-life violent experiences, increasingly setting up 'fight clubs' to establish rules for the purpose.
According to the head, disciplinary action will be taken against the ten involving suspensions – some permanent – as soon as the police report of the incident has been received.
READ MORE: Danish forest-fighting hooligans pining for legitimacy
---
Nation glued to K5 for a change as Britta's daughters speak out
Most Danes would tell you Kanal 5 is low-brow – a dustbin for crap reality TV and repeats of 'CSI'. So it was perhaps a little unusual for the channel to scoop the interview all the tabloids wanted: a sit-down with the daughters of Britta Nielsen, the woman accused of embezzling 111 million kroner from the state, who was along with her son recently arrested in South Africa. Both daughters denied any knowledge of her wrong-doing or thought her sudden wealth was suspicious. Their mother, they claim, inferred the money chiefly came from a life insurance payout following the death of their father in 2005 – and also savings and an inheritance. The younger of the sisters, Samina Hayat, whose thoroughbred horse company was funded by Nielsen, said she left the running of the business to her mother and an accountant.  "When my mother says: 'Dad and I have saved together,' my first reaction isn't: 'Are you sure you haven't robbed a bank?'," added the other daughter, Jamilla Hayat.
READ MORE: Britta Nielsen in police custody back in Denmark
Police charge three men in absentia with gang shooting
The police are seeking three men in connection with a brutal assault on a hairdresser's in Nørrebro on September 16, which was on the first shootings in the Brothas civil war that flared up in Copenhagen in the early autumn. The three men have been sentence in absentia, and it is believed they might have fled abroad. In total 19 men face charges. Meanwhile, the gang-related shootings have not ended as a man was shot on Tagensvej close to the intersection with Lygten in Nordvest on the evening of Wednesday November 14. He was badly injured, but his condition was at no time critical.
READ MORE: Multiple terror and gang arrests in Copenhagen
No appeal against taxi driver's punishment – or lack of
It has been confirmed that the prosecution will not be appealing against a city court's decision to exonerate the taxi driver who Nicklas Bendtner assaulted on September 8. Whilst the footballer was handed 50 days in prison – a sentence he won't serve until after his appeal hearing – the driver was only found guilty of violating traffic laws (talking on his mobile phone and not wearing a seat-belt) and fined 3,000 kroner. Bendtner's girl-friend, Philine Roepstorff, who was with him on the evening of the incident, claimed the driver provoked the pair by deliberately taking a longer route than necessary and threatening the pair with his vehicle once they had left without paying.
READ MORE: Bendtner's girlfriend claims he was acting in self-defence
Home Guard recovers missing weapons
The public can rest easy again. The Home Guard has confirmed that is has recovered most of the weapons reported missing last week. It would appear that 15 of the 16 weapons reported missing at a depot in Vordingborg never left the barracks, and that they had just been moved to another warehouse. A submachine gun along with 50,000 rounds of ammunition are still missing, though.
READ MORE: Weapons and ammunition go missing from Home Guard