News
Dwindling gravel stocks could severely impact Danish building projects
---
This article is more than 5 years old.
A new report points to the fact that unless new sources are found, Denmark could run out of gravel in a few years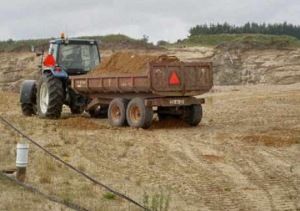 A recent investigation carried out by consulting engineers Niras on behalf of the Danish regions has turned up some disquieting news.
Supplies of gravel, the raw material essential for making asphalt and concrete, are running out, reports DR Nyheder.
Not a bottomless pit
"Denmark is in the middle of a building boom and our consumption of this raw material will increase dramatically. At the same time, we are emptying our gravel pits so we will experience a shortage," said the head of the Danish Regions' environmental committee, Heino Knudsen.
READ ALSO: Finally! New Nordhavn road gets the green light
The report reveals that demand will increase by more than 50 percent up until 2040. The situation is especially bad in the Capital Region, where gravel pits are expected to run dry by 2027.
Gritty realism needed
The price of building work will increase due to the higher costs associated with bringing in gravel from further afield – even from abroad.
Knudsen feels that the government is ignoring the problem, and he would like to see a strategy in place to tackle the shortage. He questions whether there is more gravel to be discovered in Denmark, and whether it would be useful to map the country with this in mind rather than rely on imports.
Yesterday, the Capital Region voted to open up for imported gravel. Knudsen points out that this is not a good long-term idea for the environment.
"Increased imports will lead to increased pressure on the environment. Instead, we need an integrated long-term plan," he said.
"Can more gravel be sucked up from the seabed? Can we make better use of recycling?"