News
Copenhagen – one of the most expensive holiday destinations worldwide
---
This article is more than 5 years old.
Go east young man (or woman) seems to be the message if you are strapped for cash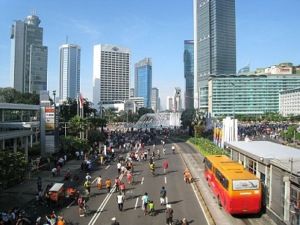 If you are a young person on a budget looking for a cheap holiday abroad, Jakarta might be your best bet, according to figures collected by Cuba Holidays for their Capital Economy Index.
The index uses six categories – hotel, attractions, transport, beer, coffee and restaurants – and tots up a total cost based on the price of these items for 100 capital cities worldwide.
Cheapest beds
Indonesia's capital Jakarta topped the cheapest cities list for providing great value rates across all areas, but particularly offering the cheapest rate for hotels. Hotel accommodation can be found for around 45 kroner per night and the total cost was a paltry 168 kroner.
Denmark, on the other hand, came in at 98th out of the 103 cities included. A hotel there was estimated to cost 503 kroner. With a coffee at 36 kroner and a beer at around 12 kroner (they must have bought that in a supermarket), Copenhagen ends up with an average cost of 1,550 kroner.
An expensive cup of joe
If you want a cheap cup of coffee, head to Tunis or Caracas, where you can get one for around a tenth of the price for a cup in Copenhagen. But as the Jana Crowne Photosynthesizer blog says: "With some of the best coffee in Europe, maybe it's worth it?"
After Jakarta, the next cheapest cities are Skopje (Macedonia), Colombo, Bishek (Kyrgyzstan), Bogota, Pristina (Kosovo), Tbilisi, Hanoi, Havana and Manila.
The most expensive 10 cities on the list are, in order, Chisinau (Moldova), Athens, Oslo, Paris, Manama (Bahrain), Copenhagen, Dublin, Amsterdam, Reykjavik and Abu Dhabi.