News
Culture News in Brief: If only Lars von Trier could make a happy film, muses minister
---
This article is more than 5 years old.
Don't worry Mette, because from Saturday DR1's new julekalender 'Theo & Den Magiske Talisman' and TV2's forthcoming family drama 'Håbet' have be delivering us more happy tidings than you can handle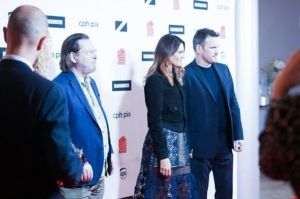 Mette Bock, the culture minister, no doubt reveres Lars von Trier as one of the world's greatest auteurs, but she has recently voiced an opinion that a great many of her compatriots most probably secretly feel: if only Lars would make something uplifting that celebrates the indomitable nature of the human spirit.
Whilst international critics have been less kind to his film 'The House That Jack Built', which hit Danish cinemas yesterday, the Danish film industry have been hailing a masterpiece. Bock, though, is not so sure.
"I have a dream: imagine if Lars von Trier challenged himself to make a movie sparkling in hope and joie de vivre – a constructive film about all the beauty life has to offer," wrote Bock on Twitter. "Come on, Lars – I know you can."
Don't tempt him!
However, Christina Rosendahl, the chair of the Danish film directors' association, has condemned the minister's comments as they could be interpreted to be putting pressure on Von Trier to make a certain type of film if he wants funding.
"In this way she can manage and control art. And that's not in keeping with the principles of democracy," she wrote in an email to DR. "Asking Von Trier for a happy ending will yield the opposite result: an even more grim, sadistic, deadly and evil ending than he planned."
Zentropa colleague Peter Aalbæk quipped that he has been saying the same as Bock for the last 35 years.
---
Young Danish-British actress among cast of new TV2 period piece
One of the main stars of the TV2 historical drama 'Håbet', which premieres on Saturday December 1 at 20:35, is the young Danish-British actress Ella Daisy, the younger daughter of Russell and Christina Anthony-Collins, the co-founders of the drama school SceneKunst. The child-friendly tale, which is set in 1899, revolves around 15-year-old Marie who following the death of her mother bravely looks after her younger siblings in the absence of her father, a sailor she last saw three years ago. Ella, who plays the younger sister of the protagonist, filmed her scenes over a six-week period in Funen late last year. 'Håbet' will be screened over four Saturdays in the build-up to Christmas.
New julekalender a fantasy tale aimed at children everywhere
DR1 and TV2 tend to take it in turns to produce a new 'julekalender', a family Christmas tale shown every evening over the first 24 days of December, and this year it is DR's turn. 'Theo & Den Magiske Talisman', a contemporary tale about a young boy desperately trying to prevent his grandfather from dying, starts on Saturday at 19:30. Elsewhere – on the remaining DR channels and within the TV2 stable – there are repeats of more than ten shows. From 16:30 each day, goggle-eyed kids will be able to binge-watch shows for four hours if they wish. TV2's main show, 'Tvillingerne og Julemanden', was first shown in 2013.
Titanic postcard written in Danish sells for a fortieth of English example
A postcard sent by Danish engineer Jacob Christian Milling aboard the Titanic, which he wrote shortly before he went down with the boat, has sold for 26,000 kroner in auction. Milling's missive to his wife is the only known communication in Danish sent from the boat. There were a total of 14 Danes on the ship when it sank in 1912, and only two survived. The postcard poignantly starts with the words: "Dear Augusta! This is the last thing you will hear from me from this side." The auction house was disappointed by the amount, as last year a similar postcard written in English fetched 1 million kroner.
Two Danish films named on Sundance line-up
Two Danish films – 'Dronningen' and documentary 'Cold Case Hammarskjöld' – have been confirmed on the line-up for January's Sundance Film Festival, the world's leading independent movie gathering, which can often propel its entrants to great success. 'Dronningen' (the queen) stars Trine Dyrholm as a matriarch who ends up having an affair with her 17-year-old step-son. It is due to come out in Denmark on March 26. In 'Cold Case Hammarskjöld', Mads Brügger ('The Ambassador') looks at the life and death of Swedish politician Dag Hammarskjöld, the secretary-general of the United Nations, who was tragically killed in a plane crash whilst in office in 1961 aged just 56.
Danish actor to play Dracula in Netflix miniseries
Danish actor Claes Bang, who aged 50 had a major breakthrough in Swedish film 'The Square' last year, has landed a monster role. He will play Dracula in a new Netflix miniseries penned by Steven Moffat and Mark Gattis, the creators and writers of 'Sherlock'. In collaboration with the BBC, Netflix has confirmed that each episode will be around 90 minutes in length, and that filming will take place next year.
Tear for Fears to perform at next year's Roskilde
'Shout' it across Denmark, it's going to be a 'Mad World' at this summer's Roskilde Festival even if everybody wants to rule it. Thanks to some massive household hits, British band Tears for Fears became household names in the mid-1980s before splitting in 1991, but then a cover by Gary Jules of 'Mad World' in 2001 propelled them back into the spotlight, leading to a comeback four years later. Tears for Fears will perform on Thursday at next year's Roskilde Festival.  Also confirmed for next year is French electropop singer Héloïse Letissier, who is now fronting the band Christine and the Quens. Meanwhile, Volbeat have confirmed they will be playing at Ceres Park in Aarhus on June 29.
Songwriter to try her luck in Sweden
Danish songwriter Lise Cabble, who was part of the team that penned 2013 Eurovision winner 'Only Teardrops' for Emmelie de Forest, is hopeful that her latest song can win the Swedish eliminator. 'Chasing Rivers' will be performed by Nano Omar, last year's runner-up, but it will face stiff competition: 27 other entrants spread over six shows. While that competition will start on February 2, the Danish Melodi GP, which Cabble has won three times, will take place on February 23.
Royals commended for down-to-earth approach
The Crown Prince Couple have again been widely praised by the Danish public for their down-to-earth approach to life, this time by introducing a live DR1 broadcast of the 'Kronprinsparrets Priser 2018'. Their humourous appearance, ahead of the show's official hosts taking over, brought back memories of them joining the popular band Nephew onstage at Smukfest, and their public appearances during the Royal Run to mark Frederik's 50th birthday. Just recently, Mary's tribute to her husband at his birthday gala was named Danish Speech of the Year.
DR identifies young British-Dane as future rap star
Michael Williams has been identified by DR as a potential rap superstar. The youngster was just three years old when he moved from Brixton in South London to Østerbro in Copenhagen with his mother. The rapper tells the broadcaster that most of his inspiration comes when he is in a state between being awake and sleeping. Among the rapper's collaborators are DJ Bootybaybruiser and Tyrees Tyr.
'Making A Murderer' lawyer on stage at Bremen tomorrow
Jerry Buting, a US lawyer who featured heavily in the popular Netflix documentary series 'Making A Murderer', is appearing at Bremen Teater on Saturday December 1, where he will make a presentation and answer questions from the audience. Also appearing is US lawyer David Rudolf, who found fame on a similar series, 'The Staircase', which has so far spanned seasons in 2005, 2013 and 2018. Ticket prices start at 250 kroner and can be bought here.