News
Culture News in Brief: A bridge to Lars
---
This article is more than 5 years old.
In other news, Patti Smith and Lisa Stansfield are coming to Denmark, while Boy George and John Cleese have confirmed new dates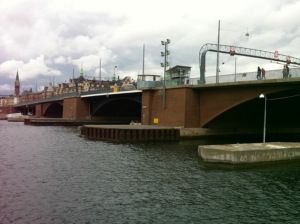 Plans are afoot to name a Copenhagen bridge after the legendary singer Kim Larsen, who passed away on September 30.
The favoured nomination is a delayed cycle and pedestrian bridge being built next to Langebro, which links HC Andersens Boulevard to Amager.
There is general agreement it is the right choice because one of Larsen's most famous songs was called 'Langebro'.
He bridged society's divide
Niels E Bjerrum, a Socialdemokratiet candidate in the next general election, suggests it is a good choice because it links the city centre and the district of Amager in the same way Larsen brought together people from all walks of like to enjoy his music.
Nevertheless, the bridge has already been named Lille Langebro, and existing rules stipulate that a year must have passed since somebody's death before a place can be named after them.
Originally scheduled to open this autumn, but delayed due to an accident in Rotterdam involving some of its components, the bridge will connect Christianshavn and Blox at the end of Vester Voldgade.
---
DFI to digitalise 415 films, including 100 not seen by anyone alive
The Danish Film Institute has confirmed it is ready to start digitalising 415 Danish silent movies – the so-called stumfilmarv archive – which amounts to 350 hours of footage. At least 100 of them have never been seen by anyone still alive, as they have not been shown since their premiere around a century ago. The restored movies will be available to watch online so the public can access them for free. Some four years of work has already been spent on getting the collection ready. DFI deputy head Jakob Buhl Vestergaard has called the collection "one of the most important chapters in Danish film history".
An audience with the FBI profiler who caught the Unabomber
James R Fitzgerald, a renowned FBI profiler, is visiting SDU in Odense on December 12 to talk about his experiences catching killers such as Ted Kaczynski, the man the world knew for 17 years as the Unabomber. For many years, Fitzgerald's work has played second fiddle to John E Douglas, the inspiration for the Netflix series 'Mindhunter', but a recent miniseries about the hunt for the Unabomber, in which he was portrayed by Sam Worthington, showcased the way he trapped the killer by looking at the linguistic choices Kaczynski made in his publicly aired writings. Fitzgerald will be joined by linguistics professor Natalie Schilling of Georgetown University, the inspiration for the character Natalie Rogers in 'Manhunt: Unabomber'.
Banging on the bones like a man possessed
The Kaiser Chiefs memorably dressed up as skeletons for one of their videos, and The Grateful Dead had their moments, but none of them, as far as we know, ever considered using the bones of dead people to make music. Danish act Danheim (aka Mike Olsen), who takes inspiration from the darker side of the Viking period, has confirmed that decaying objects and materials played a large part in the 'death part' of one of his latest songs. Danheim said it was important to not portray life as being happier than death, and vice-versa.
Boy George postpones Copenhagen concert and moves venue to Jutland
Boy George and Culture Club have postponed their December 7 concert at Forum to next year and also switched the venue to Jutland. The concert will now take place at the Spektrum Arena in Vejle on April 13. Tickets cost 525 kroner and go on sale at 10:00 on December 6 at ticketmaster.dk. In other ticketing news, 1980s British singer Lisa Stansfield is bringing her 30-year anniversary tour 'Affection' to Koncerthuset on November 23 next year. Tickets cost 550 kroner and go on sale on December 5 at 10:00 at ticketmaster.dk. Punk rocker Patti Smith is again returning to Denmark, this time to perform in Aarhus at Musikhusparken on June 21. Tickets go on sale tomorrow at 10:00 at musikhusetaarhus.dk. The NorthSide festival (June 6-8) has confirmed that Khalid, Foals and Alice in Chains will be playing at their 2019 edition. And finally, John Cleese has added an extra date to his 'Last Time to See Me Before I Die' tour. He will now appear on both August 27 and 28. Tickets again cost 445 kroner and go on sale on December 4 at 10:00 at ticketmaster.dk.