News
News in Digest: DR presents Robin Hood in reverse
---
This article is more than 5 years old.
Denmark remains incredulous that Britta Nielsen embezzled so much money, but the jury's out on what her daughters knew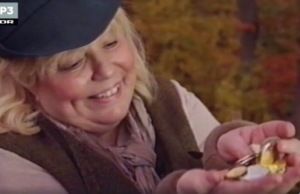 Most Danes would tell you Kanal 5 is low-brow – a dustbin for crap reality TV and repeats of 'CSI'.
Steal from the poor
So it was perhaps a little unusual for the channel to scoop the interview all the tabloids wanted: a sit-down with the two daughters of Britta Nielsen, the 64-year-old woman accused of embezzling 111 million kroner from the state, who was along with her son arrested in South Africa in early November.
On November 10, following her return to Denmark, Nielsen was charged with data fraud of a particularly serious nature and told she would be held on remand for 24 days. It is unclear how she intends to plead.
Meanwhile, the country remains incredulous at the sums involved – DR P3 mocked her in a trailer entitled 'Robin Hood Omvendt' (RH in reverse), in which she is seen to steal money from the poor, handicapped and homeless, calling them pigs as she kicks away their crutches – so it was no wonder so many tuned in.
Mostly after Dad's death
Both her daughters, who are in their early 30s, denied any knowledge of her wrong-doing or thought her sudden wealth was suspicious.
Their mother, they claim, inferred the money chiefly came from a life insurance payout following the death of their father in 2005 – and also savings and an inheritance.
A breakdown of the embezzlement reveals that in the four years leading up to her husband's death, Nielsen only swindled 9.9 million. In the eight years that followed, she took 87.0 million.
Did you rob a bank?
The younger of the sisters, Samina Hayat, whose thoroughbred horse company was funded by Nielsen, said she left the running of the business to her mother and an accountant.
"When my mother says: 'Dad and I have saved together,' my first reaction isn't: 'Are you sure you haven't robbed a bank?'," added the other daughter, Jamilla Hayat.
Since the interview BT has accused Jamilla Hayat and her husband of being involved in the 20-hour abduction of a Polish builder in January, although a court case in June cleared her husband and three other men of all charges.
Second embezzler
Meanwhile, a second person has been arrested for embezzling from the Socialstyrelsen social authority – this time a sum of 4.5 million kroner between 2014 and 2018.
"Despite the timing, the two cases are actually completely unrelated. No connection has been made between the two cases, but it's still bloody annoying," the social minister, Mai Mercado, told BT.
It is also believed that the male suspect attempted to defraud the state of a further 9.5 million kroner.