News
Egyptian rage over Danish nude photo-shoot on ancient pyramid 
---
This article is more than 5 years old.
Minister wants 'indecent' incident investigated immediately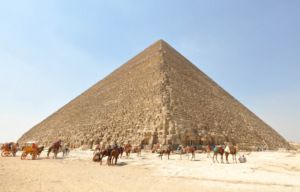 The Danish photographer Andreas Hvid has caused a stir in Egypt after posting a video and photos of him and a female companion scaling the Pyramid of Cheops and eventually posing nude in a sexual position. 
Egyptians and Danes alike have condemned the act as a disrespectful desecration of a monument that is over 4,500 years old and the only one of the Seven Wonders of the Ancient World still standing today.
Just climbing the pyramid is considered an illegal offence and the Egyptian authorities are investigating  the incident. It's also illegal to be naked in public in Egypt. 
"Based on what was circulated and published yesterday evening in a short video film depicting two foreigners climbing the pyramid at night, and then put a picture of them violating public morality, the minister of antiquities, Khaled al-Anani, has decided to find out the truth and immediately refer the incident to the deputy attorney-general for guidance to investigate the matter," the Egyptian government announced. 
The 23-year-old Hvid, who is known for his urban roof-top photography, has since removed the video from YouTube, but a photo, which he has named 'Pyramid Fuck', of the two naked Danes can still be viewed on his personal website. 
READ MORE: Vestas to sign a record-setting deal with Egypt
Dumb as f@@k!
The Dane said he won't be going back to Egypt in the near future in fear that he will be arrested over the photo session, which he isn't very proud of. 
"I am sorry that so many people got so angry. But it's worth noting that I've got a positive response from many Egyptians too. 'Pyramid Fuck' was the dumbest idea I could have come up with. Privileged western youth at its worst. It just needed a joint and a bottle of vodka," Hvid told Ekstra Bladet tabloid. 
The Danish ambassador to Egypt, Tomas Anker Christensen, has been monitoring the situation closely and, while he doesn't expect it to escalate, he considers the incident to be very serious. 
Recently, the Egyptian actress Rania Youssef was reported to the police in Egypt for wearing a transparent dress to a film festival. She risks up to five years in prison if found guilty.