News
Unique find made at Danish UNESCO World Heritage site
---
This article is more than 5 years old.
Amateur archaeologist discovers 66 million year-old sea urchin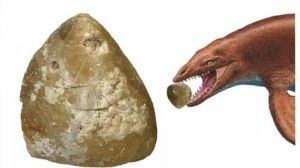 An amateur archaeologist has made a startling find near the white cliffs of Stevns Klint on the island of Møn, one of the Danish sites listed on the UNESCO World Heritage list.
While hunting for fossils on the beach near Stevn Klint, Peter Bennicke stumbled across a 66 million-year-old sea urchin that has bite marks from what could be a predator of some sort from that era.
"It's my best ever find – and that's saying something. I could see it was a pretty large sea urchin so I took it home to look at it more closely. That's when I saw that it had been bitten," Bennicke told TV2 News.
"This happened 66 million years ago and to think that I'm just standing here with it in my hand visualising the drama that took place those many years ago."
READ MORE: Archaeologists make sensational ship find in Køge
Going to Bristol
The tooth marks are situated at the top of the fossil, indicating that the attack came from above and could very well stem from the jaws of the Mosasaurus – a marine apex predator of that time.
The fossil will be exhibited at Geomuseum Faxe from this coming February, but first it will be presented at an international palaeontology summit in Bristol this week.
"This is a very exciting find. Not only because of the unique story behind, but it also provides important information about how the animals in the sea lived and who devoured who," said Jesper Milàn, the curator of Geomuseum Faxe.