Things to do
Home alone without plans? Your Christmas and New Year just got busy!
---
This article is more than 5 years old.
From finding a suitable church service to raving into the early hours at the altars of the city's best DJs, we've got you covered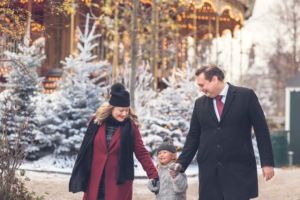 While the weather outside is frightful, it can be delightful if you make that extra effort to leave your home and embrace what the city has to offer this Christmas and New Year.
Copenhagen at this time of year truly is a magical place and fortunately there's always something to do – whether you're alone or with family.
Read on to find out what the city has on offer for you on December 24, 25 and 31 this year.
CHRISTMAS:
Glory to God
Celebrate Christmas at the Christmas Eve Midnight Mass (23:30) at the St Albans Anglican Church (Churchillparken 11, Cph K). Or earlier in the day, attend the children's carol and nativity service (12:00), or the Christmas Day service (Dec 25, 10:30). Catholics should head to St Ansgar's Cathedral in Copenhagen for the midnight mass on December 24 (00:00) or one of the other services (Dec 24, 16:00, Dec 25, 10:00 & 15:00). Or try a Lutheran service (Dec 24, 14:30, 16:30 & 23:30) at Copenhagen Cathedral (Nørregade 8, Cph K). Finally, Bremen Teater (Nyropsgade 39-42, Cph V) is hosting an international Christmas Eve service (Dec 24, 11:00) presided over by Pastor Thomas Hansen. Festive snacks are served before and after the service.
Out to eat: playing safe
On Christmas Eve, Nimb Brasserie at Tivoli invites you to enjoy a three-course dinner, which starts at 18:30 with snacks and a glass of bubbly. Nimb Fru, SALT (Toldbodgade 24-28, Cph K), Von Plessen (Bredgade 37, Cph K) and The Harbour (Kalvebod Brygge 53, Cph K) also offer Christmas Eve menus.
Out to eat: experimenting
If you fancy something different, try a Spanish Christmas (from 17:30 on Dec 24) at Pinxtos (Nansensgade 63, Cph K). Enjoy a number of authentic Spanish dishes climaxing with a delicious chocolate mousse (menu: 580kr). Or why not an Indian Christmas dinner at Guru (Jernbanegade 3-5, Cph K), served with some of their funky festival cocktails, such as Mango Bellini and Espresso Martini.
Out to eat: Giving back
Popular with the city's homeless and artistic communities, the Christiania Christmas celebration (Dec 24; Den Grå Hal) is open to all and free to attend, although donations are gratefully received. Or, even better, volunteer!
Let the music begin
If music's your religion, head to Palæ bar (Ny Adelgade 5, Cph K) for Christmas jazz from 12:00 to 14:00. After all, everyone (including God) loves jazz. And if you need to dance off all that duck, try the Christmas rave at Søpavillonen (Gyldenløvesgade 24, Cph V; Dec 25, 22:00). Tickets at the door cost 225 kroner.
NEW YEAR'S EVE:
Getting it right
New Year's Eve, 'over-rated' in so many countries, often exceeds expectations in Copenhagen. Ladies don sparkling cocktail dresses and gentlemen have an excuse to wear a suit and tie, as the city that has been hiding in the cold comes alive with free flowing booze, loud music, and thousands of people in high spirits. If you happen to have experienced a quieter side to the Danes up until this point, New Year's Eve is certain to reveal a different side to them. Normally Danes don't engage in activities unless they're scheduled (and preferably three weeks in advance), so this behavioural blow-out is the people's way of rebelling against the orderly way of Danish living!
The jump is everything
As the night reaches its peak, make sure you have your champagne and your kransekage (almond cake) at hand – staples for a Danish New Year. Then, find a couch, chair, table (or any elevated surface that you can), grab the hand of the person next to you, count down and leap off into the New Year! If you happen to trip, it will bring bad luck (so make sure you cling on to your most sober friend).
Mi casa es su casa
Get invited to someone's house – this is the usual way Danish people celebrate New Year's – in good company with lots of food and drink. Normally, the evening starts with watching the queen's New Year's speech on television at 18:00. Failing that, crash a neighbour's party! This is the one night no-one will bat an eyelid at this kind of behaviour. Copenhagen is as flat as a pancake and so it is not hard to get high enough to watch the sky light up.
Countdown in the centre
Head to Rådhuspladsen (city hall square) where the crowds follow the live countdown being broadcast to the nation. Watch out for rogue fireworks as the place will get a little sparky as the night continues. The Lakes, Islands Brygge, and the Knippelsbro and Langebro bridges are probably safer but still lively alternatives, so remain vigilant. Some countries have heavy restrictions on the private use of fireworks – but in Denmark you can blast away merrily! And people do. Purchasing a pair of safety goggles is a very good idea.
New Year cleansing!
Make a splash alongside the rest of the mad winter swimmers at Svanemøllebugtens Vinterbadelaug in the Copenhagen district of Østerbro for a pre-party endorphin kick. Learn more at svanevinterbad.dk.
With new friends
If you are not in a relationship and between the age of 28 and 55, join other singles for a party at the Clarion Hotel near Copenhagen Airport from 21:30! Tickets cost 425 kroner. The organisers are responsible for Denmark's biggest singles events. Learn more at runningdinner.dk.
Toasting 2019 at Tivoli
There are various restaurant choices, although many do get booked in advance. You can enjoy the rides until 22:00 and watch the impressive fireworks display at midnight. Learn more at tivoli.dk.
Out on a limb at Nimb
Enjoy a four-course meal at Nimb in Tivoli with exquisite wine pairings, starting at 19:00. And then dance the night away to Frederikke Vedel & All Stars. Learn more at nimb.dk.
Celebrating at the circus
Wallman's presents an international musical show and various circus performances. The main event is from 18:00-00:15, with the after-party from 00:15-05:00. Learn more at wallmans.dk.
Like the Great Gatsby
With performers, a live-band and DJs, this party at Vega is dedicated to reliving the Roaring '20s of Jay Gatsby. Learn more at partylikegatsby.eu
For the youngsters
The 450kr admission price (Præstefælledvej 18, Tårnby) includes a free bar for the entire duration (22:00-05:00), fireworks and bubbly at 12, a large garden, banging DJs, lots of surprises and breakfast for those who last the course. Drinkless ticket options start at 250kr. Learn more at nytaarsfesten.com.