News
Minister to tighten law in wake of Falck scandal
---
This article is more than 4 years old.
Companies that commit serious crimes shouldn't reckon with further public contracts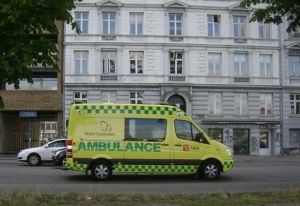 The 'dirty tricks' Danish rescue company Falck reportedly used in order to see off a possible competitor have already cost the company a considerable dent in its reputation, as well as pending legal action for damages.
Now innovation minister Sophie Løhde has entered the fray, telling DR Nyheder that she intends to tighten up the law so that public contracts can be nullified if a company is prosecuted.
In addition, she would like to see errant companies banned from tendering for public contracts for a longer period than at present.
READ ALSO: Falck reported to police for competition-busting methods
Bang to rights
On January 30 the Konkurrencerådet competition authority ruled that Falck had abused its position of market dominance to force the Dutch company Bios, running ambulances for the Region of Southern Denmark, out of the market.
It did this in part by using a communications bureau at arm's length to spread derogatory stories in the news and on social media.
Danske Bank has also been under fire after being caught in record money-laundering scandals, and as a result, a number of municipalities have been considering their options to change to other financial institutions.
"There have now been a number of cases of companies being sentenced for very serious crimes who have a number of contracts with the public sector and who are carrying on as if nothing had happened. Here, we need to see whether we can nullify these contracts," said Løhde.
READ ALSO: Frederiksberg councillor calls for municipality exodus from Danske Bank
Winner takes all
If Falck is punished for breaking the competition laws they may be excluded from future bidding.
As the law stands, this is only for two years and as many of the contracts they have with the regions run for five years, they may have served their punishment before the next round of bidding takes place.
Since Bios in Denmark went bankrupt in July 2016, the Region of Southern Denmark has been responsible for running its own ambulance service in the area.