News
National Round-Up: April Fools: the winners and losers
---
This article is more than 4 years old.
Not only was the Ministry for Energy, Utilities and Climate's story turgid, it wasn't even published on the right day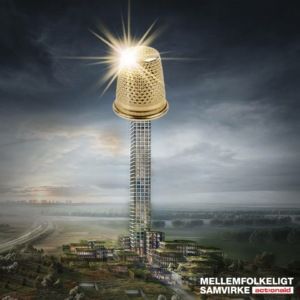 The first day of the month again served up a healthy serving of hoax stories, although CPH POST decided to revisit some old Politiken classics for its April Fools' Day silliness fix.
Here is a round-up for your amusement, and for your pity, of the five best, and the five worst stories.
April tools
#5 BT reported that Tivoli has officially become an amusement park aimed at adults, children and dogs. On April 4 a new amusement specially-tailored for 'man's best friend' will open.
#4 Politiken reported that Denmark's national bank building in the centre of Copenhagen should be demolished.
#3 Ekstra Bladet reported that Ghita Nørby is teaming her up with fellow 'Matador' actress Malene Schwartz for a new P1 radio progam entitled 'Danish Divas'.
#2 The Environment and Food Ministry has issued a ban on the use of raisins in cakes from October 1 as "grapes should be eaten fresh or used to make wine".
#1 The Ministry for Energy, Utilities and Climate released a story called 'Government to set up climate advisory panel of the elderly', which it then released on March 31 at 17:05.
April too cool for school
#5 Berlingske carried a story that Denmark's political festival Folkemødet will in 2020 move from its current location on Bornholm to Lindholm with the idea of making the festival "a lot smaller and more exclusive".
#4 The Foreign Ministry wants to help Danish fishermen by building a fence to keep herring in Danish waters. In true Trumpian style, the fence, which is big enough to span the North Sea, will be paid for by the British government. "The Brits created this problem, and I am going to make them pay for the fence," said the fisheries minister, Eva Kjer Hansen.
#3 Videnskab.dk reported that a new egg and sperm bank was opening that allows customers to choose from a range of well-known researchers. Sometimes, it noted, the donor "is not necessarily the sharpest knife in the drawer".
#2 FC Copenhagen announced that its star footballer Dame N'Doye will be retiring with immediate effect. He will, however, be kept on at the club and trained up for other duties, including working as a groundsman and receptionist.
#1 Mellemfolkeligt Samvirke, a Danish NGO, reported that Bestseller's new 300-metre tower will be fitted with an 18-carat gold thimble to show the company's visible appreciation for the hard-working seamstresses in Bangladesh and Myanmar. A third of the thimble's costs will be derived from the seamstresses' wages, lowering them to just 12 kroner an hour. Bestseller contacted the NGO to tell it to remove fictitious quotes attributed to its owner, Anders Holch Povlsen.
---
Half-promises ahead of election
It is the nature of general elections that half the promises are never kept.
Barely a day goes by without another pledge by either PM Lars Løkke Rasmussen or Socialdemokratiet leader Mette Frederiksen, the woman seeking to replace him.
Minimum wage?
In Rasmussen's case, he has had four years to make changes, so you question how high up his list of priorities such resolutions are – like introducing a minimum wage, which he dangled like a carrot before the electorate last week.
The PM hopes it could address the problem of social dumping. It is not illegal for employers to pay employees minuscule amounts if they are not part of a collective bargaining agreement.
But he wouldn't commit, stating that a regulated minimum wage in certain cross-border labour areas is possible, as long as it doesn't compromise the Danish system.
Worn-out not working
His remarks followed a televised showdown with Frederiksen in which he mercilessly exposed her reluctance to identify exactly who should be able to retire early because their jobs are more physically or mentally demanding.
Days later, the government released a report that claims people with long working lives are actually less worn out than those who have not worked as much.
Rasmussen's conclusion is that S's policy-makers "aren't living in the real world".
---
Eritreans go missing
Five Eritrean athletes, who were due to compete in the 2019 IAAF World Cross Country Championships on March 30, disappeared two days beforehand. They were last seen at a hotel in Aarhus. None of the athletes had their passports with them, and all five had the necessary visa to compete in the event. Their genders have not yet been confirmed.
Deportation delayed
A heavy presence at Copenhagen Airport on April 3 protested against the planned deportation of an Albanian family of five, and despite boarding a plane, it was aborted. The family's eldest child is both mentally and physically challenged, but doctors were unable to complete the paperwork in time to halt the deportation on humanitarian grounds.
Strike against uni cuts
University students from all over Denmark will be gathering outside the Education Ministry on Børsegade in the centre of Copenhagen at 16:00 on April 17 to demonstrate against the government's plans to cut international study places. Organiser #EduForAll claims the legislation primarily addresses xenophobic political concerns rather than educational ones.
More suicides at stations
There were 27 suicides and 8 unsuccessful suicide attempts on Danish train tracks last year – a 40 percent increase compared to 2013. DSB's figures buck national figures, which show that the number of successful and attempted suicides fell by 28 percent last year to 718 – a more or less average number compared to other EU countries.
Acute illness number change
Since 2014, Copenhagen's inhabitants have needed to call 1813 when they get severely ill outside GP surgery opening hours, but this number will be changed to 113 across the whole country.
Forest tower opens
Camp Adventure has opened its 45-metre tower in the middle of the Gisselfeld Kloster forest in southern Zealand. It is hoped that at least 100,000 visitors will want to see the tower this year alone. The tower includes a ground-level 900-metre boardwalk and a 650-metre ramp to the summit. Admission costs 125 kroner.
National test errors
A report has identified a number of errors in the algorithms that determine the level of difficulty of the National Test reading test, leading to some pupils being evaluated incorrectly. This has raised doubts as to the soundness of the many studies that have been based on the results. The National Test was introduced in 2006 for children in elementary classes 2-8.
Violence against teachers
Some 25 percent of teachers at public schools in Copenhagen, along with 23 percent of pedagogues at daycare institutions, were subjected to violence in 2018 – up from 14 and 12 percent in 2017. Most of the teachers in the firing line are in charge of children aged six to ten. The municipality has freed up 6.8 million kroner to address the problem.
More LGBT tolerance
According to a new report from Copenhagen Municipality, youngsters with a non-western background are more tolerant of homosexuality and lesbianism than just a few years ago. The report, which has been commissioned annually since 2015, revealed that tolerance among the 18-29 age group has increased from 69 to 80 percent in just a few years.
Mental cruelty proposal
Psychological harassment of a family member could earn you a prison sentence of up to three years, according to a proposed law backed by a parliamentary majority. The justice minister, Søren Pape Poulsen, wants to equate physical and mental cruelty in the home.
Citizen bills here to stay
Even though Parliament hasn't yet approved a citizens' bill, it has decided to make the system permanent. Since its start in January 2018, some 310 petitions have been launched and five have got the necessary 50,000 signatures to be heard. In related news, the government has said it will ask the Danish people to co-formulate a new climate bill as "the climate is our shared responsibility".
60 years for gang members
Thirteen members of the banned Loyal to Familia gang have been sentenced to almost 60 years in prison following a lengthy trial in Roskilde. Three of the members were expelled. In gang-related news, a man was shot dead in Rungsted in north Zealand – one of the country's poshest towns – on Saturday. Four others were badly injured in a battle that involved over 20 people.
Train strike hits Zealand
Trains in Zealand were paralysed on April 1 as DSB's drivers staged a strike that was never formally declared. It affected all trains east of Odense, although the capital's Metro continued to run as normal. DSB then met its employees to avert a second Monday strike, with a guarantee there will be no more action until June 1. In related news, a SAS pilots' strike has been called for April 26.