News
Danish Round-Up: Parent protest targets dwindling daycare staff
---
This article is more than 4 years old.
Demonstrations in 53 towns and cities, as thousands make their voices heard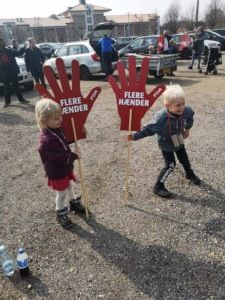 Thousands of concerned parents took to the streets in 57 demonstrations across Denmark on Saturday afternoon to draw attention to how the ratio of children per daycare worker ratio has soared over the last 40 years to a level that is no longer responsible.
According to BUPL, the national association of children and youth teachers, 4,000 more daycare workers need to be employed to address a 58 percent increase since the 1980s, while the 2019 DR documentary 'Hvem passer vores børn' makes for compelling viewing.
Nowhere is this felt more acutely than in Copenhagen, which has seen a huge rise in the number of parents electing to stay in the capital to raise children, and this was evident by the large 'Demonstration for minimumsnormeringer' turnout outside Parliament.
Support in capital
Copenhagen Municipality recently signed a budget agreement for 2019 that will see 84.4 million kroner set aside for new daycare institutions and 42.4 million kroner for the planning and launching of additional child-related institutions.
The agreement also earmarks 19.2 million kroner for special education and 39.2 million kroner to boost efforts pertaining to children with special needs and diagnoses.
Funds have also been set aside for vulnerable neighbourhoods, shelters and crisis centres for victims of violence, the declining number of GPs, more parking spaces for business owners, and future endeavours, such as the new Lynetteholm artificial island.
---
Suspected serial killer's prior convictions
He may only be 26, but the man charged with killing three pensioners has already been convicted of murder and rape
The police are not releasing the name of the 26-year-old man who has been charged with killing three elderly people in Østerbro in February and March, but it has been confirmed he has a prior conviction for rape and murder.
At first it was believed the three elderly people, who all lived in the same residential complex on Vangehusvej in Ydre Østerbro near the border with Hellerup, had died of natural causes, but their relatives and then the police began to join the dots.
All victims in their 80s
The suspect, who does not live in the building but has family there, has been in custody since his arrest on March 9. Copenhagen City Court has ruled he should locked up until at least April 30.
He is accused of killing an 83-year-old woman on February 7, an 80-year-old man on March 2 and an 81-year-old woman on March 7.
---
Running out of GPs
Denmark runs the risk of being short of GPs, reports DR. A study reveals that 12.7 percent of those working in the Capital Region are over the age of 65 – and that not enough are being trained to replace them. The regions of North Jutland (11.9) and Zealand (11.8) are also at risk. Retiring GPs with single-doctor practices often struggle to sell them.
Worst for local pals
Denmark is the third worst country for making friends abroad, according to InterNations, and it is impacting on the general happiness of internationals. Only 21 percent say it is easy to make Danish pals – which ties them with notoriously shy Swedish. Only 43 percent said they find it easy to make international friends.
Scooter disappointment
By & Havn is disappointed that 15 electric scooters were found during Copenhagen Harbour's spring cleaning, given they have only just been legalised. Among the other items found were 190 bicycles, café chairs and tables, road signs and the obligatory dildo.
CIS sustainability focus
Copenhagen International School is holding a Sustainability Day on May 2 to educate the 10-18 age bracket about adhering to some of the key UN Sustainable Development Goals. In the week leading up to the day, the kids will be eating a strictly plant-based menu.
A merry municipality
Most of Copenhagen Municipality's 40,000 employees are happy and motivated, scoring their workplace a 5.6 out of 7 – a slight increase on the 5.5 they gave it in 2017.
Best pizzas in Europe
Mother and Bæst were both included in the 50 Best Places For Pizza in Europe list compiled by Big 7 Travel, with the latter taking second place. Bæst is "taking pizzas to whole new levels", observed the list.
Visitor slump by a third
Statens Museum for Kunst welcomed 308,974 visitors last year, continuing a trend that has seen numbers fall by a third since the national galley introduced admission charges in 2016 following a cut to its budget.
Italian expat finds baby
Gregorio Montefameglio, a 25-year-old from Bologna, was the hero of the hour on April 1 when he discovered a baby girl in a plastic supermarket bag in Vanløse. The Italian called an ambulance and then took the baby, who he estimated to be five days old, home to warm her up as she was "almost freezing to death".
Death to the worms
Frederiksborg Castle near Hillerød faces a bill of 3-4 million kroner to rid itself of a blight of worms eating away at the roots of the box hedges that form the large royal monograms in the Baroque gardens. New hedges will be replanted once it is assured all the worms are dead.
New bridge arrives
Copenhagen's new habour bridge, Lille Langebro, has been installed after arriving by way of barge from the Netherlands following a year of delays brought on by a collapsing crane in Rotterdam.
Pandas welcomed
Xing Er and Mao Sun, Copenhagen Zoo's new pandas, arrived in Denmark on April 4. They will be officially introduced to the public on April 11.
Media metropolis
According to a Slot- og Kulturstyrelsen report, most people who work in the media industry live in Copenhagen. Some 7,923 of around 10,000 people work in the Danish capital.