General
Climate crawl: Public want faster progress
---
This article is more than 4 years old.
But are they prepared to fly less, eat less meat and drink less milk, asks the Klimarådet council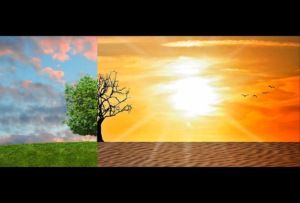 The Klimarådet climate council has warned that Denmark is unlikely to fulfil its goal of becoming CO2-neutral by 2050 unless the public make major lifestyle changes.
People must fly less, eat less meat, and consume fewer meat and animal products such as eggs and milk, warns the chair of the council, Peter Møllgaard.
More research needed
"In the area of agriculture in particular there is a high degree of uncertainty," he said. "We must set some research and development in motion now, so we are able to implement its findings after 2030."
The council would like to see the Danish government use surcharges on CO2 emissions as a tool, but cautions it would not be desirable if the surcharges merely moved the emissions problem elsewhere.
Premature death toll
The will amongst the public for rapid change is certainly there. In April, a survey revealed that 62 percent would like to see diesel vehicles forbidden in city centres over the next three to years.
According to Professor Ole Hertel at Institut for Miljøvidenskab, traffic pollution is responsible for 1,000 premature deaths every year in Denmark – out of around 3,000-4,000 fatalities caused by pollution.
Driverless bus pilot
Better incentives to use electric and hydrogen-powered vehicles are needed, Hertel told TV2, and he will be pleased to learn that the Autonomous Mobility company has applied to the Vejdirektoratet transport authority for permission to run up to four driverless electric buses in Østerbro.
The buses, which are part of a European four-year pilot scheme and free for the public to use, will follow a 1.3 km circuit around the new Århusgade quarter in Nordhavn between 10:00 and 18:00.
Over the next four years, the AVENUE-project will test buses in Copenhagen, Geneva, Lyon and Luxembourg.
Law targets old vehicles
The state is making progress, but not as quickly as the public would like. Earlier this month it passed a law enabling the tightening up of environmental zones to stop older diesel-powered lorries, buses and vans from entering a number of Danish cities unless they have a particle filter fitted.
The law singles out Copenhagen, Frederiksberg, Aarhus, Odense and Aalborg, leaving it up to the cities themselves to decide whether or not to implement the enhanced zones. If fully implemented, the measure could reduce soot particle emissions by up to 25 percent.
Additionally, the government wants to make it more difficult for people to get around the new regulations. A digital control system will be introduced that reads vehicle number-plates automatically to minimise inconvenience caused to commercial traffic by physical zone boundaries.
Focus on Paris goals
In other related news, a group of 20 Danish municipalities across the country are joining together in a project called DK2020 to put impetus behind achieving the climate goals set out in the Paris Agreement.
A new recycling centre built from recycled concrete has opened in Sydhavn to enable the city and its residents to radically improve the way they dispose of unwanted household items. Some of the materials will be sold.
And a Eurostat report reveals that 20 of the 28 EU member countries managed to reduce their CO2 emissions during 2018. Denmark only finished 18th with a 0.2 percent reduction – a long way behind to top dogs Portugal, Bulgaria and Ireland, while bringing up the rear was Latvia.
---
Boost for organ donations
From 2020 organs can be harvested from people who die due to cardiovascular problems. The parliamentary approval is good news for the 500 Danes currently on the national waiting list, as it will increase the number of organs by around 35 a year. In 2018, 40 people in Denmark died waiting for a new organ.
Infection outbreak
A bacterial infection found in the intestines of many animals and common in pigs, yersinia enterocolitica, has been found in 18 Danes since March 30. In related news, the State Serum Institute has confirmed two more cases of measles. One was a female tourist from Russia, and the other a young man in Copenhagen infected by the strain at large in the late winter.
New type of flour bug
Pest exterminators have warned of a new, more active variety of silverfish – the wingless insects that often find their way into your flour and porridge oats, but consume pretty much anything. The grey, or long tailed, silverfish are "better crawlers", Rentokil warned TV2.
Tried and trusted DNA
It's generally believed a species needs to have a high rate of genetic diversity to survive, but Natural History Museum researchers have proven that the genome of a narwhale from west Greenland goes back millions of years. In related news, seven killer-whales were spotted heading north into the Kattegat on May 5 – the third sighting in two years. Normally, they are seen once every five years.
Survey with porpoise
The University of Southern Denmark has asked the residents of Funen to help them keep tabs on the porpoises that swim around the island. So far, more than 400 people have downloaded the Marine Tracker app that enables data to be collected.
Obesity clues at birth
Researchers from the obese child unit at Holbæk Hospital and the University of Copenhagen claim it is the way the genes of the mother and child interact in the womb that determines the birth-weight, reports DR. Their study of the genetic data of more than half a million people should help to further identify which children have the highest risk of becoming obese.
Battery-powered trains
The state railway company DSB, Movia and the Ministry of Transport are carrying out an analysis on the practicality of running direct trains powered by batteries between Copenhagen and Nykøbing Sjælland, reports Ingeniøren. If successful, this could be a much cheaper alternative to installing electric pylons along the railway network.
Funding bias
Some 20 percent of researchers get 90 percent of the available funds, according to a report from the think-tank DEA and the Center for Forskningsanalyse. Male professors in natural sciences are the most favoured recipients, reports Videnskab.dk. This applies to money disbursed by both private and public funds.
Croc in the cliffs
The white cliffs of Stevns Klint have served up another incredible find. Inside a block of chalk, amateur geologist Peter Bennicke discovered the remains of a crocodile that existed some 66 million years ago. The find includes two well-preserved teeth and two crocodilian armour plates. The remains are expected to be displayed at Geomuseum Faxe later this year.
Why breasts tend to boil
A test carried out by the DR consumer program Kontant reveals that seven out of nine supermarket chicken breasts contain more water than advertised. The 'Budget' breast fillets sold in Bilka contained 118 percent more water than was declared. Only breasts produced by Vores Fjerkræ and Rose passed the test.
More nature needed!
Denmark uses 64 percent of its land for agriculture, making it the world's second-most land-cultivated country, and a UN report has now urged countries like Denmark to dedicate more land to nature. With a million animal and plant species worldwide teetering on the brink of extinction, the UN report urges immediate action.
White Nights upon us
From early May until early August, light from the Sun will always be visible, even after setting. 'White Nights' is a little bit like a nightwatchman when you can't directly see him, but the light from his torch alerts you to his presence. There are three degrees of twilight: Astronomical, Twilight and Civil. The latter is bright enough to play golf in.
Viking fort application
Five mayors have joined forces to obtain UNESCO World Heritage Site listings for the Viking ring forts in their municipalities. The five forts are situated in Jutland, Funen and Zealand and were built during the reign of Harald Bluetooth over 1,000 years ago. Already on the UNESCO list are the Jellinge mounds, Kronborg Castle and Roskilde Cathedral.