News
Local Round-Up:Metro opening delayed again
---
This article is more than 4 years old.
Operators blame "small things" for postponement to September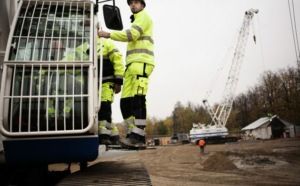 Copenhageners are beginning to question whether the Romans would have been quicker at building the news City Ring Metro line following confirmation that it will now most likely open in September.
The 25.9 billion kroner, 17-station line – which will link the city centre with Østerbro, Nørrebro, Vesterbro and Frederiksberg – is the biggest construction project undertaken in Denmark in 400 years.
June unrealistic
The City Ring was due to open in December 2018, and then in June 2019, but the Metro Company has now stated that a key milestone in construction has not been reached and that work at the stations is behind schedule.
"Despite it only being small things that are missing in the bigger picture, it's unfortunately proven to be unrealistic to catch up, so we've been forced to delay the opening of the City Ring until the end of September," said Henrik Plougmann Olsen, the head of the Metro Company.
---
City Halls rejects plans for colossus
City Hall has turned down plans for a 280 metre-high tower in Nordhavn, pointing out that it would have stood "like a colossus", casting everyone in its shadow, and caused wind turbulence.
In December 2018, the HC Andersen Adventure Tower Consortium reached an agreement with By & Havn, the body in charge of overseeing the development in Nordhavn, to purchase land for a major project designed by the architecture firm BIG.
Plan: ready by 2027
The agreement was conditional on the municipality's technical and environmental committee starting the planning process in 2019 and a local plan being adopted in 2021, allowing the project to be ready when the Nordhavn tunnel opens in 2027.
As well as a mega tower seven times higher than the Round Tower, the project would have included shops, flats, offices, hotel rooms, an observatory and a Hans Christian Andersen themepark.
Terrorist convicted
A Swedish-based Syrian asylum-seeker was last week sentenced to 12 years in prison for co-planning an IS-backed terror attack in Copenhagen that would have targeted civilians with bombs and knives in November 2016. His main accomplice, who was caught at the Danish-German border with the weapons, got a similar sentence in 2017.
Rubbish strike averted
A potential rubbish collectors' strike in 27 municipalities has been averted following successful talks involving the 3F trade union. A strike in Frederikshavn in north Jutland in protest at new collection methods that add an hour to the working day started the action.
Disabled permit crackdown
The capital's Technology and Environment Committee has approved stiffer punishments for motorists who park in disabled spots without the necessary permit. The current 1,020 kroner fine has been doubled, and vehicle immobilisation or movement is now more likely.
Beautifying an eyesore
Plans costing in excess of 1 billion kroner are afoot to rethink the stretch of motorway linking Aboulevard to Borups Alle. A tunnel would enable a green area whilst improving flood defences.
Record marathon numbers
Some 13,200 runners took part in the Copenhagen Marathon on May 19 – surpassing the record 12,644 who raced in 2010.
Busy in city court
Copenhagen City Court has been busy of late. Firstly, Dr Daterape – a 32-year-old, Chinese-born medic who worked at Gentofte Hospital – withdrew a confession to one of the two rapes he is accused of. And then in another ongoing trial, testing whether the government's ban of the street gang Loyal to Familia is legal, a witness refused to give up names out of fear there may be retribution.
Killed at home
Nordsjællands Politi has charged a 54-year-old man with killing a 58-year-old female doctor at her home in Hørsholm on April 30, along with robbery. A sound recording of the assault includes a male voice repeatedly saying "Sit down". The man was already known to the police.
Greta in town
Greta Thunberg delivered a speech at Christiansborg Palace Square on May 25 at a climate event. Meanwhile, another series of national climate strikes have been confirmed for June 24.
Eagle pays visit
The US Coast Guard ship 'Eagle' visited Copenhagen on May 16, offering free tours courtesy of the US Embassy. Originally named the 'Horst Wessel', it began life as a Nazi training ship. The US took it as war reparations in 1945.
Cocaine seizures
Custom officials confiscated 24 kilos of cocaine on May 15: six at Copenhagen Airport in the luggage of three men, and 18 on a man entering Denmark by ferry in Rødbyhavn.