News
Local Round-Up: Red light warning – Daycare in disarray
---
This article is more than 4 years old.
Secret cameras expose malpractice at Copenhagen nurseries, underling how the staff are overworked and struggling to cope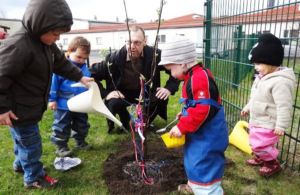 Barely a day goes by without new concerns being voiced about the state of daycare.
Protests and impropriety
In April, parents across Denmark took to the streets to protest at the current shortage of daycare educators – numbers have been in freefall since the 1980s.
And in late May a new TV2 documentary was broadcast, which used hidden cameras to expose the neglect that is becoming an all-too frequent occurrence at the nation's nurseries and kindergartens.
Serious reservations
Now it is the turn of Copenhagen Municipality to be under the spotlight, as according to a report that TV2 has had access to, there are serious reservations about 5.5 percent of its daycare institutions – or at least 22 out of the 400 institutions investigated.
The findings are the result of the implementation of a monitoring system in 2017 that concentrate on three main areas: 'Social relations – children/adult contact', 'Inclusion and 'community', and 'Language initiatives'.
Fair number in the red
The institutions were graded using a 'traffic light' system, where red is critical and means there is a need to implement new initiatives or amend the present ones.
Around 60 percent of Copenhagen's institutions are classed green, 35 percent amber and 5 percent red.
Copenhagen Municipality intends to make the full reports available on its website.
---
Copenhagen residents feel safer than before
The number of Copenhagen Municipality residents who feel unsafe has fallen from 12 to 9 percent in a year.
The change has been most marked in Bispebjerg, where the number of unsafe citizens fell from 28 to 17 percent, while outer Nørrebro saw the rate fall from 23 to 17 percent.
General fall in crime rate
The number of crimes reported to the police per 1,000 inhabitants has fallen from 89.2 in 2013 to 60.1 in 2018.
"I'm happy that Copenhageners are being subjected to fewer criminal acts and that they generally feel more secure when they are out in town," said the city mayor, Frank Jensen.
---
Smallest risk ever
There is a small risk that the new artificial ski slope on top of the 90 million kroner Amager incinerator could end up boiling its guests due to the placement of a boiler room, reports Ingeniøren. Building work is scheduled to be completed by June. Consultancy firm Rambøll estimates the risk is one death every million years for visitors and one death every 100,000 years for site workers.
Love triangle murder
A 19-year-old man has been sentenced to 12 years in prison for murdering a 35-year-old man in the Greater Copenhagen suburb of Vanløse in December 2017. The men were reportedly love rivals. However, a co-defendant, a 57-year-old Greenlandic man, who mistakenly restrained the victim while he was stabbed, was acquitted.
New city district plans
Plans for a new 400,000 sqm city district opposite the HC Ørstedsværket power station south of Fisketorvet, which will be called Jernbanebyen (railway town), are coming together. In other news, the PFA trust pension company has bought the Forum event venue.
Gesture politics?
The Swedish climate activist Greta Thunberg has ruffled feathers at City Hall with claims that its bid to make the city CO2-neutral by 2025 was "gesture politics". The city mayor, Frank Jensen, rejected the claims.
Top places for sarnies
Two Copenhagen sandwich sellers have been included in Big 7 Travel's list of the top 50 in Europe. The slow-cooked duck baguette at Ma Poule at Torvehallerne earned it a place at number 45, while the smørrebrød served by Aamann's, a Michelin Guide-recommended restaurant, saw it ranked number 29.
UEFA wants volunteers
UEFA has opened the volunteer application process for Euro 2020. Some 1,300 helpers will be required to help stage four games at Parken. Only one application per host city is possible, and applicants must be proficient in English and Danish, have turned 18 as of 1 May 2020, and be available on all four matchdays.
Airport expansion meeting
A meeting has been arranged in the main library in Tårnby on June 13 at 17:00 to discuss the possible effects of Copenhagen Airport's expansion plans, reports Minby.dk. Local residents are worried the plans will cause more pollution and noise.
Domed roof to disappear
Last week the ground was broken for the construction of a new roof over the skating rink at the old gasworks site in Østerbro. But some have said they will miss the facility's distinctive domed roof.
'Serial killer' examination
A Copenhagen judge has called for a medical examination of the man currently being held in custody who is suspected of killing three elderly people in Østerbro in February and March.