News
Science Round-Up: Quitting e-sports for environmentalism
---
This article is more than 4 years old.
One of the world's top players intends to pack it in to become a "soldier for Mother Earth"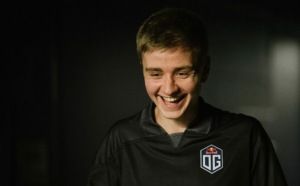 He's won more prize money than any other eSports player in the world, but Johan 'N0tail' Sundstein has revealed he is prepared to give up his career for the sake of the climate.
New path in life
The 25-year-old Dane with Faroese roots has earned close to 50 million kroner as one of the top Dota 2 gamers on the planet, but a dream to be an advocate for the environment has Sundstein eyeing a new path in life.
First, though, the Team OG captain has his sights set on a hat-trick of triumphs in The International – the top tournament for the strategy game Dota 2 – so environmentalism will have to wait until next year.
If the world burns up
"I feel that I owe so much. It would be a shame if the world burns up, because we will have failed so many generations" Sundstein told TV2.
"It's a burden you can put on yourself and I feel it. It's everyone's responsibility. The plan is to jump into the battle. Throw myself into it and become a soldier for Mother Earth."
Credentials under scrutiny
Sundstein's pledge comes at a time when Denmark's green credentials are under heavy scrutiny – most particularly its claim that burning wood – its biggest source of green energy – is CO2 neutral.
A recent survey showed that close to 80 percent of Danes believed wind power was their country's primary green energy source, but actually it is the burning of wood pellets chopped up from trees felled across the world and burned in power plants as biomass.
"I've always thought of Denmark as a country that works on facts. So it was very concerning for me to learn how much wood Denmark burns. It's the equivalent of accounting fraud," William Moomaw, a lead author on five UN reports for the UN Climate Panel, told TV2.
Pension fund boost
Perhaps Moomaw will be won over by the news that Danish pension firms are investing an additional 350 billion kroner into Denmark's green transition over the next decade – a "massive step", according to PM Mette Frederiksen.
Additionally, Denmark is setting aside 150 million kroner to the climate fund Global Climate Facility (read more in this issue's Diplomacy magazine).
Patents need protection
In other news pertaining to the environment, a EU Intellectual Property Office report, which illustrates how important climate solutions have become to the union's economic output, has prompted the Business Ministry to warn Danish companies in the sector that they must ensure their technology is effectively patented.
Danish wind turbines set a new record on Sunday September 15 when they produced d 130 percent of the national electricity consumption. Just ten years ago, a good day would have seen wind energy account for 20 percent.
The environment minister, Lea Wermelin, remains unconvinced that a ban on glyphosate, and therefore the withdrawal of the Round Up herbicide from Danish shops, is necessary, despite 29,000 Danish gardeners signing a petition.
Glyphosate has been linked to causing cancer among humans.
---
Bacteria threat
Last year 97 people were infected with the potentially fatal, multi-resistant bacterium VRE. In related news, the e-coli bacterium has killed two children this year – in Copenhagen and Funen – and a new Statens Serum Institut study confirms that flu vaccinations really do improve the chances of pregnant women and their new-borns avoiding the virus.
Fewer antibiotics
GP antibiotic prescriptions have fallen 28 percent since 2011, reports the Statens Serum Institut. Last year there were 459 prescriptions per 1,000 inhabitants. In related news, antibiotic consumption by livestock has fallen for the fifth consecutive year, according to Danmap. Usage amongst pig farmers, which accounts for 75 percent of the total volume, fell by 5 percent last year.
End to oil extraction?
SF and Radikale are pushing for an end to oil extraction from the Danish section of the North Sea – from 2050 if the state does not tender out any more drilling rights. In related news, Tyra, the largest oil and gas field in the area, is closing for three years. Some 21 billion kroner will be spent on replacing platforms that have sunk by six metres since 1984, generating 2,000 jobs in the process.
Longest Viking bridge
Local volunteers have finished building the world's longest Viking bridge in the Great Vejleådal valley in Albertslund. They used Viking tools and techniques to complete the 700-metre-long structure.
Water cuts success
A trial involving the Sydhavn district of Copenhagen has shown that great water consumption cuts can be made without much change to daily life. In 2014, residents were challenged to cut their water consumption by 10 percent by 2020, and they achieved that goal in 2018.
Lucrative stitch-up
A handheld machine that can sew wounds together, which has been invented by two Aarhus students, will soon be released worldwide – to initially be used on animals. The students have signed a contract with US veterinary company Kruuse to release 'Stitcher' globally in 2021. A version that can be used on humans is expected in 2023.
Drastic plastic findings
Danish plastic waste has been found in Malaysia, according to a new TV2 documentary. It is believed it is from waste sent to Germany for recycling. In related news, 57,000 school children representing 92 of Denmark's 98 municipalities have been taking part in Masseekperimentet, an initiative to tackle plastic pollution in water.
Organic recognition
Denmark has been named 'Country of the Year' by the Nordic Organic Food Fair – a sustainable living event, scheduled to take place at the MalmöMässan event centre in Malmö, Sweden from November 13-14.
Whooping cough epidemic
The Statens Serum Institut has declared a whooping cough epidemic, as there are more than three times the normal number of cases expected in Denmark. Some 351 people were diagnosed in August, continuing the upward trend of 2019 in which 1,323 cases were documented over the first eight months – including 137 infants, who are the most at-risk group.
Civilian rocket ban likely
The government looks set to ban large civilian rocket launches like the ones carried out by Copenhagen Suborbitals, as a commissioned report "was unable to identify areas in Denmark where major launch activities can occur without compromising/potential endangering maritime traffic and airspace traffic". The safety of the human population was also cited.
Soda shortens your life
A study of the soda consumption habits of 450,000 Europeans, which included Danes, indicates that more than two glasses or cans a day makes you 17 percent more likely to die prematurely than those who rarely partake. In other research news, a study absolutely confirms that smoking cannabis lowers a man's sperm count – by affecting formation, not just the cells after they have been created.
Croc tooth discovery
Geomuseum Faxe has confirmed that an 11-year-old from Gentofte found the fossil of a prehistoric crocodile in Faxe Kalkbrud back in August – of a breed never before detected on Danish soil, although it might match bitemarks found on a turtle's shell. The museum's expert ruled out the tooth belonging to a thoracosaurus, a fish-eating croc, asserting it had far more biting power.
Large car prices to soar
An audit carried out by the consulting firm KPMG suggests that consumers face a sizeable price hike for the large petrol cars that so many favour these days. This might be just as well, as concerns have been raised that more families are acquiring second cars as more people avoid public transport. Today there are over 2.6 million vehicles in the country, while bus and train journeys are in freefall.