News
National Round-Up: Mouthpiece of the English Ghetto
---
This article is more than 4 years old.
That's us in case you hadn't figured it out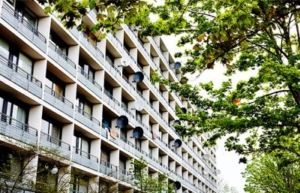 Bet you didn't realise you'd be moving to the ghetto when you arrived in Denmark.
No, we're not talking about the Mjølnerparken housing estate in Nørrebro or any other of Denmark's 28 vulnerable neighbourhoods.
Biggest in country
According to Kenn Hoeg Christensen, a Danish teacher in Aalborg, the biggest such area in Denmark is the 'English Ghetto'. And if we primarily use English to communicate, we are part of what is a 325,000-strong community.
In an opinion piece in Weekendavisen, Christensen recalls a recent experience on Refshaleøn when he asked for a glass of water (and an IPA of course!) and got the response: "Excuse me, what?" followed by: "Oh, water – is that 'vand' in Danish?"
Endless spiral
Christensen lambasts the decision to charge for language classes, citing claims that 50 percent fewer are learning Danish.
And he also blames Danish companies for not requiring foreign, highly-skilled workers to learn Danish and integrate.
"The English Ghetto is an endless spiral of resource consumption and chronic ghetto conditions caused by a widespread lack of Danish," he warned.
---
Orwellian dystopia or effective tool?
You know it from your iPhone, the airport and Facebook – facial recognition technology. Perhaps you've read about its possible benefits and potential dangers. And now Copenhagen Police would like to employ it in its fight against crime.
Last week, department chief Jørgen Bergen Skov told Berlingske it would be "a huge advantage" if they could employ facial recognition technology, adding that it would be especially helpful in the hunt for suspected terrorists.
Surveillance in place
Denmark is one of the EU countries that uses the most surveillance. According to an analysis conducted by the union SikkerhedsBranchen, there are 1.5 million public and private surveillance cameras in use in the country – three times as much as an estimate made in 2013.
As a response to the bombings that took place in Copenhagen over the summer, the government recently revealed a new 'security-package' that proposes, among other things, allowing the police to set up 300 additional cameras and enabling it to take control of the 1.5 million cameras already in place – if extraordinary situations demand so.
Slowly poisoning us
There have been 13 bombings in Copenhagen this year so far, and PM Mette Frederiksen is worried their frequency, along with the ongoing gang conflict, is poisoning the Danish people and "slowly changing the way we think and live" – even though the general crime rate is actually falling.
"The structure of Danish society is at stake," she asserted to Berlingske.
A useful tool
According to Skov, the use of facial recognition would also enable the police to identify bags, clothes, emblems and other things that might help them find a perpetrator.
However, the government is not willing to go as far as the police chief would like.
Facial recognition is not included in the security package, and Socialdemokraterne spokesperson Jeppe Bruus told Berlingske last week that they have no plans to adopt it.
"But I won't dismiss the idea that we will be discussing this at some point," he added.
Firmly opposed
Even less favourable are the red bloc parties Enhedslisten, SF, Alternativet and Radikale. While Enhedslisten called it a violation of privacy, Alternativet went as far as calling for a complete ban.
On the right there is more support. Inge Støjberg, the vice chair of Venstre, argues it would be a great help when, for example, dealing with gang-related crime. Dansk Folkeparti stands by the idea as well and agrees that the technology would allow the police to save a large amount of precious time.
Used sparingly
For the time being, there are only two places in Denmark where you will run into facial recognition.
One is Brøndby Stadium, where facial recognition is employed as a measure to keep banned football fans from entering, and the other, unsurprisingly, is at passport control at Copenhagen Airport.
In light of the variety of political opinions on the subject, the request from the police, and the recently revealed security package, it seems that its wider usage won't be a reality soon – but it isn't that far off either.
---
Podcasts more popular
More Danes are sourcing their news from websites than newspapers, according to the latest media landscape report, 'Rapportering om mediernes udvikling i Danmark'. Among the other findings, 49 percent of the population listened to a podcast last year, 98 percent had access to internet in 2018, and 75 percent still watch some traditional TV.
More domestic hols
More Danes are spending their summer holidays at home, according to Danmarks Statistik. They spent 4.4 percent more overnight stays, and in general there was a 5.4 percent increase – a new record. According to Norstat, 11 percent fewer Danes are expecting to travel abroad in the summer of 2020 – a fall from 3.4 to 2.8 million.
Minister on leave
The minister of culture and church, Joy Mogensen, is on temporary leave following the death of her unborn child shortly before she was due to give birth. She has since encouraged people to support the National Infant Death Association instead of sending her flowers.
IT system ditched
Danish Defence has finally abandoned its IT system – a project initiated in 1994 that has haemorrhaged almost 100 million kroner. In related news, the defence minister, Trine Bramsen, wants to remove the age limit on volunteers who serve in the Hjemmeværnet home guard. The current limit is 60.
Biggest source of alcohol
Wine is the country's favourite source of alcohol, but Denmark consumes more beer in terms of overall litres, according to a report published by Danmarks Statistik. Wine in 2018 accounted for 45 percent of the pure alcohol consumed (150,000 litres), with beer accounting for 37 percent (360,000 litres) – down from 74 percent in 1955.
Bornholm wants more
In 2020, 600 refugees will be distributed among the municipalities, but Bornholm is expected to receive none, even though it wants to accept 20. Bornholm has the second-highest employment rate for refugee families in Denmark, as 318 of 471 have found work. According to the rules, municipalities can offer to take over one another's quotas.
Young and old in merger
Vejle Municipality in southeast Jutland has confirmed that an upcoming elderly care centre in Gauerslund will be built with an adjoining kindergarten. The proximity will enable the elderly patients to mix with the children from time to time – a scenario that local Liberal Alliance councillor Anja Daugård believes will be healthy for the senior citizens.
Popular PM is a giggle
PM Mette Frederiksen has been further endearing herself to the public. First she got the giggles in Parliament during her briefing on some homeless elephants, and now she has shared a photo from her school days in response to news that parents are increasingly looking for the perfect school picture of their kids.
Several other MPs also obliged.
Hospital thieves jailed
Six Colombians, three men and three women, have been sentenced to two and a half years for stealing hospital equipment of a value of 13 million kroner in Herning. In other crime news, 150,000 webshops have been reported to the police for attempting to deceive consumers, and the Council of Europe's Torture Committee has ruled that many Danish prison cells are too small.
Archive criticism
The culture minister, Rasmus Prehn, has criticised the National Archives for claiming in 2013 that sensitive Nazi-related documents stolen a year earlier had all been found. Five years later, they confessed that thousands of documents remained missing.
Candlesticks stolen
Two bronze altar candlesticks in the possession of the Church of our Lady in Aarhus since 1748 have been stolen. But maybe there is hope, as Thorsager Church in east Jutland has recovered 123 of the 143 Kaare Klint designer chairs taken from its premises in early October.
Raising awareness
A one-legged American woman is walking across Zealand this November to raise awareness of the plans of Danish insulation manufacturer Rockwool to build a factory in West Virginia, where local residents are up in arms. Tracey Danzey wants to engage civic society on her walk. Rockwool insists it is committed to sustainability and respecting the environment.
Wolf outcry
A man whose ponies were killed by wolves last September has been reported to the police by the pro-wolf association Ulvetid. The man is a member of Ulvefrit Danmark, an anti-wolf association. In related news, four retired circus elephants have been given a new home by Knuthenborg Safaripark, and nine kangaroos have been stolen from Munkholm Zoo in east Jutland.
New leader is heavenly
Isabella Arendt, 26, is the new leader of Kristendemokraterne. She oversaw the party's last General Election, where it won 1.7 percent of the public vote and very nearly won its first seat in Parliament since losing four mandates in 2005. Her nickname is 'Vikaren fra himlen' ('the Vicar from Heaven'). In related news, Liberal Alliance politician Simon Ammitzbøll-Bille has stepped down as an MP.