News
Science Round-Up: X Factor in fighting climate change
---
This article is more than 4 years old.
A new feed ingredient could reduce cow methane emissions to zero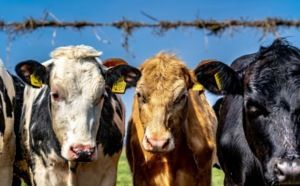 We have Rene Descartes, the grandfather of modern geometry, to thank for the way we use letters at the beginning of the alphabet for known quantities, and letters at the end of the alphabet for unknown quantities.
Coca-Cola, KFC and Lea & Perrins Worcestershire sauce all have a secret 'X' ingredient, and now Danish researchers working at the University of Copenhagen and Aarhus University in collaboration with dairy giant Arla have one too.
It's the 'X Factor' that could see the world take a giant stride forward in the fight against climate change.
Zero emissions
Methane emissions from the farming sector – which are primarily produced by cows – are a major blight on Denmark's record, as dairy products account for a large part of its total produce.
But that is the sound of green footprints approaching, as the researchers have developed a substance that when fed to cows eliminates the emissions – "no emissions, as in zero", Professor Mette Olafsen Nielsen from Aarhus University told Jyllands-Posten.
"At Aarhus University we are now continuing our studies on live cows."
Around the corner
Australian researchers have already discovered that it is possible to reduce methane emissions from cows by 92-97 percent by adding a special substance to their feed. However, the substance is virtually unusable because it's not something that is wanted in the food chain.
But the Danish substance has already been approved by EU's food safety authority, EFSA, and can be added to the vitamin and mineral mixtures that go into cow feed.
Nielsen initially expects that a product, which reduces methane emissions in cows by about a third, will hit the market in 2020 or 2021. Arla, which has 1.5 million dairy cows, is thrilled.
Arla's dung good
In related news, Arla is experimenting with a new environment-friendly strategy that fuels its trucks with the manure of its cows – 100 percent green energy that will reduce the CO2 emissions by 53 percent.
Arla uses around 200 trucks in Denmark to distribute milk to about 2,600 retail stores every day, and it estimates a single cow annually produces enough biogas for a truck to travel 875 km whilst also reducing noise pollution.
Meanwhile, Arla has inaugurated a 50 million euro cheese production facility in Bahrain that will enable them to meet growing demands for dairy products in the Middle East and North Africa.
---
Running low on meds
It might sound like the UK has hoarded them all in advance of a Brexit that never happened, but medication supplies in Denmark are at a ten-year low, and 25 of the 1,300 currently missing meds do not have an alternative. Norway is also facing similar problems. The shortage has been blamed on production problems in India and China – so not Brexit!
Fags beat being fat
A nine-year Statens Institut for Folkesundhed study of over 50,000 middle-aged Danes concludes that being obese makes you three time more likely to have multiple chronic diseases – compared to 1.5 times among regular smokers. From 2010 to 2017, the proportion of obese adults in Denmark rose from 13.6 to 16.8 percent.
New e-Boks launched
A new e-Boks app was launched on November 1. With the new version, which will be used by 4.4 million people on all types of mobile devices, there are seven new features, including the possibility to keep track of receipts and vaccinations.
Not protected after all
The protected Råbjerg Mile sand dune in Skagen was vandalised over the weekend of November 2-3. First the 85 metre-long dune was levelled and then it was pushed onto the beach. Plans to restore the dune, which will include replanting and re-establishment, are underway..
No to nitrogen
New government measures to combat nitrogen emissions include introducing provisions to compensate farmers facing increased demands. In related news, FLSmidth has vowed to give cement and mining customers solutions to reduce CO2 emissions (by 70 percent using existing technoglogy) and water wastage by 2030.
Reclaiming nature
Around 60 percent of Denmark is arable and high on the agenda at a large biodiversity conference hosted by PM Mette Frederiksen in early November were calls to convert land back into areas of nature and save 2,000 endangered indigenous plant and animal species. Just 0.4 percent (18,415 hectares) is undisturbed nature, and this must rise to 20-30 percent by 2031.
Tackling perfume allergies
Some 180,000 Danes suffer from perfume allergies, so the Danish EPA is accordingly trying to educate the public with a campaign – particularly teenagers, who tend to be the most susceptible. The campaign has sought the help of influencers to reach the youngsters. The problem costs the country 500 million annually in treatments for redness, cracks, scalding and blisters.
Huge spider alert
Native tarantulas (atypus affinis), which are not dangerous to humans, are making a comeback – you'll know if you see one. In related news, the invasive Asian crab is making itself at home – which is bad news for native crabs, but good news for cod, which find them delicious – and tests are being conducted on seven drowned wild boar washed up on Ærø for African Swine Fever.
Notable HIV progress
Fewer gay men are contracting HIV in Denmark. In 2018, out of 159 new cases in Denmark – down 12 percent from 2017 – they accounted for just 84, according to Statens Serum Institut figures. Of the remainder, 67 were heterosexuals and four were drug addicts. In total, 49 were non-Danes infected before arriving in Denmark.
Faroese energy solution
The Faroe Islands' new pump to storage system in the town of Vestmanna uses excess wind energy to pump water from a mountain to a dam to produce hydroelectric energy. In the event of an electricity failure, the islands are isolated, so storing the energy will give them the necessary back-up.
Smashing pumpkins!
Pumpkin production has increased by 50 percent in Denmark since 2014 as more families buy them – either in the build-up to Halloween or because they have become more popular on the dinner table. Gyldensten Gods has gone from annually producing 5,000 ten years ago to more than 300,000 in 2019.
Support for climate bill
Venstre has indicated it will back the government's new climate law proposal should some of its red bloc allies reserve their support. As long as emission reductions – the aim is 70 percent by 2030 – don't jeopardise welfare, growth and jobs, Venstre leader Jakob Ellemann-Jensen will back PM Mette Frederiksen.
Parkinson's breakthrough
Researchers at DTU have found a way to use the Parkinson's protein to create a super-inhibitor that effectively stops the development of the disease. However, the method has only been tested on animals so far.