News
Culture Round Up: Kill Bill for kids: only in Denmark!
---
This article is more than 4 years old.
Actress reveals how she was inspired to perform by violent movie she saw as a seven-year-old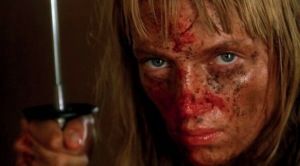 It could only happen in Denmark. A seven-year-old girl, at a loose end, pops the ultra-vi-olent Quentin Tarantino movie 'Kill Bill' into the DVD player.
Glued to the screen CLARA Rosager, now a rising star and 23, was "completely engrossed", according to DR.
"She felt glued to the screen and inside her the fireworks were in full swing. It was both crazy and scary."
And the rape scene?
Of course, we're not sure whether she fully comprehended what was going on when Uma Thurman's character, 'The Bride', was repeatedly raped whilst in a coma.
Her mother eventually intervened during the scene in which The Bride kills 88 Yakuza gang members with a samurai sword.
The entire industry
Rosager, 23, who sprang to fame after starring in the Netflix series 'The Rain', can be seen in the Viaplay series 'The Interrogation', which premiered last week.
It also stars Ulrich Thomsen, Trine Dyrholm, Lars Mikkelsen, David Dencik and Nikolaj Lie Kaas – so pretty much every Dan-ish actor working in the industry.
---
Free of Janteloven?
Danish actor Peter Mygind is in seventh heaven following his role as a "tall, charming Dane" in 'Last Christmas', reports DR. Apparently Emma Thompson and Emilia Clarke told him what a joy it was to work with him. "It's so rare we praise each other in this industry – I hardly remember a colleague or director who praised me before," he said.
Second time lucky?
Trine Dyrholm has been nominated for a Best European Actress award at the European Film Awards for her role in 'Dronnignen' ('Queen of Hearts'). The ceremony will take place on December 7 in Berlin. She was previously nominated for 'Kollektivet' in 2016, but did not win.
Just five days off ill!
The actor who has played the Bakken clown Pjerrot for the last 23 years is retiring. Kurt Flem-ming, who only had five days off ill in all that time and spent the equivalent of 200 days removing or applying make-up, is being replaced by Morten Eisner. Flemming's last day is on December 22.
Taking on giant case
'Klædt af' (undressed), a new play at Aveny-T in Frederiks-berg, is inspired by the ongoing 'Umbrella case' in which over 1,000 young people have been charged with sharing sex content via social media that featured an underage girl. Director Jon Stephensen is hopeful the play can address issues of inequality.
New book of poems
Bad boy poet Yahya Hassan, now 24, has released a new 114-page collection to mostly rave reviews. His 2013 instalment sold a record 120,000 copies, and the second collection is expected to do even better. Since Hassan sprang to fame, he has served time in prison for violence and also received psychiatric treatment – and many of the new poems deal with these subjects.
Recognition for director
The Nordisk Film Prize winners this year were Syrian-born director Feras Fayyad (for his work on the Oscar-nominated documentary 'Last Men in Aleppo'), actress Esben Smed, and visual effects supervisor Peter Hjorth, a frequent collaborator with Lars von Trier.
New book bombs
Anne Linnet's latest novel, 'Fucked', has been panned. The Dane, who is predominantly known for her experimental music in the 1980s, has written a crime novel featuring lesbian police officers. Linnet, 66, has a girlfriend less than half her age, and there is a noticeable age difference between the protagonists. Berlingske gave the novel just one star.
Legend coming over
LionelRichie is performing at Smukfest 2020, as well as US hip-hop artist Khalid, the Norwegian electronic giant Kygo, and Swedish pop singer Tove Lo. The festival will run from August 5-9. In related news, US singer Gavin DeGraw is playing at Vega on August 9.
Radio station exhibits
Danmarks Teknisk Museum will collect some items from the recently closed radio station Radio24syv to preserve the history, including a mixer desk, a recorder, a clock and the script from the last broadcast. The museum plans to use them in a future exhibition on Danish radio history.
Four-character offering
Director Ole Christian Madsen has revealed that 'The Day We Died', the dramatisation of the 14 February 2015 terror shootings in Copenhagen, will be told from the perspective of four characters: victims Finn Nørgaard and Dan Uzan, Copenhagen shooter Omar El-Hussein, and the cop who shot him (Nikolaj Coster-Wal-dau). The film is scheduled to be released on March 5.