News
Local Round Up: Trucks to terrorise city for decades!
---
This article is more than 4 years old.
New artificial island will require the transportation of 80 million tonnes of soil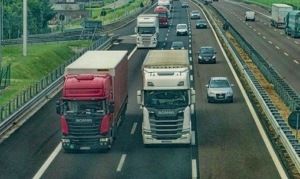 The proposed artificial island Lynetteholm, which will be a new city district located in Copenhagen Harbour, will send trucks galore through Copenhagen for 30 years.
According to a COWI report for By & Havn, the massive construction will involve 720 truck journeys through Copenhagen every working day for 30 years.
Single lane road ALTHOUGH By & Havn hasn't yet decided how to build the island – it will investigate the possibility of using marine transport in addition to the trucks – it had better do something about the access.
Currently the only option is Forlandet, a small single-lane road that connects Amager with Maretheholm and Refshaleøen.
Ready by 2070!
COWI PREDICTS the island will need approximately 80 million tonnes of soil, which will require 90,000 truck visits every year. Ramboll estimates it will need 78.2 million tonnes delivered by 110,000 truck visits per year.
Work will commence in 2021 by establishing the boundaries of the island. The whole construction is expected to be completed by 2070.
---
Dismayed by new bus timetable
In mid-October, Copenhagen's bus net-work experienced extensive changes in connection with the opening of the new City Ring Metro. In total, 33 bus lines were re-routed or axed altogether.
Since then, bus operator Movia has registered 730 complaints, primarily about five lines: 1A (81 complaints), 18 (58), 250S (56), 23 (49) and 164 (30).
No imminent change COMPLAINTS are unavoidable, contends Movia. "It's a lot, of course, but considering how big the changes have been, it's not very surprising. Some people get better options, others get worse," Per Gellert, the head of route planning at Movia, told DR.

Gellert revealed that some of the bus routes might be changed in the future, but first they need to be evaluated – and this won't happen until the spring. Ultimately, it will be up to the municipalities and regional authorities to make the change, he said. (CW)
---
Ammonia leakage
Five people needed medical examinations on November 8 after an ammonia spillage from a leaking pump in the basement of Fisketorvet, a shopping centre near Vesterbro, which led to an evacuation. One of them was sent to Hvidovre Hospital. The police have confirmed to DR that the spillage was quickly stopped.
New city district
Copenhagen has announced grand plans to build a new district at Kløvermarken, a large greenfield site in Amager that is currently used for sport. Construction firm Skanska together with Gehl Architects have drafted a new vision for a 750,000 sqm district, which would include 4,000 homes by 2031 and an additional 10,000 after the opening of a new Metro station.
More trees for city
Copenhagen has announced plans to plant 400-500 trees as part of the municipality's goal of planting 100,000 new trees by 2025. Among the locations are Bispebjerg Cemetry (36 trees), Vigerslev Park (40) and Østerbro (50). Among the trees is a special Swedish birch that does not emit pollen.
Legendary bar saved
Cafe Hvide Lam, a 200-year-old legendary jazz bar located in Kultorvet, reopened on Novem-ber 21 after a last-minute offer was accepted from Scandinavia's largest nightlife group Rekom. The new owner has promised to retain the old spirit of the bar and also the manager.

More student flats
Subject to approval in January, Lyngby will see the construction of 478 sustainable, student homes completed by the summer of 2021. The building, constructed in collab-oration with PensionDanmark and DTU's Housing Fund, will be the first in Denmark to receive both the Swan Label and the DGNB certification.
Retreading their route
The queen's guard are almost back on track after years of disruption due to the City Ring Metro construction. Every day at around midday, the troops march from their barracks at Rosenborg Castle to Amalienborg Palace Square and back again. However, a slight detour along Bredgade to Frederiksgade is now included.
New bridge popular
The new city harbour bridge, Lille Langebro, has proved to be a popular alternative to the congested and noisy Langebro for pedestrians and cyclists, who attribute their choice to speed and a more pleasant travel experience. On any given weekday, around 10,800 cyclists and 2,500 pedestrians use the bridge, which opened on July 1.
Tackling waste
By 2024, 750 waste sorting points will be added to the capital to meet Denmark's goal of having 70 percent of its waste recycled. A design competition is currently underway to realise the vision. The winners will be announced next spring.