News
National Round Up: No longer worthy of the flag?
---
This article is more than 4 years old.
Aid organisations and human rights bodies dismayed by government's stance against IS fighters and their kids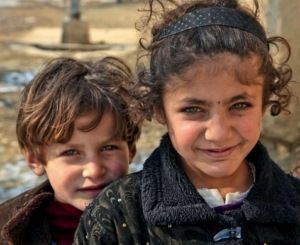 Following Turkey's invasion of northern Syria, the likelihood that thousands of jailed Islamic State fighters will break free from Kurd-controlled prisons has been steadily increasing, and the Danish government has been quick to react.
Furthermore, Turkey has started the process of returning a reported 737 foreign fighters to their respective countries, of which one has already been received by Denmark.
Fast-tracked
Last month, the government decided it would fast-track a new law that would strip du-al-citizen foreign fighters of their Danish citizenship in order to prevent them from returning home from conflict areas.
And now two more laws have been proposed to further crack down on the fighters – primarily the survivors among the 145 Danish nationals who joined IS between 2014 and 2017, according to figures from the Soufan Center.
Targeting their kids
Firstly, the foreign minister, Jeppe Kofod, has proposed a new bill that would deprive Danish foreign fighters of the right to get assistance from Danish embassies and consulates abroad.
And then secondly, the immigration minister, Mattias Tesfaye, has proposed a new law that would prevent the children of Danish foreign fighters, born in areas where a terrorist organisation is involved in an armed conflict, from automatically get-ting Danish citizenship.
No Danish values Tesfaye explains that the children are growing up in conditions not relatable to Denmark and Danish values.
However, a number of aid organisations along with the Danish Institute for Human Rights contend that it is in conflict with Denmark's international obligations.
Orphan case
Days after Tesfaye's proposal, Denmark's resolve was tested after Kurds confirmed on Twitter that they had "handed over a Danish infant from the Islamic State family to a delegation from the Danish Foreign Ministry".
According to the Foreign Ministry, the orphan child was taken to a third country and reunited with his relatives in Denmark, who have assumed responsibility for the boy.
Coming home
"The little boy had been in our custody at a centre for unaccompanied, orphaned children in the al-Hol camp in Syria," Johanne Schmidt-Nielsen, the secretary-general for Save the Children, told DR.
"We are, of course, very relieved that the young child is on his way home to Denmark."
---
Targeting bad eggs
Ahead of the notorious 'Ghetto List' being updated in December, Odense Municipality has revealed it will offer 18 convicted criminals up to 15,000 kroner each to move out of some of its vulnerable neighbourhoods. Last year Aarhus similarly targeted down-at-heel families in Skovgårdsparken with a 50,000 kroner per household offer that 15 accepted.
Bunker to bare all
In around two years, the public will be able to enter the mysterious bunker Regan Vest, where there was room for 350 people to survive in case the Cold War turned nasty. Located 60 metres below Rold Skov in north Jutland with an entrance that made it look like a typical home, it was built between 1963 and 1968 and officially closed in 2012.
Quarter feel lonely
The BØrns Vilkår og Tryg-Fonden report, 'At stå udenfor' (standing outside), reveals that every fourth child feels lonely, with 19 percent feeling loneliness intermittently and 7 percent frequently. It recommends introducing Panion, a social app that enables users to run key-word searches to find activity partners nearby, into schools.
DFDS stowaway alert
Some 25 stowaways were last week found travelling from the Netherlands to the UK in the cold storage room of a ferry belonging to the Danish shipping company DFDS. They have since been sent back to the Netherlands, where they were greeted by 20 ambulances.
Oldest Dane ever
Upon reaching the age of 111 years and 197 days last week, Karla Lindholm Jensen became the oldest Danish person ever. To put it into perspective, she was 11 years old when World War I ended. She attributed her long life to being positive and happy.

Busy abroad
Princess Mary and Rasmus Prehn, the minister for development co-operation, are visiting Indonesia from December 2-5 with respective women's rights and green agendas. In related news, PM Mette Frederiksen met French President Emmanuel Macron in Paris on November 18, and the foreign minister, Jeppe Kofod, met the US secretary of state, Mike Pompeo, last week in Washington. Greenland was high on the agenda.

Steroid kingpin jailed
A Danish pharma company owner has been locked up for five years and four months for smuggling steroids into the UK. In total, he imported 16 tonnes that had been legally produced by his company Alpha-Pharma in India. In related news, the British authorities have cleared the way for Sanjay Shah to be prosecuted in Denmark for his role in the share scam that swindled 12.7 billion kroner out of the Danish exchequer between 2012 and 2015.

Politician's sister killed
The sister of prominent DF politician Morten Messerschmidt has been killed by her boyfriend, who then hours later also killed his former partner. In other crime news, a manhunt for a gang member who escaped from a psychiatric facility in Slagelse last week is continuing, and the police have arrested two men in connection with the mid-November attacks on the Jewish community. One of them is a leading member of the neo-Nazi group Nordfront.
Forced to pay for lunch
Some 74,837 employees in Copenhagen, Aarhus and Odense must either pay in whole or in part for their office Christmas lunch, according to a BT study. Two years ago, 72 percent of Danes were in favour of subsidising the lunches completely – as long as the amount did not exceed 500 kroner per employee.
Fewer LGBT suicides
The suicide rate among the LGBT community is falling, according to a Danish-Swed-ish study, and marriage would appear to be helping. Between 2003 and 2016, the suicide rate among people in homosexual unions fell by 46 percent compared to 1990-2003. Among people in heterosexual couples, it only fell by 28 percent.
Mule fraud rise
Children as young as 12 are being targeted by criminals who want to use their bank accounts to launder money. According to Danske Bank's anti-fraud division figures, the numbers of cases of so-called 'mule fraud' has risen from 623 in 2018 to almost 1,100 this year.
Sunglasses for windows
The DTU estimates that four in ten Danish school buildings lack proper ventilation and are therefore ill-equipped to deal with warm temperatures. But it suggests a solution could be found in a solar film that can be placed over the windows, which is a cheap, maintenance-free and effective way of preventing 70 percent of the solar heat from entering a classroom.
Faroes eye Jerusalem
Only The US and Guatemala have located their Israel-based embassies in Jerusalem, but now the Faroe Islands has confirmed it intends to follow suit by basing its own representation there, even though Danish PM Mette Frederiksen is not so keen.