News
Business Round-Up: Kastrup on course for dip in passengers
---
This article is more than 4 years old.
A number of unforeseen circumstances have led to foot traffic decreasing at Copenhagen Airport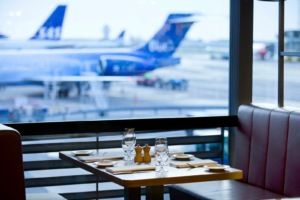 A much slower November than in 2018 has put Copenhagen Airport on course to record its first decrease in passenger numbers for years.
Some 46,000 fewer passengers used the airport last month – a 2.1 percent decline on November 2018 – and overall 0.2 percent fewer passengers have used the airport this year compared to 2018.
A number of reasons
The decrease, which is expected to be confirmed at the end of the year, has been blamed on a number of factors, including the SAS pilot strike, the bankruptcies of Primera Air (in October 2018) and WOW Air (in March 2019), and Norwegian's decision to stop running long-haul flights from Copenhagen.
And it won't have been buoyed by a baggage handler strike that began on December 4 involving employees of Menzies, which tends to service customers using Norwegian, British Airways and Finnair.
SAS strike hit hard
The SAS strike resulted in the airline declaring its worst financial result for five years. The seven day pilot strike in April and May is estimated to have cost the airline 450 million kroner.
Nevertheless, it still managed to post its fifth consecutive profit, even though it fell by 60 percent to 440 million kroner for the 2018-19 fiscal year.
Norwegian closures
Norwegian has decided to close routes from Copenhagen and Stockholm airports to the US and Thailand from 29 March 2020, which will result in 15 fewer departures each week from Copenhagen Airport by the summer.
According to Hans Christian Stigaard, an expert at the consulting firm Realise, Norwegian is closing the routes because they are not profitable.
Committee business
Meanwhile, the Copenhagen Growth Committee has suggested a number of initiatives to further expand Copenhagen Airport and establish it as one of northern Europe's biggest transport hubs.
The committee, which is made up of influential decision-makers both south and north of the Øresund – including Frank Jensen and Katrin Stjernfeldt Jammeh, the mayors of Copenhagen and Malmö – tends to meet two or three times a year, and their last meeting of 2019 was at the end of November.
The initiatives include an extension of the Metro line to Malmö, a direct rail line from western Denmark, and climate-friendly growth of the airport that would lower CO2 emissions to reach its 2050 carbon-neutral goal.
---
DI wants more paternity
Dansk Industri wants more compulsory paternity leave instead of the current arrangement that enables couples to split the parental leave as they see fit. DI contends that it would provide women with better career opportunities.
However, DI did not specify how much paternity leave. In related news, DI Business is discontinuing its English newsletter.
Hotel on Papirøen
German hotel company 25hours Hotels has announced plans to build a new establishment on Paper Island by 2024. The Papirøen hotel will consist of 128 guestrooms and suites, a sauna, rentable houseboats and a rooftop bar.
Dip in organic exports
Denmark last year saw a dip in organic exports for the first time in years, according to Danmarks Statistik. Their value fell by 46 million kroner to 2.9 billion. Meanwhile, organic imports rose from 3.9 to 4.4 billion kroner – primarily due to the drought. The Danish Agriculture & Food Council expects exports to increase in both 2019 and 2020.
Under attack
The vast majority of Danish companies have faced cyber-attacks over the past year, according to PwC. Some 68 percent endured a phishing attack in 2019 – down from 76 percent over the previous year. PwC warned that it is important for employees to be trained in awareness.
Haulage firm bankrupt
Danish haulage company Erik Nielsen og Søn Transport has gone bankrupt after being in service for well over a century. The Funen-based company, which has been in operation since 1894, called it a day on December 3. The company had 35 employees. Most of its clients worked in the construction industry.
New Legoland in China
A new Legoland is set to open in China in 2023. The 4.4 billion kroner themepark will be situated in the Jinshan district of Shanghai – a region that has a population of 220 million people. Family-owned Lego investment arm Kirkbi, which recently took back a 50 percent stake in Merlin Entertainments, has indicated there will be more park announcements forthcoming.
Negative the norm
Nordea has confirmed that private customers with deposits in excess of 750,000 kroner will be subjected to a deposit rate of minus 0.75 percent from February 1. The new rate will be applied to all deposit accounts bar pension accounts and child savings. Jyske Bank, Sydbank, Spar Nord and Ringkjøbing Landbobank already have negative interest rates.
Ørsted thinking big
Ørsted has proposed building a 1,000 MW Baltic Sea wind farm off the coast of Rønne, the capital of Bornholm, reports TV2. The Danish energy company suggests the project will be more attractive than building an artificial energy island in the North Sea – a proposal of the government's.
New cattle market
The door has opened for the Danish and Dutch beef industries to enter South Korea. According to Landbrug & Fødevarer, the market is worth 43,000 kroner per tonne. South Korea is short of protein as its pork output has been hit by an outbreak of African swine fever.
Biggest Netto store
Netto has opened its biggest store in Denmark. Located on Bredstrupgade in Randers, the store is 1,550 sqm in size.
Co-operative headache
Co-operative housing pricing has risen so sharply that many banks say it would be impossible for homeowners to remortgage based on their valuation. Nordea, Sydbank and Arbejdernes Landsbank are among the banks opting out. According to the Transport and Housing Ministry, half of all co-operative housing in Denmark is evaluated by property consultants.
Record Black Friday
Black Friday continues to be a major hit as sales skyrocketed to record highs on November 29 – a 57 percent jump in spending compared to 2018. Online transactions shot up by 151 percent compared to a regular Friday. However, according to the Forbrugerrådet Tænk consumer council, most of the discounts aren't offering savings, as the prices have been artificially inflated.
Another name change
Blackstone is changing the name of its management company in Denmark to Kereby (which translates as 'take care of the town'). An executive, Kenneth Ohlendorff, told Politiken that Blackstone wants to establish a positive image of the company, "signalling that it cares about its customers". It is the second time Blackstone has changed its name, as it was previously called 360 North.