News
International Round-Up: Chinese deny Faroese ambition
---
This article is more than 4 years old.
Ambassador's recent visit to the island were "normal duties", contends embassy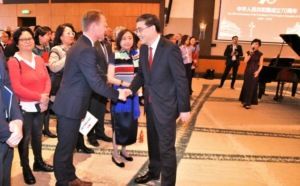 Chinese ambassador Feng Tie has denied that he put pressure on the Faroese government to choose Huawei to provide its 5G network, whilst making a visit to the islands on November 11.
Describing the Danish media's reportage of Feng's visit as "cyber-bullying", the Chinese Embassy tweeted that the ambassador was performing "normal duties" in his discussions with leading Faroese politicians, including Bárður á Steig Nielsen, the de facto PM.
Spy claims
Furthermore, the tweet accused the US of "using its state power to bully Huawei", which it maintains has strong connections to the Chinese government and will use its network for spying purposes.
Experts claim this is the first time that China has openly showed it is backing Huawei. However, the Faroese telecom company Foroya Tele insists that US fears are groundless following a satisfactory test of the 5G network provided by Huawei.
Broadcast banned
While Nielsen denied feeling "threatened or pressured", he did not deny Berlingske's claims that a "straightforward and forceful" Feng threatened to withdraw a lucrative export deal for Faroese salmon, whilst dangling the carrot of a future free trade agreement.
Faroese TV station Kringvarp Føroyas was ordered not to broadcast a segment on December 2 that referred to the discussions, which was recorded when the Faroese trade minister, Helgi Abrahamsen, forgot to turn off a mic wired up for another interview.
According to 2011 figures, China is the sixth biggest importer of Faroese salmon.
---
Petrol hangover
Owners of decade-old cars will need to be vigilant at service stations from 2020, as E5 petrol is being phased out in favour of the more environmentally-friendly E10 – in accordance with EU guidelines. For cars manufactured after 2011, this won't be a problem, but for the 750,000 produced before then, their owners will be compounding their new year hangover if they don't check the compatibility.
Urged to buy planes
US ambassador Carla Sands has urged Denmark to buy more F-35 fighter jets, citing concerns that NATO's aircraft power and surveillance capacities are not sufficient in the Arctic, and that Denmark is committed to strengthening defence and surveillance in the region. For a full article on recent NATO developments, check out this issue's Diplomacy magazine.
Criticism in Indonesia
The development minister, Rasmus Prehn, faced heavy criticism on his recent visit to Indonesia regarding Danish investment of 40 million kroner in two as yet unopened waste treatment centres in the country that primarily deal with plastic. NGOs contend that the centres conversely thrive on getting as much waste as possible.
PM on world list
Danish PM Mette Frederiksen, who this year emerged as a real trailblazer after standing up to President Donald Trump over his interest in buying Greenland, has been included on an annual list of the 'most definitive people in the world' compiled by Bloomberg. The '50 list', which recognises individuals who define global business, also includes Greta Thunberg and Rihanna.
Kinnock has little hope
Following Boris Johnson's landslide victory in the UK General Election, Danish media is claiming that Stephen Kinnock, the husband of the former Danish PM Helle Thorning-Schmidt, has a chance of replacing Jeremy Corbyn as leader when he steps down. In reality, the bookmakers rate him the 11th most likely candidate at 50/1. Danish business, meanwhile, applauded the result, claiming that they can now look forward to clarity over Brexit, which is expected to happen soon.
Neo-Nazi talks
A data leak from the right-wing forum Iron March reveals that in 2016 a Danish man (apparently from Aalborg) contacted Brandon Russell, a founding member of the US-based neo-Nazi group AtomWaffen Division, to seek advice on how to start a similar organisation in Denmark. Iron March has since closed, while AtomWaffen has been linked to five killings.
Adoption problems
The country's only bureau for international adoptions, Danish International Adoption, is in serious financial trouble and seeking to bring a halt to all new applications in the new year. The social minister, Astrid Krag, is concerned, indicating that funding could be set aside for operational support in 2020.
Hormuz pledge fulfilled
As part of its pledge to protect shipping in the Strait of Hormuz, following a number of Iranian seizures in the passage, Denmark has confirmed two separate naval contributions in 2020 as part of a European-led mission. A Danish frigate will be deployed next autumn for four months, and personnel will be sent to a French-led HQ in Abu Dhabi.
IS duo lose passports
New legislation has enabled the government to strip two Islamic State Danish fighters of their citizenship: a 25-year-old man and a young woman. It is believed the man joined IS in 2013 under the alias Abu Osman. PET estimates that 22 other Danish fighters, who travelled to Syria to fight for IS, remain in the conflict zone.
Interpol hunt fugitive
Interpol has again urged the public to help track fugitive Mohammad Ayoub Jahangery, a 28-year-old Afghan who was last year charged in absentia with murdering his wife in Denmark. Jahangery immediately fled the country.
Greenland top priority
As foreign powers encroach on Greenland, the Danish Defence Intelligence Service has named the island as the country's top priority. In related news, the foreign minister, Jeppe Kofod, has confirmed that there are no secure communication lines between Denmark and Greenland or the Faroes.