News
Local Round-Up: Historic park reopens in Vesterbro
---
This article is more than 4 years old.
Enghaveparken has a new ice rink and flood protection basins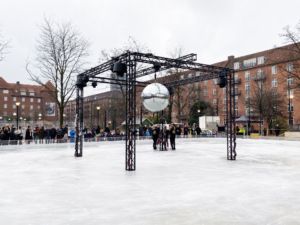 Enghaveparken in Vesterbro reopened on December 14 with a new ice rink and a contemporary environment for outdoor recreational activities. HOFOR, NCC, COWI and Tredje Natur were involved in the revamp.
The park, which had been closed since June 2018, has 82 new trees, around 5,000 new plants and upgraded lighting, and it offers the local community a pleasant and safe space to hang out in.
Two original stalls designed by Arne Jacobsen were rebuilt at the entrance thanks to a grant of 5 million kroner from the Realdania association. Meanwhile, the AP Møller Foundation donated 10 million kroner.
Flooding purpose
The historic park, which accounts for half of Vesterbro's public open space, was revamped in order to help protect the district from flooding during heavy downpours.
It will collect rainfall through its unique design, which collects and recycles great amounts of rainwater in a large underground pool.
Millions of litres of water can be recycled as the park can store and reuse rainwater and water coming from the rooftops of the Carlsberg district in a large tube pool underground.
---
Accused bombers
Three young men have been retained in custody in connection with the bombing of a Vanløse pizzeria on September 18. In related news, two other men have been arrested in Barcelona in connection with aiding the escape of gang member Hemin Dilshad Saleh from a psychiatric hospital in Slagelse on November 19.
Among the top 100
Copenhagen ranked 71st in Euromonitor International's Top 100 City Destinations report thanks to a 3.6 percent increase in visitor numbers to 3.0 million in 2018. A similar rise is expected this year to 3.185 million visitors. Stockholm, at 88th, was the only other Nordic city to feature on the list.
Plague victims found
Several early 18th century plague victims have been found buried at a school in Frederiksberg. Plague wiped out a third of the Copenhagen population in 1711. A museum expert has confirmed there is no risk of infection after 300 years.
Electric avenues
The city's first electric buses hit the streets on December 8. Bus lines 2A and 18 switched from diesel to electric – the first step towards Copenhagen's goal of all its buses running on sustainable energy by 2025.
Polar bear born
A new polar bear cub was born in early December at Copenhagen Zoo – the second year in a row that the species has managed a birth at the zoo.
Seabins in action
Two floating 'Seabins' have been placed in the Nyhavn canal area by By & Havn – in collaboration with the WWF and canal tour boat operator Stromma – to help keep the water clean. The bins suck litter into a catch bag using a submersible water pump and can even pick up microplastics. Cigarette butts account for 29 percent of the rubbish they catch.
Protest turns ugly
A protest against a scaffolding company using foreign workers and paying them well below the Danish average turned ugly at a construction site on Lundtoftegade in Nørrebro on December 2. Scaffolding was ripped down and cars overturned by angry scaffolders who reportedly spat at a female Netto employee who objected.
Mayor wants stove ban
The Copenhagen mayor, Frank Jensen, wants to ban the remaining 16,000 wood-burning stoves in the capital, pointing out that every city home should be able to enjoy climate-friendly district heating.
Mad driver rise
The number of 'mad driver' cases in the capital – involving motorists driving at double the speed limit or in excess of 200 km/h – has risen from 26 in 2018 to 42 this year.
Trial to end in February
The Britta Nielsen trial will resume on February 10, with a verdict expected eight days later.