News
National Round-Up: New budget an "early Xmas present"
---
This article is more than 4 years old.
Internationals rejoice as free Danish-language classes return and tough residency criteria is eased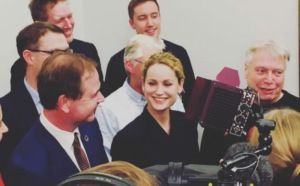 Well, that didn't last long. One of the biggest talking points generated by the government's 2020 budget, which was confirmed in early December, is that free language classes will once again become available to foreigners.
Also of interest to internationals will be the news that Danes and foreigners returning home to Denmark will not have to have been in Denmark for seven out of the past 12 years to get social benefits, while foreigners who have been in employment for at least two years should have an easier time remaining in Denmark.
But in keeping with its tough stance on immigration, the government has confirmed that it wants the border controls to continue, although money has been set aside in the budget to take in 500 quota refugees next year.
Nevertheless, many internationals hailed the budget as an early Christmas present on the Expats in Copenhagen Facebook page.
Cool for kids
These were just some of the inclusions in the first left-wing budget since 2014, as allies Radikale, SF, Alternativet and Enhedslisten finally gave their consent to the Socialdemokratiet government's plans.
"We ensure there are funds for 1,000 more nurses. We will introduce minimum limits for our children, boost efforts [with 600 million kroner] to help people with psychological disorders and, as opposed to the previous government, we will invest [rising by 275 million kroner in 2020 to about 800 million kroner in 2023] in education," said the finance minister, Nicolai Wammen.
"And it is a very green budget, which is the first step towards ensuring a sustainable future for the coming generations."
Big plus for parents
For parents, the budget delivered the news they had been waiting for: more daycare workers.
By 2025, 1.6 billion kroner will be set aside annually to ensuring there are at least one adult per three children in nurseries and one adult per six kids in kindergartens, so parents can expect a gradual improvement.
But it was bad news for parents who have purchased apartment for their children to use while they attend university, as the rebate payment on parental apartments has been scrapped.
Also discontinued to free up funds were tax reductions on free work phones and leased company cars, while the cost of buying plastic bags and disposable cutlery, transferring real estate, inheritance, airline tickets and betting has been raised.
Many highlights
Elsewhere, a ceiling that restricted people who have completed a state-funded higher education from taking another such education at the same level, or lower, will be abolished from July next year.
Funds will be set aside to turn arable land into nature and a new fund, 'Denmark's Green Future Fund', will be established to invest in sustainable projects.
Plans to increase fees on electric cars from next year have been dropped.
And the price of cigarettes will increase to 55 kroner next year, and to 60 kroner in 2022.
Climate on course
Meanwhile, a Parliamentary majority is expected to approve a new climate law, which will commit Denmark to reducing greenhouse emissions by 70 percent by 2030 (compared to 1999 levels), in February.
The climate minister Dan Jørgensen, underlined that there would be annual follow-ups to ensure that the process is on the right track – including milestones for 2025 proposed by the Klimarådet climate council.
Additionally, climate action plans will be approved this coming spring.
---
Talk about sing-sing
A 29-year-old US music student at the Royal Danish Academy of Music (DKDM) has been found guilty of working for three years as a church singer without the necessary work permit in Denmark, even though she has a CPR number. It is feared she could be jailed and deported. The DKDM and six churches where she sung were fined a total of 80,000 kroner at Frederiksberg Court.
Furore over cost
The education minister Pernille Rosenkrantz-Theil, is under fire for spending close to a quarter of a million kroner on her search for a new head of press at the ministry. Recruitment agency Zeuthen Storm got the bulk. In related news, Marcus Knuth has switched from Venstre to Konservative, citing a major difference of opinion with his former leader, Jakob Ellemann-Jensen.
Above average scores
Danish school students are still performing above average in the PISA report, which assesses the reading, maths and science skills of 15-year-olds in the OECD countries. With a score of 501, Denmark finished 14 above the average, with maths (509) leading the way ahead of reading (501) and science (487).
Google's most wanted
The new school portal Aula was the most searched term on Danish Google this year, followed by far-right politician Rasmus Paludan and billionaire Anders Holch Povlsen. Meanwhile, Rasmus Seebach topped the decade charts.
NATO 'party' cancelled
Last week's 70th anniversary NATO conference in Frederiksberg was cancelled due to a conflict over one of its scheduled speakers, a Trump critic who the US Embassy objected to. To read more about this story, check out this issue's edition of Diplomacy magazine.
Least obese in EU
Just over 20 percent of Danes have a BMI of over 30 – the lowest share of obese citizens in the EU, according to the OECD, and the seventh lowest among the countries that comprise the organisation. In related news, 84.5 percent of Danes aged 11-15 are less active than the one hour per day recommended by WHO, according to a Lancet study.
Passport peddler alert
Since 2008, some 333,431 lost passports have been reported, according to Rigspolitiet. Last year alone, 35,917 were lost, although 43 percent were later found. It is believed that many are being sold, and in one case an individual lost three in a short period of time. In Sweden, they are only valid for five years and only a maximum of three can be issued during that period.
Too many fatalities
Denmark may have the second lowest road traffic fatality rate in the EU, but it is falling short of its target of 120 a year. As of the end of October, there had been 159 fatalities, which is 25 more than the same time last year. The transport minister, Benny Engelbrecht, has vowed to apply even stricter rules on speeding and using mobile phones at the wheel.
Much, much higher
Much larger, 580 gram cans of nitrous oxide (laughing gas) are appearing on the streets of Denmark – 70 times the size of the eight gram cartridges that have become a common fixture over the last two years. Question marks are being asked about why Parliament has been so slow to take action, although a bill is now being formed.
Off and on the list
The number of vulnerable neighbourhoods on the annually published 'Ghetto List' fell by one over 2019. While Korskærparken in Fredericia and Karlemoseparken in Køge have been added, the Gadelandet/Husumgård area in Copenhagen, Charlotteager in Høje Taastrup and Ellekonebakken in Viborg have been removed. However, the number rated 'very vulnerable' was unchanged at 15.
Cyber expert course
Danish Defence has set a start date of June for its first ever ten-month cyber-defence program, which will train 30 officers in dealing with cyber threats targeting Denmark. The recruits will first complete four to five months of basic military service. The specialised course will be based in Fredericia.
Odense light rail postponed
The opening of Odense's new 3.579 billion kroner light rail has been postponed by a further eight months to 1 September 2021 – at an extra cost of 180 million kroner. In other transport news, from the end of next year, battery-powered trains will be tested in north Zealand and Jutland.
Awaiting prosecution
The number of cases in which people have been charged but not prosecuted has tripled since 2016 from 28,828 to 82,761. Nick Hækkerup, the justice minister, has vowed to make the matter a priority in 2020. Meanwhile, Copenhagen and Funen police are prioritising crimes against the person over the rest of the year.