News
Science Round-Up: The kings of renewable energy
---
This article is more than 4 years old.
Eleven Danish cities praised for their efforts in global report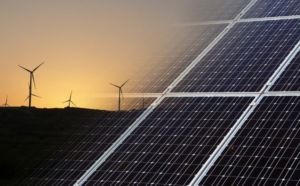 World Media Wire has declared Denmark as the unofficial winner of REN21's Renewables in Cities 2019 Global Status report, placing it at the top of the rankings for renewable energy.
"Denmark has eleven cities on the report and is the uncontestable leader in this fight for world change!" it proclaimed about a report in which Denmark has 39 mentions and Copenhagen a further 24.
The eleven cities were Aarhus, Copenhagen, Egedal, Frederikshavn, Gladsaxe, Helsingør, Høje-Taastrup, Hvidovre, Samsø, Skive and Sønderborg.
District fine
Denmark was further commended for having the third biggest share when it comes to renewable energy fuelling its district heating network
Copenhagen, which aims to become the world's first carbon-neutral city, was particularly praised for deriving 97 percent of its heat demand from local district heating systems.
Climate change concerns
According to a Eurobarometer survey published by the European Commission, 50 percent of Swedes and 47 percent of Danes consider climate change the most serious issue facing the world today – the highest rankings in the study.
The citizens of 20 European countries were given a list that included other concerns, and the most popular choices were poverty, hunger and a lack of drinking water. On average, 23 percent opted for climate change.
In 2017, only 29 percent of Danes identified climate change as the most serious issue, and climate researcher Sebastian Mernild believes the recent result is more due to privilege.
"In many of these countries, there are societal problems that we do not have in Denmark and Sweden," he said.
Emissions up
In related climate news, Denmark's CO2 emissions rose by 1 percent in 2018, according to the Energy Agency, which attributed the increase to less wind.
From 2014 to 2017, Denmark saw a 45 percent increase in the quantities of plastic collected for recycling: from 57,635 to 83,833 tonnes, according to the Environmental Protection Agency.
Danish economy experts, the so-called wisemen, have called on the government to reconsider its aim to cut CO2 by 70 percent by 2030, as it greatly harms the country's economy.
---
Virtually buoyed
Lindø Port of Odense intends to replace its physical buoys with virtual ones to guide large ships through Odense Fjord. The switch will save up to 1 million kroner. However, the Maritime Authority is not convinced yet.
Water-tech visit
The environment minister, Lea Wermelin, visited China from November 25-28 in relation to the two countries' bilateral co-operation on water tech.
Forestry dilemma
The government looks set to spend 20 million kroner on forestry – either on planting 8,000 hectares of new forest or speeding up the development of 16,600 hectares designated by the previous government.
Volcano discovery
A unique volcano has been discovered off the west coast of Greenland that may shed light on how the massive island was formed. It is believed it was created 95 million years ago when the supercontinent Pangea was broken up.
Clap cases double
The number of gonorrhea cases nearly doubled from 1,141 in 2014 to 2,192 in 2018, according to State Serum Institute. Men accounted for 1,350 cases, of which 43 percent were homosexuals, and the 20-24 age bracket racked up the most diagnoses.
House of fungi
A research team from the Royal Danish Academy of Fine Arts intends to build a house of fungi called the FUNGAR project. Using AI and funding of 21 million kroner from the European Commission, a computer will regulate room temperature and humidity by receiving data from mushroom walls.
Fertility fallback
Waiting lists at public fertility clinics in Zealand are considerably longer than elsewhere in the country, according to Health Data Authority figures. In related news, increasing numbers of women are giving birth at home. The percentage has doubled from 1.5 in 2013 to 3.3 last year.
Failing on feta
The European Commission is taking Denmark to court over its continued production of cheese labelled feta, as EU legislation prohibits products made outside particular areas of Greece from using the name. Danish producers have illegally marketed and sold 'feta' to several non-EU countries.
Robots sidelined
Herlev og Gentofte Hospital's ambitious plan to delegate less complicated tasks to robots has been suspended. The robots were purchased for 40 million for collecting and delivering goods like medicines, food, bedding and waste. It turned out that pavement traffic confused the robots, so they often stop working.