News
Sport & Culture Round-UP: Celtic's help from within
---
This article is more than 4 years old.
Gaelic delight as FCK draw Scottish champions in Europa League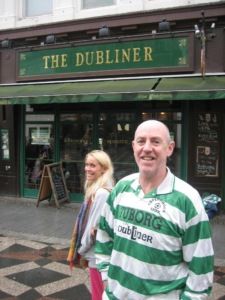 The last time FC Copenhagen drew Celtic in European competition – in the 2006-07 Champions League group stage – the Gaelic community in the Danish capital queued around the block for tickets whilst fielding 'conflict of interest' questions from the Irish media!
Aidan Coogan, the Cork-born founder of Copenhagen Celtic, was a man in demand, recalling how he had started the club almost a century after its more illustrious predecessor in Glasgow.
He was adamant, of course, that he would not be supporting the home team.
Tak Lugano!
Following a 0-1 loss at home to Malmö in their final Europa League group game – which would have ended the Lions' progress had Lugano not surprisingly drawn away at Dynamo Kiev – FCK were unseeded heading into the draw, so they will be pleased they avoided the big fish in the tournament.
The first leg of the last-32 clash will take place at the Telia Parken Stadium on February 20, with the return leg at Celtic Park a week later.
Celtic are generally available at 40/1 to win the tournament, and FCK at 100/1. At Parken, both teams are rated 13/8 to win the game.
Thanks for the Finns
Overall, it has been a splendid fortnight for Denmark regarding football draws, as Euro 2020 is also shaping up nicely.
Denmark learned on November 30 that the fourth team in their group will be Finland (on June 13), a team that have never before qualified for a major tournament. Russia (June 22) and Belgium (June 18) are the other teams in Group B.
With the four best ranked third-placed teams advancing to the last 16, and all of Denmark's group games being held at Parken, the home side's prospects look good. However, should they top the group, their last-16 game will not be in Copenhagen.
In other news, Denmark are among the third seeds ahead of the 2022-23 Nations League draw on March 3, which is good news as UEFA has raised the number of teams in each group from three to four.
---
Freddy stepping up
Frederik Løchte Nielsen, 36, has replaced Kenneth Carlsen as the captain of Denmark's Davis Cup team, bringing to an end his governor's 11-year reign. In other retirement news, handball legend Michael V Knudsen is calling it quits at the age of 41. He scored 797 goals in 244 games for Denmark, ranking him fourth on the all-time list.
Contrasting fortunes
Danish golfer Rasmus Højgaard won the Mauritius Open via a playoff on December 8 – the 18-year-old's first European Tour triumph. In related news, it was bad news for another promising youngster, cyclist Mathias Norsgaard Jørgensen, when he was hit by a car in Spain. He is expected to be out of action for six months.
Hammershøi again
'Interior from Strandgade 30', a 1900 painting by Copenhagen painter Vilhelm Hammershøi, has broken the record for the highest price ever paid for a piece of art on Danish soil. It was sold for 30.5 million kroner – not far off the global record of 39.5 million, which was set by another Hammershøi work in New York in 2017.
Grim discovery
Olympic TV rights holders DR and Discovery Networks Denmark have divvied up the sports for the 2020 Tokyo games, and it's grim reading if you don't have K5 or Eurosport, as Discovery will be showing all the rowing, swimming and cycling. Together they have accounted for half of Denmark's medals over the last three Olympics.
Rockers rejoice
Never mind a gansta's paradise, Denmark in 2020 is starting to resemble a rocker's heaven. Firstly Pearl Jam announced they're performing at Royal Arena on June 29, and then Aerosmith confirmed they're coming to Middlefart on July 21 – the only Nordic date of their European tour.
Watch this verdict!
Danish artist Tal R has won a Maritime and Commercial Court case against Copenhagen-based company Kanske, which planned to cut up his painting 'Paris Chic' and make watches out of it. The court ruled that Kanske would be misusing the artist's reputation for commercial gain.
Strictly the same sex
Actor Jakob Fauerby and Silas Holst have become the first ever same sex couple to win an edition of 'Strictly Come Dancing'. They won the Danish version, 'Vild Med Dans', on November 29.
Politiken's finest
Herbert Pundik, the editor-in-chief of Politiken from 1970 to 1993, has died at the age of 92. The Danish Jew fled the Nazis in 1943 to Sweden before moving to Israel later that decade. He worked for Mossad in the 1960s and ended up living in Tel Aviv in his retirement.
Handball heartache
Denmark finished ninth at the World Women's Handball Championships, which means they have failed to qualify for the Olympics. They did, however, have the consolation of knocking out France, the reigning world and European champs, in the group stage.
Selling out in seconds
The music festival 'Musik i Lejet' sold out in just two minutes earlier this month. All 6,500 tickets were quickly sold, leaving 7,500 prospective buyers disappointed.
Dodgy chocolates
Frellsen has been compelled to withdraw 10,000 chocolate advent calendars after it emerged that the treats tasted just like the packaging. It came as a blow to Save the Children, the recipient of the proceeds.
Best in class
Bæst has the best pizzas in Denmark, according to Big 7 Travel, followed by Mother, Gorms in Aarhus, Frankie's Pizza and Neighbourhood.