News
National Round-Up: Liberals call for hard drug legalisation
---
This article is more than 3 years old.
Follow Portugal's lead, urges Alternativet, and allow users to possess narcotics for their own personal consumption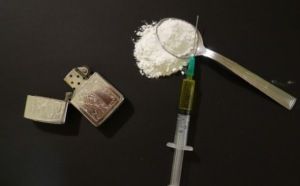 Three political parties support legalisling the consumption of drugs such as cannabis, heroin and cocaine, providing drug-takers only use the narcotics in their possession for their own personal consumption.
Alternativet has been the most outspoken party, and its suggested policy has the support of Liberal Alliance and Enhedslisten.
"Despite our ban and hard line on drugs, we see more and more young people using them," Sikandar Siddique, the spokesperson for judicial issues for Alternativet, told TV2 News.
Following Portugal
Since Portugal decriminalised drugs in 2001, the number of heroin abusers in the country has fallen from 100,000 to 25,000, and drug-related deaths have also plummeted, according to EU figures.
Last month, the Norwegian attorney general proposed a similar change to the law, stating that the country's current policy has not had the desired impact.
"We look to countries like Portugal, where the number of abusers and deaths have dropped in the wake of drug decriminalisation," added Siddique.
High cocaine usage
The proposal came as new report from the Centre for Substance Research (CSR) revealed that 24,600 young people aged 15-25 have taken cocaine in the past month – double the number in 2014.
The health minister, Magnus Heunicke, told DR he will consult the Sundhedsstyrelsen health authority regarding how "we can learn from other countries".
According to CSR figures, 24,500 are addicted to illegal drugs – up from 20,000 in 2014.
Laughing gas rethink
The numbers are set to soar, as it will soon be no longer legal to sniff laughing gas cartridges to get high.
New legislation will make it illegal for under-18s to buy the nitrous oxide cartridges, which are most commonly used in siphons to produce whipped cream for coffee and desserts. And it will be illegal for anyone to buy more than two of the eight-gram cartridges at the same time.
Only Liberal Alliance was believed to be against the bill. Other right bloc parties, including Venstre, have softened their stance since the cartridges first became an issue in 2018. They have always opposed a widespread ban.
Snus and nonsense
In related news, five times more Danish youths consume the Snus powdered tobacco every day than in 2014, according to the National Institute of Public Health – up from 1.9 percent of high school boys to 11.3 percent, while the number of female users has jumped eight-fold.
Taking Snus, which is bought on the black market but still legally sold in Sweden, is more popular than smoking, which only 8.9 percent of the boys do on a daily basis.
And woe betide any teachers at FGU Østjylland being caught smoking or drinking a soda during school hours, as they will be fired if they're caught three times.
The post-upper secondary school, which helps students get the necessary grades to go to university (like a crammer in the UK), wants its staff to act as role models for the students, who are also not allowed soft drinks.
Fewer teen mums
Only 409 teenagers aged 15-19 became mothers in 2018, according to Danmarks Statistisk – less than a tenth of the 4,708 who gave birth in 1973 when registration began. Furthermore, the percentage of 19-year-old mothers, and mothers aged 15-17, has climbed from 48 to 59 and fallen from 23 to 11, respectively.
Frederiksberg fulfilled
Frederiksberg Municipality has the most satisfied citizens in Denmark, according to the European satisfaction surveyor EPSI Rating. It topped the rating with 75.8 percent, ahead of Rødovre (74.1), Syddjurs (73.1), Thisted (72.5) and Frederikshavn (71.8). The national average was 63.5.
Muslim marriage failings
No judicial body in Denmark has the right to dissolve a Muslim marriage if the husband does not want it, according to a new report by the National Center for Welfare Research and Analysis that reveals that many women in such a position are subjected to violence by their husbands and family.
Gays can donate blood
From March, gay and bisexual men will be able to donate blood, providing they haven't had sex with another man during the previous four months. Homosexual men were banned from donating in 1988 due to fears they would spread the HIV virus.
Steak sarnie supreme
Rasses Skovpølser in Skanderborg has retained first place in the 'Denmark's Best Steak Sandwich' rankings compiled by De Brune Riddere. It picked up several prizes, including one for the best sweatiest onions.
No alternative to it
Alternativet has named Josephine Fock as its new leader. She officially replaced Uffe Elbæk at an extraordinary party congress on February 1. When pronounced, Fock's name sounds a lot like 'fuck'.
SU rates soaring
In 2018, the state paid 513 million kroner in SU education benefits to foreign students – up from 88 million kroner in 2013, the same year the EU made its ruling that students from the union, Norway and Switzerland had the same rights as Danes – providing they worked 10-12 hours per week alongside their studies.
Abuse investigation
The government has green-lighted an investigation into possible failures and abuse suffered by children and adults at state facilities between 1933 and 1980 in Livø and Sprogø. At the end of that period, responsibility passed from the state to the municipalities. The government is committed to owning up to any mistakes and to apologising where need be.
Oil right dilemma
The government is weighing up the financial cost of not issuing any more North Sea oil drilling rights, which would result in the extraction stopping in 2050. All its left-bloc allies want the drilling to stop. Denmark earned 8 billion kroner in 2018 from the North Sea – down from 36 billion in 2008.
Tower on back foot
The construction of a 320-metre high tower in the central Jutland town of Brande to house the fashion company Bestseller, which would have been visible 50 km away, has been put on hold. The permit issued by the local municipality expired on January 1. Bestseller is owned by one of Denmark's richest men, Troels Holch Povlsen.
Grief leave support
There is a broad political majority in favour of addressing the work leave conditions for parents who lose a child before their 18th birthday. Currently, only mothers who give birth to a dead child, or parents who lose a child before they reach seven months, are eligible for 14 weeks of grief leave. Many bereaved parents are forced to take sick leave as a result.
Anti-Semitism action
Following a wave of anti-Jewish acts in November, PM Mette Frederiksen has promised a crackdown on anti-Semitism, which will involve raising awareness of the problem and the better protection of Jewish institutions. The state also intends to incorporate a new official definition of anti-Semitism, which the authorities will have to adhere to.
New dialect in Aarhus
The University of Aarhus has detected a new dialect in the city in which speakers use four 'typical word positions' instead of the more normal three, thus rendering a more concise delivery. 'Aarhus West' may be spoken in a part of the city predominantly populated by immigrants and their descendants, but it is not an ethnolect like 'Perkerdansk'.
Childless and alone
The number of Danish men who live alone without children has shot up by almost 50 percent over the last 30 years from 533,000 to 753,413, according to Danmarks Statistik – compared to 725,000 single women without kids. In 1989, there were 58,000 more single women. Single men on average die seven years earlier than their co-habiting counterparts.