News
Science Round-Up: Climate won't change capital considerably
---
This article is more than 3 years old.
Risk factor far greater in other major cities, according to new report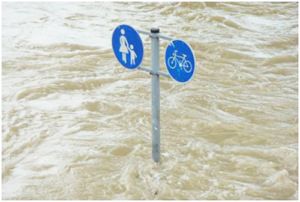 The effect of climate change on Copenhagen will be negligible by 2050 compared to other cities around the world.
According to a ranking released by Nestpick – which assessed parameters including Climate Shift, Water Stress Increase and Potential Sea-Level Rise Impact – the Danish capital placed 41st.
Blame it on Rio?
Leading the way were Bangkok, Ho Chi Minh City and Amsterdam – mostly due to their high Potential Sea-Level Rise Impact scores.
Meanwhile in the safe zone, Marseille, Orlando and Rio de Janeiro had the lowest scores.
Consumption changes
In related news, some 56 percent of Danes have reshaped their consumption habits over the past year in response to the threat of climate change, according to a YouGov study carried out for Nordea.
Women tend to be more focused on food and clothes, and men on transport.
---
Early puberty concerns
Girls are entering puberty three months earlier every decade, according to a study led by Anders Juul, a senior consultant at Rigshospitalet, which started in 1977. Premature puberty increases the risk of sexual abuse, drug abuse and suicide attempts. Between 10 and 20 percent of eight-year-old girls have entered puberty.
Wetter than the sea
Strong wind, heavy rainfall and flooding due to high water levels – mostly timed over the weekends – has made it a testing month for Denmark, which is on course for its wettest ever February and warmest ever winter. Surprisingly Storm Ciara, after ravaging Scotland on February 8, failed to satisfy the necessary criteria to be rechristened when it arrived in Denmark.
Pesticides still present
Vegetables sprayed with the banned pesticides chlorpyrifos and chlorpyrifos-methyl, which cause brain damage to foetuses and new-borns, could conceivably still be on sale in the supermarkets. The vegetables could have been sprayed in the spring of 2019, well before the EU banned the pesticides in December.
Novo expansion boost
Novo Nordisk plans to invest 800 million kroner into expanding the world's largest insulin factory in Kalundborg by a further 1,400 sqm – a plant that is already the size of 181 football fields where 3,000 employees work. Novo has invested more than 16 billion kroner in the plant since 2000.
Iron Age hall discovered
A 250 sqm Iron Age hall, which probably housed a tribal chief around 1,500 years ago, has been discovered near Fuglebjerg in South Zealand. Excavators from the Museum of Southeast Denmark are struggling in the wet conditions!
Sayonara soya?
Some 71 percent of the soya beans imported to Denmark, which is mostly used as animal feed, is grown at the expense of the rainforests of South America, according to a University of Copenhagen study. Last year, Denmark imported 1.8 million tonnes. The study recommends that Denmark looks for alternative sources of protein.
Huge cancer study
Researchers from Rigshospitalet and Aarhus University Hospital have carried out a huge cancer study assessing the data of 2,600 patients spanning three continents (with 38 different varieties of cancer) in a bid to see whether gene changes directly cause the disease. It concludes that only five of 100,000 gene changes directly do.
What baby boom?
There were 61,167 births in 2019 – significantly fewer than the 64,400 predicted by Dansk Regioner, which has foreseen a 20 percent increase by 2025. In anticipation of the baby boom, the government earmarked an extra 50 million kroner a year from 2017. In fact, a manager at Rigshospitalet's maternity unit resigned in protest against the 'extra' work.
Tickety boo
Ticks are expected to arrive earlier than usual due to the unseasonably warm weather. According to experts, they will happily survive in temperatures above 5 degrees.
Cat action urged
The number of new cat residents at the animal shelter Dyrenes Beskyttelses Denmark shot up by 40 percent to 8,870 in 2019, meaning felines account for 80 percent of all the animals at the shelters. Cats do not need to be registered or chipped – as is the case with dogs – thus making it harder to find the owners. The Food Ministry is under pressure to take action.
Rare whale found
A six-foot Cuvier's beaked whale (Ziphius cavirostris), which is most commonly found in deep waters in the Northern Pacific Ocean, washed up dead in Rømø on February 14, becoming the first of its kind ever seen in Denmark. An autopsy three days later confirmed the whale was an adult male. Its skeleton will end up at the Museum of National History.
Robot central
Danish companies Universal Robots and Mobile Industrial Robots are investing a quarter of a billion kroner into robot development and production in Odense, which is quickly emerging as a cobot hub. A 50,000 sqm site has been acquired. Some 3,900 of the 5,000 people who work in the Danish robotics industry are based in Funen.
Robots love fake news
Regional newspaper JydskeVestkysten has been accused of running pieces written by robots that are factually incorrect. In one case, a CEO claims he was never interviewed for a piece in which he was widely quoted. Editor Mads Sandemann is unapologetic, maintaining the robot journalism is properly informing readers.
Organic champions
Denmark has the highest rate of organic consumption per capita in the world, according to the World of Organic Agriculture report. Organics held a 11.5 percent market share in 2018, ahead of Switzerland (9.7) and Sweden (9.6), and it has already been confirmed that there was a 10 percent rise last year.
Miracle side-effect?
New research from the Danish Cancer Society suggests that Antabuse, a drug that treats chronic alcoholism, may extend the life of patients with terminal cancer. Accordingly, 29 incurably-ill patients are participating in trials in collaboration with Odense University Hospital, Rigshospitalet and Herlev Hospital.