News
Sport Round-Up: 2021 Tour de France: set in stone
---
This article is more than 3 years old.
Copenhagen time trial is shaping up to be an absolute cracker of a stage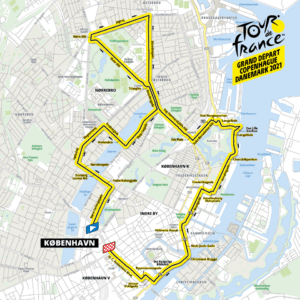 Can you imagine it? The likes of Roglic, Fuglsang, Bernal and Alaphilippe blasting past an intersection on Bredgade in the city centre, before standing up in the saddle on those final metres on HC Andersens Boulevard.
Well that'll be a reality next year as the Tour de France opens with three stages in Denmark – the first being a 13 km time trial in Copenhagen.
The routes of the three stages were unveiled earlier this month and sports enthusiasts will be licking their chops at the prospect of seeing the stars barrelling down Danish roads and streets.
In doing so, Denmark will become the tenth country other than France to host stages, following the Netherlands, Germany, Belgium, Switzerland, the UK, Ireland, Spain, Luxembourg and Monaco.
Søerne to Sønderborg
In Copenhagen, the stage will start on Nørre Farimagsgade in the city centre, as the riders are sent off around the city's famous Lakes over to Østerbro, past Langelinie and the waterfront, before racing back to finish on HC Andersens Boulevard.
The second stage is a 199 km route beginning in Roskilde that will snake its way past the city's famous cathedral and the ongoing music festival before following the Zealand coast down to the Great Belt Bridge, crossing over, and concluding in Nyborg.
The third stage will take the riders 182 km from Vejle to the Jelling Runes and then south past Kolding and Haderslev for a finish in Sønderborg.
The race then heads back to France for the fourth stage.
---
Home support advantage
Between 55.9 and 59.6 percent of the tickets sold for the Euro 2020 games against Finland, Belgium and Russia at Parken have been sold to Danish fans, according to UEFA. In contrast, a maximum of 27.6 percent have been sold to opposition fans.
Call him Mr 14
Joachim Blichfeld recently became the 13th Dane to play in the NHL when he laced up for the San Jose Sharks, and now the Sharks are at it again, this time making center Alexander True the 14th Dane to play. True, 22, the cousin of Winnipeg Jets star Nikolaj Ehlers, duly racked up two assists in his first four appearances.
Marathon record
Kristina Schou Madsen, 34, has smashed the women's world record for running seven marathons in seven days on seven different continents. Her total time was 24 hours, 1 minute and 40 seconds – beating the old record by over 15 minutes. She ran marathons in Antarctica, Cape Town, Perth, Dubai, Madrid, Fortaleza and Miami.
Not laughing now
The DBU dropped three under-17 national team players from two recent international matches after they abused laughing gas at a training camp in Cyprus. Neither the players nor their clubs have been disclosed.
Barons of badminton
Earlier this month, the Danish men's badminton team won their eighth European Men's & Women's Team Championships in a row – and the women their fourth – in Liévin, France. The men, who defeated Germany, completed the tournament without dropping a set, notching up a 48-0 record.
Rankings surge
Denmark's best male tennis player, Mikael Torpegaard, has jumped up 57 spots to 177th in the world rankings following victory in the final of the Cleveland Open, a Challenger Tour event, against Japan's Yosuke Watanuki. Meanwhile, teen starlet Holger Rune, in his first season as a senior, is number 851.
Best for away fans
Football fans believe FC Midtjylland and Esbjerg offer the best conditions for away fans in the Superliga, according to Bold.dk. Fans assessed aspects such as viewing conditions, security, infrastructure and food booths. The top five was completed by Randers, Brøndby and Horsens, with FC Copenhagen and Hobro rated the worst.
FCK sell Cypriot striker
FC Copenhagen have sold Cypriot striker Pieros Sotiriou, 27, to FC Astana of Kazakhstan in a deal estimated to be worth 37 million kroner. He had scored 35 in 110 appearances, including nine in 18 league games this season, since joining from APOEL Nicosia in 2017.
New sprint record
Sprinter Kristoffer Hari, 22, has set a new Danish indoor record for the 60m, shaving 0.03 seconds off the record Benjamin Hecht set in 1999. Racing for his US university team, the Arkansas Razorbacks, Hari clocked 6.62 seconds. Hari emerged as a talent aged 15 when he ran the 100 metres in 10.37 – the second fastest time for a 15-year-old that year.
Second world champ
Denmark has a second women's world boxing champ following Sarah Mahfoud's defeat of Argentine fighter Brenda Carabajal in Frederiksberg to win the IBF featherweight crown. Undefeated in ten fights, Faroese-born Mahfoud, 30, is ranked the third best featherweight on the planet. Dina Thorslund, meanwhile, is the WBO super bantamweight champ.
From Boro to Barca
In the biggest shock move involving a Dane since Thomas Graversen joined Real Madrid in 2005, Barcelona has paid 135 million kroner for Martin Braithwaite, 28, from Leganes. Just over a year ago, he was at English Championship side Middlesbrough, but ten goals and eight assists in 43 matches got Barca's attention. On Saturday, he grabbed two assists in his first game!