News
International Round-Up: Keyhole into forgotten age
---
This article is more than 3 years old.
Researchers excited that Prize Papers could help colour in 150 years of Danish history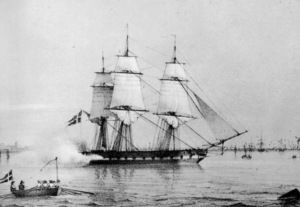 There are thousands of Scandinavian letters among the Prize Papers, an extraordinary collection of unopened missives written at sea that never reached their intended recipients between 1664 and 1815 because the vessel was captured – mostly by the British Navy and privateers.
Nineteen different languages have been detected among the 160,000 letters at the National Archives in Kew, London – their final destination once the London Admiralty Court ruled whether the capture was lawful or not.
Of the 35,000 captured vessels, a quarter were Dutch and 3,000 were Scandinavian. One, for example, was the Danish gunship 'Hercules', which was captured by the British in 1807 during the Napoleonic Wars. Some 9.3 million euros has been made available to digitalise the collection.
Mostly mundane
However, Danish researchers are playing catch-up as they have only recently been able to study the Prize Papers. Dutch peers, in contrast, have been looking through the letters since 2005.
Ahead of the exhaustive task of appraising the thousands of letters, researchers are confident they will learn a lot more about everyday life in the period, but are not expecting to make any significant discoveries.
Some of the documents written in other languages contained the results of anthropological studies and even some long-since-lost information pertaining to South African cultivation.
---
Facebook sentencing
Sultan Çoban, a Danish journalist of Turkish heritage who has been sent to prison in Turkey for 15 months, rejects the court's finding that her post on Facebook was "propagandising for a terrorist organisation". She maintains she was exercising her freedom of speech to share information whilst working for a Danish media organisation.
Smart gadgetry kings
Smart technology products such as voice-controlled bathroom scales can be found in 23 percent of Danish households – the highest rate in the EU, according to a Eurostat report that used Danmarks Statistik data. The EU average is 10 percent.
Freddie visits Jordan
Prince Frederik last week visited the Za'atari refugee camp in Jordan as part of his duties as the patron of Red Barnet. Accompanying Rasmus Prehn, the development minister, he observed how children are coping in the camp, which has the largest population of Syrian refugees in the country.
Major Frontex offer
In the wake of recent developments regarding irregular migration at the border of Greece and Turkey, the government has offered EU border agency Frontex a Challenger surveillance aircraft for 30 days and are willing to further assist Greece if requested.
Minister condemns Erdogan
The foreign minister, Jeppe Kofod, has condemned Turkish President Recep Erdogan's recent decision to open the border between Turkey and Greece, which enables refugees to freely enter Europe. He called on Erdogan to respect the deal he signed with the EU four years ago in which he promised to keep the border closed in return for 45 billion kroner.
Key water role
Denmark has helped to revise EU directives regarding safe and clean drinking water. In the future citizens will be better informed of the cost and quality, including chemical concentrations, while suppliers will be required to reduce wastage – principally by better educating their customers. As well as the government, DI and Grundfos also lent their expertise.
Biggest scam risk
Some 50 percent of Danish internet users have been the subject of cyber fraud scams, according to Eurostat – the highest rate in the EU ahead of France (46) and Sweden (45). The EU average is 32 percent.
Palestine pledge
During a visit to the West Bank, the development minister, Rasmus Prehn, announced that Denmark would increase its core contribution to the UN's aid program for Palestinian refugees from 70 to 105 million kroner.