News
Local Round-Up: Municipality introduces artwork gender quota
---
This article is more than 3 years old.
Fifty percent of all future purchases will be from female artists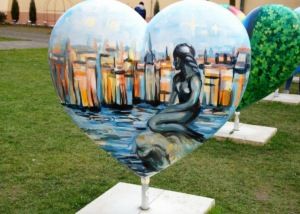 Half of all future art purchases by Copenhagen Municipality will be works created by women.
Its visual arts council unanimously voted in favour of introducing the gender quota at a meeting last month.
Council member Mette Sandhoff Mansa explained to TV2 that it was not a bid to improve the municipality's art collection, but just to make it reflect reality.
"The reality is that the world is made up of men and women," she said. "If we do not have art made by women, then we present a picture that artists are men."
Already on course
Over the last six years the council has been striving for equality, but without a quota. During that time it has purchased 109 works by male artists and 81 works by female artists.
Its efforts buck the trend seen at the capital's museums and galleries, where 22 percent of the new works acquired since 2014 have been created by female artists.
Furthermore, female artists have only accounted for 29 percent of the solo exhibitions during that time period.
The municipality, which has a total of 4,500 artworks decorating its various institutions, has always been a keen supporter of the art scene in the capital.
---
Terror shooting failings across the board
A new DR documentary, 'Angrebet – Omars vej til Krudttønden', claims that the PET security service should have prevented the Copenhagen terror shootings in February 2015.
Experts concur that the activities of the perpetrator Omar el-Hussein should have been monitored.
Unchecked warnings
Seven months earlier, the Kriminalforsorgen prison services informed PET that El-Hussein was likely radicalised. A confiscated phone revealed he had been reading the Al-Qaeda magazine 'Inspire' and listening to IS songs about killing non-believers.
And then his actions after his release from prison on 30 January 2015 – which included trying to rent an apartment close to where the shootings began at Krudttønden theatre, buying knives and downloading an article on firearm storage – went unchecked.
Better prepared now
PET has always denied culpability, but told DR that it was better prepared for future attacks than it was in 2015.
"These initiatives have been implemented on the basis of, among other things, the learning points in the evaluation and the result of the police investigation of the incidents in 2015," it conceded. (BH)
---
More plastic surgery
The number of Greater Copenhagen men getting plastic surgery has shot up, according to a P4 analysis of Sundhedsdatastyrelsen data. In 2018, 567 went under the knife – triple the 178 who got surgery in 2008. The most popular procedures are botox injections, liposuction, mammary tissue surgery and eyelid work. Women still account for 90 percent of all procedures, though.
Best for burgers
Gasoline Grill has been included on a Bloomberg list of the world's 44 best burger joints. "It's worth going off piste with the vegetarian Green Burger," advised Bloomberg. Denmark was one of only five European countries to feature on the list.
Above average kids
Copenhagen public school children are performing above the national average for the first time in history. With an average graduation score of 7.4, compared to a national average of 7.2, 15 and 16-year-olds in the capital have been improving every year since 2015. Monolingual Danish girls perform the best with 8.5, and bilingual boys the worst with 5.5.
Bicycle thieves nabbed
Police arrested two Russian nationals in Amager on February 27 after finding them in possession of stolen bicycles and half a million kroner in cash. The man and woman, aged 62 and 55, are accused of stealing over a thousand bikes, changing their appearance and reselling them.
Rare wines recovered
The police in Germany have recovered about one third of the 50-60 rare bottles of wine stolen in February from the Danish Michelin star restaurent, Formel B. The thieves got to the wine by breaking through a wall. Some of the bottles cost around 100,000 kroner each.
Fixerum for Sundholm?
Sundholm's local committee in Amager is in favour of establishing a fixerum – a room for drug addicts to safely shoot up like the one in Vesterbro – in the interest of making the area safer. City councillor Mia Nyegaard, the former deputy mayor for integration, has promised to help with budgeting.
Workshops for girls
Young girls aged 10-14, who might feel they don't fit in, are being encouraged to attend workshops aimed at strengthening their self-esteem and self-confidence, which are being held at various culture houses in the capital.
Far from finished
Classic Pizza Restaurant, a Finnish chain that has an outlet near Kongens Nytorv, has been named the best in town by Discover Denmark. Established in the capital in 2018, the chain reportedly has plans to expand soon.
Valby Station revamp
Ten trees were cut down last week outside Valby Station as work begins on renovating its exterior. The new forecourt to the station will include parking for 400 bicycles and 13 new trees. The work should be completed by December 2020.